Subscribe Now
Keep up with the latest news with our magazine and e-newsletter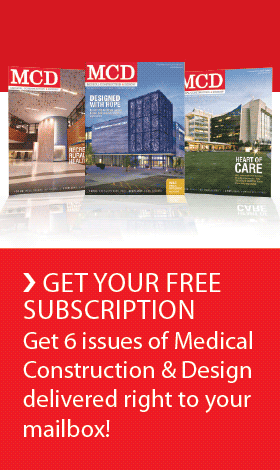 Subscribe to our E‑Newsletter
OAKLAND, Calif. — As it enters a year of celebration for its 100th anniversary of serving children's health needs, Children's Hospital & Research Center Oakland announced it is beginning a new planning process to rebuild and modernize its hospital to meet the demands of seismic regulations and improve facilities for children, adolescents and their families.

"We are honored to celebrate our 100th anniversary this year," said Dr. Bert Lubin, president and CEO of Children's Hospital. "Now we need to ensure that we are here for our patients for the next century–and beyond–by providing modern and seismically compliant buildings and technology."
Lubin estimated that modernizing the hospital will cost $425 million. He said some funding has been identified, but more money must be raised to meet costs. One of the primary goals of the upgrade in the hospital is to maximize the use of existing property.
"We are in the conceptual stages right now. We will be meeting with all the interested and impacted parties, patients and their parents, doctors and nurses, neighbors and our community," Lubin said. "We want their input and ideas to make this an outstanding hospital for children in the Bay Area and beyond."
Richard DeCarlo, COO, will be the Facilities Master Plan project executive. "We are looking to minimize any disruption to the local community, and we look forward to developing our plans with our neighbors, community leaders and families. We seek productive, engaging discussions in order to hear their feedback and ideas," said DeCarlo.
Children's Hospital Oakland, the oldest independent pediatric facility between Seattle and Los Angeles, faces significant challenges that threaten its ability to continue providing specialized care to the local community and beyond. In addition to rigorous state-mandated seismic safety standards, the hospital faces a critical shortage of private patient rooms, outdated facilities, and the need to adapt to changing technology.
A previous plan in 2008 to finance the hospital rebuild failed at the ballot box because the hospital didn't do enough "upfront work with the people that matter most–patients, their parents, neighbors, key decision makers and elected leaders," DeCarlo said. He said it was too soon to tell if the hospital will ask voters to approve a bond measure to finance some of the rebuild, but he vowed the hospital will openly communicate throughout the new process.
Conceptual plans for the hospital renovations that will be shared in the coming months include retaining the earthquake-compliant portions of the hospital, building new facilities that will meet seismic code requirements and keeping the height of any new buildings consistent with existing facilities as to reduce the impact on neighbors. A major emphasis will also be to retrofit and modernize existing spaces to minimize the impact on the surrounding neighborhood.
The hospital has hired TAYLOR Architects, an architectural and interior design practice focused exclusively on healthcare facility design. TAYLOR has a successful reputation in working with hospital staff, patients and their surrounding community in developing healing environments that engage the community and provide a sense of ownership.
Last year, the hospital recorded more than 200,000 outpatient, 11,000 inpatient and 50,000 emergency room visits. These demands are one reason why the hospital, Northern California's only freestanding designated Level 1 Pediatric Trauma Centers, must update its facilities to meet the demands of future generations of young patients.
DeCarlo expects the hospital will develop its plans with community input and start the environmental review process in 2012, hoping to gain approval for the Master Plan in 2013 and have it financed and built in phases by 2019.
Posted February 24, 2012
More Articles: