Subscribe Now
Keep up with the latest news with our magazine and e-newsletter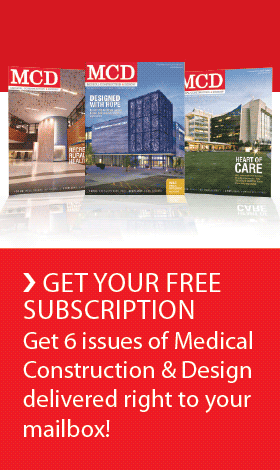 Subscribe to our E‑Newsletter
BUFFALO, N.Y. — Shepley Bulfinch Richardson & Abbott has been selected for the physician-led plan to construct a new Women & Children's Hospital of Buffalo on the Buffalo Niagara Medical Campus.

The firm's relationship with Children's Hospital Boston began in 1914, and includes the award-winning Berthiaume Family South Building. The pediatric specialty center nearing completion at Children's Hospital of Michigan is expected to have a transformative impact in fostering a culture of wellness for the children of Detroit. The 2009 patient tower for Children's Hospital of Wisconsin, home to the regionally acclaimed Herma Heart Center, is also a distinctive and prominent Milwaukee landmark.
The location of Women & Children's Hospital of Buffalo provides world-class care, as evidenced by the hospital's recent rankings in U.S. News and World Report's Best Children's Hospitals list. But the facility is landlocked by its residential neighborhood, and its 120 year infrastructure is past its efficient effective age.
Coupling those factors with the emerging growth of the Buffalo Niagara Medical Campus and the planned relocation of the University at Buffalo Medical School resulted in the Physician Strategic Planning Committee (PSPC) identifying the preferred location of the future  hospital at the new Buffalo Niagara Medical Campus site, less than two miles away.
Women & Children's Hospital of Buffalo's PSPC is comprised of more than four dozen pediatric, OB/GYN and adult physicians representing a broad section of the community, including University and private practice.
The project was developed by Women & Children's Hospital's PSPC after nearly two years of planning, which included local, state and national data analysis, trending and focus on the right place and setting for pediatric and OB/GYN care in Western New York.
This work supports the state's desire to restructure facilities to best serve the community's identified healthcare needs, assuring access to women and children's services in Western New York in the near future.
Ciminelli Real Estate (the developer) is also proposing to build approximately 300,000 sq. feet of environmentally friendly medical office space (including underground parking), 85,000 sq. feet of which will be Women & Children's Hospital space and the ambulatory care center. The ambulatory care center will serve children and adults.
More information about these plans is posted online at www.wchob.org/bnmc.
Posted February 24, 2012
More Articles: