Subscribe Now
Keep up with the latest news with our magazine and e-newsletter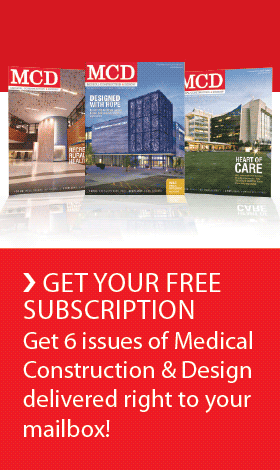 Subscribe to our E‑Newsletter
COLLEGE STATION, Texas – Staff at Scott & White Hospital – College Station  – are getting a sneak peek at what their new facility will look like — room by room. The construction process, which began when ground was broken on March 30, is now entering a phase most patients never hear about; the building and ―testing of mock rooms, which are exact, full-size replicas of the rooms that will be in the new hospital.

Caregivers who work in these areas, including nurses, physicians, technicians and other support staff, are invited to tour the rooms and test the functionality of the equipment and space. The mock rooms are even finished with the exact décor such as flooring, tile and paint colors. While the mock rooms are built at a separate location from the hospital construction site at the intersection of Texas Hwy 6 and Rock Prairie Road, the intent is to have the staff that enter feel as if they are in an actual, finished room.
"There are many reasons for doing mock rooms," said Jason Jennings, CEO of Scott & White Hospital – College Station. "First, the mockups are built to scale, which gives a definitive feel for what the space will be. Second, the equipment — furniture, computer documentation station, etc. — are placed in their respective locations. The mockups ensure that each room is set up in the best manner for those providing care within them, as well as for the patients and their families."
Often there are valuable changes suggested implemented in order to optimize efficiency and patient experience. Jennings compares the advantages of providing mockups to building a new home. "If you have ever had the opportunity to build a new house, wouldn't it have been nice to see how your kitchen would look and where all the appliances would be located beforehand to make sure everything was in the optimal place? This is the primary purpose of the mock rooms. It's a test run the staff is able to do, long before a patient utilizes the location."
William Rayburn, MD, chief medical officer, Scott & White College Station region, points out that "mock rooms are irreplaceable for medical providers. An architect may believe that something is in the best place possible but nothing replaces the experience of a provider walking through the process of taking care of a patient to tell you whether or not the best layout has been identified."
The Scott & White system believes in providing the highest quality, most efficient and cost-effective medical care possible, and utilizes the mock room concept in its construction process. Most recently, staff at the new Children's Hospital Scott & White, which opened Oct. 4, were able to benefit from the experience, providing important feedback in making Central Texas's newest children's hospital a highly efficient, functional facility.
The first two mock areas completed for the 320,000-square-foot College Station facility are a medical/surgical room and a labor and delivery room. Crews from Kitchell Contractors will be continuously building two additional rooms at a time until a sample of a room in each patient area has been completed and reviewed by staff.
When completed in the summer of 2013, Scott & White Hospital – College Station will house an emergency department, cardiac services including cardiac catheterization labs, neonatal intensive care unit, comprehensive cancer services, operating rooms, maternity services suites, endoscopic procedure suites, inter-operative robotics and other specialty services, all supported by a pharmacy, comprehensive state-of-the-art imaging technology and other diagnostic capabilities. An ambulatory facility will also be built within 90 days of completion of the hospital.
The facility will initially open with 119 beds and can be expanded to accommodate another 24 beds when the need arises. For more information, visit cshospital.sw.org.
Posted December 16, 2011
More Articles: