Subscribe Now
Keep up with the latest news with our magazine and e-newsletter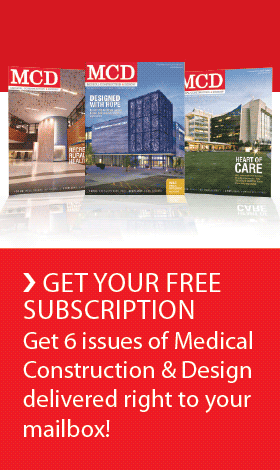 Subscribe to our E‑Newsletter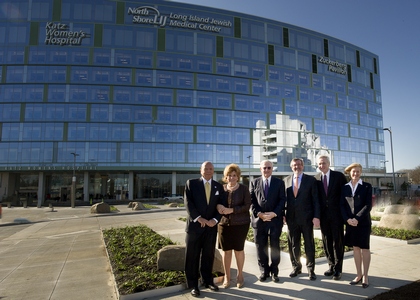 NEW HYDE PARK, N.Y. — The North Shore-LIJ Health System recently celebrated the completion of the largest expansion project in the health system's history: a 10-story glass tower featuring 162 single-bed rooms with hotel-like accommodations.
The $300 million project—featuring the Zuckerberg Pavilion and Katz Women's Hospital—is scheduled to open to the public in January after more than three years of construction. With its glass façade and hallways the length of a football field, the 300,000-square-foot tower single-handedly transforms the appearance of the 57-year-old hospital, which straddles the Nassau/Queens County border in New Hyde Park, N.Y. Among the many new enhancements are a meditation center, women's garden, reflecting pool, wellness boutique, an education room and patient and family resource center.
"This truly is a transformational time in the history of this hospital and the entire LIJ Medical Center campus," said North Shore-LIJ President and Chief Executive Officer Michael Dowling.
Designed to accommodate both patients and family members in an elegant setting, each room includes a private refrigerator, bath, flat-screen television and safe, and all patients will have their own designated "food ambassadors" to customize meal orders. To add to the patient- and family-friendly atmosphere, each floor has at least two family waiting areas, nearly all floors are carpeted to reduce noise, and all include night-time lighting to make it easier for patients to sleep undisturbed.
To improve medical care, all units have decentralized nursing stations so staff can closely monitor patients, utilizing telemetry technology in each room that allows for the measurement of patients' heart rate and breathing rates, blood pressure, blood-oxygen levels and other vital information. All rooms also have kidney dialysis hook-ups available.
"Clearly, we've entered a new era in healthcare delivery, and when this beautiful facility opens next month, we'll begin writing an entire new chapter in the history of LIJ Medical Center," said Hospital Executive Director Chantal Weinhold.
North Shore-LIJ Chairman Richard Goldstein said today's unveiling represents the "culmination of a vision" made possible by two of his predecessors as board chairman, trustees Roy Zuckerberg and Saul Katz, as well as associate trustee Iris Katz.
"There are many people whose generosity made this day a reality, but certainly none more than the people whose names adorn this magnificent building," Goldstein said.
Zuckerberg, a Manhattan resident, has been a supporter of LIJ Medical Center and the health system for more than 20 years, while Katz's involvement with the health system dates back to1982. Residents of Glen Cove, N.Y., Mr. and Mrs. Katz have worked tirelessly in support of women's health.
The 57,000-square-foot Zuckerberg Pavilion will serve as the new entrance for all LIJ services. It includes a two-story lobby and 60 new single-bed surgical rooms on the eighth and ninth floors for orthopedic, urological and cardiovascular patients, as well as a physical therapy gym.
With its own separate entrance, the Katz Women's Hospital features a range of maternity and gynecological surgery services on four floors. Housing one of the busiest maternity programs in New York State with more than 5,000 babies delivered annually, it includes 88 private patient rooms and 14 labor and delivery rooms, as well as four operating rooms, newborn nurseries and other specialty services. In May, North Shore University Hospital in Manhasset opened the first phase of the Katz Women's Hospital on that campus – a $50-million expansion and modernization project that features 73 private rooms.
Among those on hand to celebrate the unveiling of the new LIJ tower was Cheryl Lampasona, a 30-year-old mother from Mineola, N.Y., a long-time patient of LIJ's. About 10 years ago, she was diagnosed with a rare Wolffian Tumor near her ovaries (one of only 12 such reported cases worldwide). A plan of care needed to be created for Lampasona to help fulfill her desire to have children. Following the plan of her gynecological oncologist Diana Contreras, MD, to undergo laparoscopic surgery every six months for three years to evaluate and manage the level of the disease, she became pregnant in 2005 and now has two healthy boys, Michael and Ryan (both delivered at LIJ), who joined their mother as she paid tribute to the medical care she received at the hospital.
"It had always been my goal to become a mother and have a family," Lampasona said, "so you can imagine my shock when I was diagnosed with this potentially life-threatening and virtually unknown illness. Words can't express how grateful I am to my doctor and the teams of people who treated me when I was sick. They treated my cancer without taking away my ability to bear my own children. Thanks to them, and their knowledge and compassion, I was able to realize my dream. I have two beautiful boys and my health. What else is there?"
Tags:
Posted December 14, 2011
More Articles: