Subscribe Now
Keep up with the latest news with our magazine and e-newsletter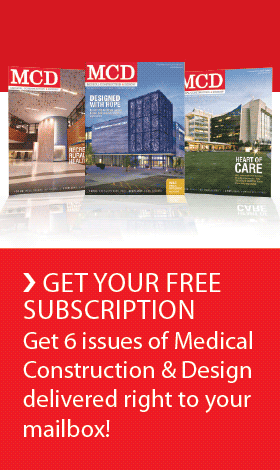 Subscribe to our E‑Newsletter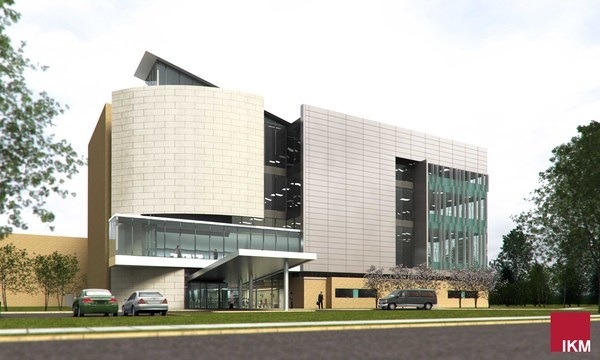 After a New York state-required merger, competitors Kaleida Health and Erie County Medical Center suddenly found themselves collaborating on the planning, design and construction of a $36-million renovation and expansion.
Problem solving was the name of the game for Pittsburgh-based architect IKM Incorporated. The firm pulled together opposing groups to realize a state-of-the-art facility that is clinically effective, patient friendly and cost conscious.
"How are you at dealing with opposing groups?" Roger Hartung, AIA, NCARB, and principal at IKM, recalls the selection committee at Buffalo, N.Y.'s, Erie County Medical Center asking as his team presented its proposal for the development of a 131,000-square-foot Center of Excellence for Kidney Care and Transplantation.
"As we took on this project, the merger of the two hospitals was not yet fully in place," Hartung recalls. "It was a highly challenging situation. We were dealing with two different cultures with competing interests and mutual suspicions. Emotions were running deep."
The challenge was confronted head-on, building conflict resolution into the planning process and focusing on one constant that united the parties: quality of patient care.
"We were more than architects," Hartung says. "We were facilitators who became deeply involved in working out the cultural differences on even the most basic issues. We spent a lot of time up front asking questions, digging deep, and finding new ways for both sides to look at how they achieve goals and how they serve their community."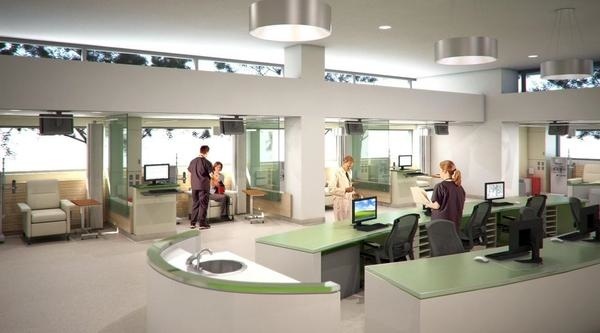 Relationship-based approach to design
Taking a holistic, relationship-based approach to the patient experience quickly became a major focus for the project, bridging gaps in the process.
"A kidney patient often is in a relationship with his or her healthcare facility for the rest of his life," explains IKM project manager John Keelan, AIA. "So we looked at the full spectrum of patient care, rather than treating functions separately."
At ECMC, this means design reflects a team decision to treat both clinical excellence and patient experience as priorities. One example is the creation of innovative spaces to enhance collaboration between a wide range of clinical specialties.
Another example is the design of dialysis space. "Our team created a completely thought-out space that is private and controlled," Keelan said. "We custom designed a dialysis environment that incorporates patient needs—right down to a space for reading material—then organized the overall space to allow nurses to see every face at a glance. Even the high-end, easy-to-clean materials we used were selected in part to show patients they are valued."
Creating a centerpiece for growth
The overall design of the new structure successfully reflects its role as the centerpiece of the next generation of expansion of the ECMC campus.
"The building is an energetic combination of high-tech glass and metal blended with the warmth of natural stone and brick," explains Keelan. "These materials were chosen to reflect the quality of care taking place within the facility: advanced modern technology combined with patient-focused sensitivity."
The new facility allows for the expansion of clinical research programs and increases the outpatient dialysis program by more than 50 percent.
"With the opening of this facility, ECMC's Kidney Care and Transplantation program will have successfully made the transition from a local program to a regional center of excellence," says Keelan.

Center of Excellence for Kidney Care and Transplantation/Project Details
ECMC's new 131,000-square-foot facility, scheduled to open January 2012, combines renovated hospital space with new construction and includes:
•    Outpatient Renal Clinic: Provides outpatient services to the pre- and post-transplant patient population, including nine exam rooms, two treatment rooms, patient waiting/reception areas, administrative offices and physician work spaces and associated support spaces.
•    Vascular Access Center: Includes two outpatient procedure rooms and an ultrasound room to support the chronic hemodialysis center. Dedicated patient and clinical support spaces are provided, including reception/waiting areas.
•    Renal Inpatient Nursing Unit: A 24-bed nursing unit to support the kidney transplant population as well as other acute renal patients. This single nursing unit is located in existing med-surg private and semi-private patient rooms. Staff and clinical support functions are located on the floor, as well as a dedicated family lounge and restrooms.
•    Acute Dialysis Center: Six-bay center supports renal inpatient nursing unit with dedicated clinical support spaces and an infection isolation bay.
•    Outpatient Chronic Hemodialysis Center: This freestanding four-story building connects to the existing ECMC hospital. A ground floor medical space includes 36 hemodialysis chairs, outpatient education, community outreach offices, home dialysis training and clinical support spaces.
Tags:
Posted December 14, 2011
More Articles: