Subscribe Now
Keep up with the latest news with our magazine and e-newsletter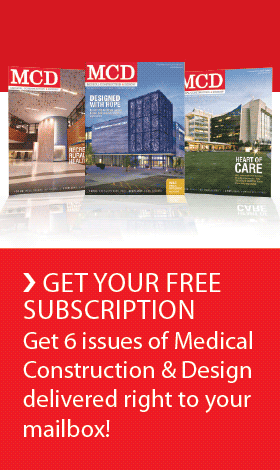 Subscribe to our E‑Newsletter
FORT COLLINS, Colo.–Poudre Valley Health System announced it will construct a state-of-the-art cancer center around existing oncology services on the Harmony Campus in Fort Collins, Colo. The new center's design will deliver "one-door" access by integrating the majority of cancer care in the one building.

Service integration is beneficial for people affected by cancer because it promotes a team approach to care planning and makes treatment less complex to manage and more accessible for patients. Different specialists involved in the treatment of cancer will also be accessible in the new center, so treatment planning and consultation can be more collaborative.
"The goal has always been to build a better cancer care experience and this new location will do that and more," said JoAnn Lovins, director of oncology services at Poudre Valley Hospital. "With this approach, we sustainably repurpose our existing clinic space and focus our additional investment and resources on improvements in patient-centered design and technology advancements to make life with cancer better."
The location change will offer easier patient access by consolidating the majority of cancer care into one site. The new location will adjoin the Cancer Center of the Rockies and a $7.1-million expansion of a radiation oncology department that will be completed in January.
Earlier plans proposed building a new standalone building at what is now open space southeast on the PVHS Harmony campus. Outfitting existing space will cost less than a new standalone building, while doubling the clinical area currently dedicated for cancer services and, with construction slated to begin in April, speed up the center's opening.
Services and design features at the new cancer center will include a dedicated entrance and public area, medical oncology, radiation oncology, an infusion center and a survivorship center. The new survivorship center will offer cancer rehabilitation services, a conference and education center and complementary therapy suite, and will centralize the services of patient navigation, oncology social work, clinical research and cancer program administration. Plans also include flexible space for future growth.
"We're bringing all the cancer-related services together for patients and families, so they can feel completely supported and confident about what's happening to them during a very challenging time," said Ruth Lytle-Barnaby, director of the Poudre Valley Hospital Foundation.
Dr. Miho Scott, a medical oncologist with Cancer Center of the Rockies, said the new center will be an improvement for all involved. "When I can see my patients in one environment dedicated to connecting all the experts involved in their cancer care, I know those patients will have a better experience overall."
Since June of this year, the PVHS radiation oncology department on Harmony campus has been under an expansion and renovation to include a second treatment vault and a new TrueBeamTM STx, a state-of-the-art linear accelerator that will be Colorado's first. The project is slated for completion in January and will more than double service capacity for radiation oncology.
"Our local need for more radiation oncology services made that a fast-track project for completion as soon as possible," said Kevin Unger, Poudre Valley Hospital president and CEO. "Once we started that response, the logical next step was to look at that location for our cancer center as a whole."
Unger said the repurpose plan costs less than estimates to build a free-standing cancer center on the Harmony campus. The new plan for the cancer center will add approximately 24,000 square feet of new construction to the existing 20,000 square feet presently dedicated to cancer services on the Harmony campus. In all, the new PVHS cancer center will be 43,450 square feet.
Design planning for the new cancer center will start in the next two weeks and is expected to be completed in March. Construction is slated to begin in April, with the project completed by April 2013.
PVHS estimates the cancer center costs for the new plan to be $17.5 million, which includes $7.1 million PVHS already invested in its radiation oncology department expansion. The Poudre Valley Health System Foundation will continue with Engage in life, its fundraising campaign for the new cancer center. All funds raised will go toward the survivorship center at the new location. Based on the new plan, the PVHS Foundation needs to raise $2.2 million to reach its total contribution goal of $4.1 million.
PVHS has been expanding its inpatient and outpatient cancer treatment and support services. Inpatient cancer treatment was added at the Medical Center of the Rockies in the past year. Inpatient cancer care was previously provided only at Poudre Valley Hospital in Fort Collins. With the employment of Greeley Medical Clinic physicians beginning in 2010, the PVHS cancer program also extended its medical oncology clinics and outpatient infusion centers to Greeley and Loveland, in addition to its existing Fort Collins medical oncology and radiation oncology services.
"We're investing in the integration of cancer services on the Harmony campus in response to community needs and projected growth over the next 10 years," said Unger. "Our new plan also factors in our growing regional cancer service, in that much of the improvements at the new center will be linked among all of our medical oncology clinics and infusion centers."
Posted November 3, 2011
More Articles: