Subscribe Now
Keep up with the latest news with our magazine and e-newsletter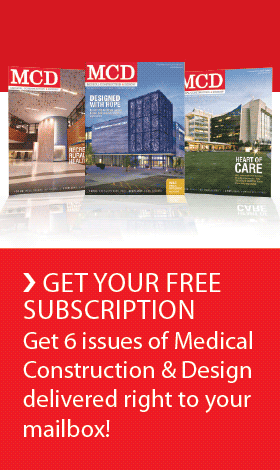 Subscribe to our E‑Newsletter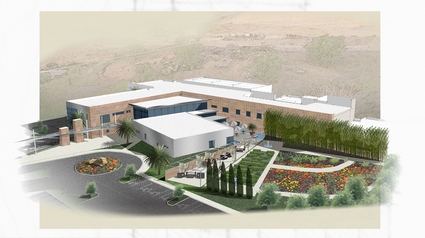 State-of-the-Art Cyclotron Delivered to San Diego Facility
The Haskell Company recently announced the achievement of a major milestone in the design and construction of the Scripps Proton Therapy Center for cancer treatment in San Diego, Calif., which began construction in October 2010 and is expected to begin treating patients in the spring of 2013. The building is now ready for the installation of the facility's state-of-the-art cancer treatment equipment including a 90-ton cyclotron.
When complete, the Scripps Proton Therapy Center will be a cutting-edge outpatient cancer treatment facility featuring 102,000 square feet of administrative and treatment space. The cyclotron is provided by Varian Medical Systems. Proton treatment is the favored method of treating certain types of tumors, such as prostate, brain and pediatric cancers, without damaging surrounding healthy tissues.
"We selected Haskell as the design/build firm for this project because its comprehensive, integrated services and expertise will enable completion of the Scripps Proton Therapy Center about 20 percent earlier than alternative design, engineering and construction methods," said Jeffrey Bordok, president and CEO of Advanced Particle Therapy, LLC, a company that teams with clients seeking a complete, turnkey solution to implement a particle therapy cancer treatment center.  "The delivery of the cyclotron by Varian Medical Systems is a key milestone in the construction of this very important project and demonstrates that the project remains on-schedule to serve patients in early 2013. The seamless integration of design and construction through integrated design-build delivery along with close collaboration between the building owner, designers, construction managers, end user, equipment suppliers and subcontract partners will enable this highly complex facility to be delivered on schedule."
With only nine centers operating in the United States, it is important to provide patient care at this state-of-the-art facility as soon as possible. The Scripps Proton Therapy Center will be operated by Scripps Health, under the medical direction of the Scripps Clinic Medical Group.
"Advanced Particle Therapy has put together an exceptional team of highly effective and collaborative partners for the successful delivery of this project," said Paul Tyler, president of Haskell's Commercial Group. "The Haskell Company, Signet Development, Varian Medical Systems, Scripps Health and Scripps Clinic Medical Group have come together to create a technologically advanced, world class cancer treatment center in an extremely timely, efficient and cost-effective manner."
Advanced Particle Therapy is serving as the lead developer with Signet Development providing project development and management services for the Scripps Proton Therapy Center. Haskell is providing the design, engineering and construction services for the space that will house the state-of-the-art and extremely precise equipment, which requires the facility to be designed and constructed to meet very tight tolerance requirements for proper equipment installation.
Proton treatment is made possible by a Varian 250 MeV Superconducting Cyclotron. Varian's 250 MeV Cyclotron is a proven technology designed for high-efficiency, low-energy consumption, high reliability and modern treatment features such as pencil beam scanning, which enables beam intensity modulation. Intensity-modulated proton therapy makes it possible to shape the dose distribution very precisely in order to concentrate the doses on the targeted tumor while sparing normal, healthy tissues. The Scripps Proton Therapy Center will include five treatment rooms, two of which will provide a fixed beam and three of which will include a rotational beam. Each room will contain highly sophisticated electromagnet beam directional equipment, weighing 150 tons per piece, to deliver the proton beam to the patient. Additional space at the proton treatment center will include clinical diagnostic and treatment preparation rooms as well as medical office space and a reception area.
About Haskell
Haskell is one of America's leading integrated design-build firms practicing in the general building and civil infrastructure markets. Haskell was recently ranked the No. 2 Healthcare Facility Design/Builder in the U.S. by Modern Healthcare in its 2011 Construction and Design Survey. The company has annual revenues of approximately $580 million with offices in the United States and Mexico. 
About Scripps Health
Founded in 1924 by philanthropist Ellen Browning Scripps, Scripps Health is a $2.3 billion, private not-for-profit community health system based in San Diego, California. Scripps treats a half-million patients annually through the dedication of 2,600 affiliated physicians and 13,000 employees among its five acute-care hospital campuses, home health care services, and ambulatory care network of physician offices and 23 outpatient centers and clinics. Scripps is recognized as a leader in the prevention, diagnosis and treatment of disease, and is at the forefront of clinical research and graduate medical education.
About Advanced Particle Therapy LLC
Advanced Particle Therapy LLC is a company that teams with clients seeking a complete turnkey solution to the implementation of a particle therapy cancer treatment center. The company provides its clients with facility planning, architectural design, equipment, construction, investment banking sources and services for debt and equity financing.
Tags:
Posted November 15, 2011
More Articles: