Subscribe Now
Keep up with the latest news with our magazine and e-newsletter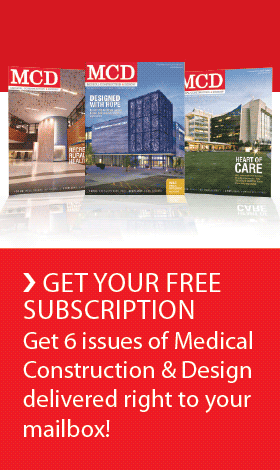 Subscribe to our E‑Newsletter
FT. BELVOIR, Va. — After more than six years of intricate and comprehensive planning, Fort Belvoir Community Hospital was officially dedicated on Friday, Oct. 28 by the Department of Defense in an event that included patients, staff, dignitaries and more. Emotions ran high as the facility was dedicated to the soldiers and other heroes who are treated at FBCH.

"This is America's newest, most extraordinary, most technically advanced facility, and we're glad to have it in the military health system," said U.S. Navy Admiral John M. Mateczun, commander of Joint Task Force National Capital Region Medical. Commenting on the project itself and the efforts of the construction crews, Admiral Mateczun added, "They accomplished something many people thought couldn't be done, and did it by doing things that had never been done before. You never missed a beat, always keeping patient care as your number one priority."
At more than 1.2-million-square-feet and nearly triple the size of its predecessor, FBCH is one of the largest hospitals in the Department of Defense network. With sustainable design features, state-of-the-art medical equipment and innovative patient care initiatives, the new community hospital will serve as the new model for modern military healthcare.
Due to fixed operational date deadlines imposed by the Base Realignment and Closure (BRAC) law, time became the impetus for the construction team, leading to the a new delivery model called Integrated Design Bid Build (IDBB). IDBB allowed construction – led by a joint venture of Turner Construction and Gilbane Building Company – to start while design was still being developed, turning what would typically be an 8-10 year process into a 5-year project.
Using evidence-based design to create a therapeutic, family-centered and efficient space, the architectural team of HDR/Dewberry designed and the Turner Gilbane Joint Venture constructed a world-class facility for delivering healthcare within the armed forces. All aspects of the hospital have been designed with the intent of improving patient outcomes.
"Ft. Belvoir Community Hospital is a modern, state-of-the-art facility that will provide outstanding, world class health services to our fighting men and women and their families," remarked William Gilbane, Jr., President and Chief Operating Officer of Gilbane Building Company. "However, we are very proud that it will also serve as more than a tremendous place of healing. Ft. Belvoir Community Hospital will become an architectural landmark as well, for Ft. Belvoir, for the military, and for the nation, and will set the standard for future military medical facilities that will be constructed."
FBCH includes sustainable features throughout and meets Energy Policy Act (EPACT) requirements, with energy reduction through lighting, lighting controls, space heating and cooling design, domestic hot water system design and more. FBCH is expected to achieve a LEED Silver certification and is striving to attain LEED Gold. The hospital will reduce environmental impacts on Fort Belvoir and surrounding communities, fostering conservation and sustainability practices.
About Turner Construction Company
Turner Construction Company provides building services to clients who value diligence, resourcefulness and creativity in a partner. Turner maintains a network of offices, nationally and around the globe, with a staff of 5,000 employees who work on more than 1,200 projects each year. With $8 billion in annual construction volume, Turner also ranks first or second in the industry's major market segments. For more information, visit www.turnerconstruction.com.
About Gilbane, Inc.
Gilbane provides a full slate of construction and facilities-related services – from sustainable building to the latest in construction technology – for clients across various markets. Founded in 1873 and still a privately held, family-run company, Gilbane has more than 60 office locations around the world. For more information, visit www.gilbaneco.com.
About HDR/Dewberry
The HDR/Dewberry joint venture was responsible for the architecture, engineering and interior design of the FBCH. It was charged with delivering the tenets of a "world class medical facility" where the best of the art and science of medicine come together in a focused effort to meet the needs of the patient by providing the best in physical, mental, social and spiritual care. For information, visit HDR at www.hdrinc.com or Dewberry at www.dewberry.com.
Posted November 1, 2011
More Articles: