Subscribe Now
Keep up with the latest news with our magazine and e-newsletter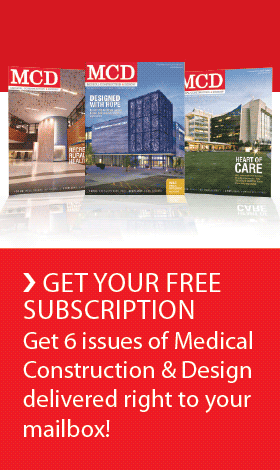 Subscribe to our E‑Newsletter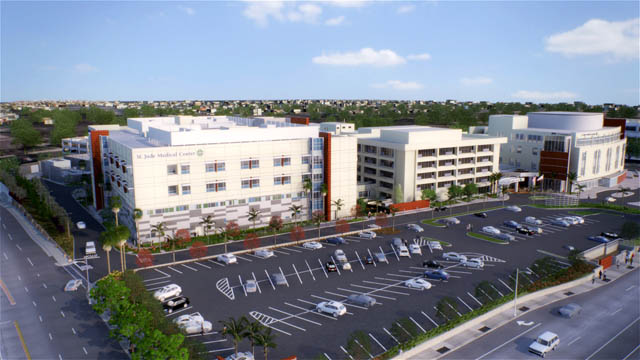 FULLERTON, Calif. — The design/build team of McCarthy Building Companies, Inc., and TAYLOR, are working with St. Joseph Health System to build a new patient tower, parking structure and central utility plant at the St. Jude Medical Center in Fullerton, Calif.

An integral part of the St. Jude Medical Center's multi-phased Master Plan, the $285.4-million project includes construction of a 200,000-square-foot, four-story acute care building with a connecting bridge to level four of the existing hospital building and a 14,000-square-foot central utility plant. Along with architect International Parking Design of Irvine, Calif., McCarthy is also adding 215 parking spaces to an existing 455-car parking structure that the firm built in 2004.
Prior to construction of the new tower, McCarthy performed seven months of major utility work and is demolishing an existing medical records building and parking garage. New surface parking and street improvements including redevelopment of a cul-de-sac, addition of right-turn lane, street widening and extension of a center median are also being conducted.
According to McCarthy Project Manger Todd Foos, one of the biggest challenges on the project thus far has been relocating all of the hospital's utility services prior to the demolition of the existing parking structure and construction of the new tower.
"We worked closely with the hospital to devise a plan that enabled us to complete this sensitive infrastructure work while mitigating disruption to the existing hospital," explained Foos. "Additional challenges will be maintaining access to the existing hospital's loading dock. In order to meet this requirement, we will be constructing a temporary road through the foundation of the new building which will be in place until February or March 2012."
Featuring sophisticated technologies and innovations in patient-centered care, the new 120-bed patient tower will house: private and semi/private rooms with flat-screen TVs and comfortable daybeds for family members; computers in every patient room permitting physicians and nurses to review and update medical records without leaving the patient's bedside; 14 operating rooms with state-of-the-art "smart" surgical suites and the newest improvements in minimally invasive and robotic surgeries; and advanced information systems allowing immediate clinician collaboration. The tower will also include a spacious cafeteria, materials management, pharmacy and areas for support staff.
In order to meet strict California seismic regulations in compliance with Senate Bill 1953, the tower is being built with a lateral force resisting system consisting of buckling restrained braced frames with moment resisting beam to column connections. Additionally a lateral foundation system is being built with continuous anchor caps in conjunction with tie-down anchors.
The story of the Northwest Tower is one of both timeless design and economic feasibility. The modern design of the Tower was developed within a Project Design Charter, which was created to guide design decisions toward a simple functionality that appropriately meets future needs and provides the latest technology for staff and patient care, at a scale and sophistication befitting a major, contemporary, urban medical center.
The Northwest Tower displays design function, as well as incorporates evidence-based strategies for patient services to reduce stress, length of stay, and enhance communication between caregivers and patients. "These strategies not only provide an optimal care environment for healing, but also support St. Joseph's commitment to patient dignity, the human spirit, and creating healthy communities," said TAYLOR's principal-in-charge Neal Rinella.
In keeping with the social sustainability goals of the project, the new tower incorporates many environmentally sustainable features such as an energy efficient building envelope, which incorporates high performance window glazing, sunshading and well-insulated walls and roof. Mechanical systems also improve energy efficiency by utilizing a 100% outside air system with heat recovery that yields superior indoor air quality and infection control.
"Building a state-of-the-art hospital with complex mechanical, electrical and plumbing (MEP) systems requires the utilization of latest advancements in design and construction technology as well as an experienced and collaborative team," said McCarthy Project Director Patrick Peterson."To meet the challenges of this complex project on an operational medical campus, we are utilizing a combination of Integrated Project Delivery (IPD) and design/build methods to collaboratively harness the talents and insights of all team members and to optimize efficiency through all phases of design, fabrication and construction," explained Peterson.
TAYLOR, McCarthy and key subcontractor partners are using the following Building Information Modeling tools for design and coordination: Revit Architecture, Revit Structures, Revit MEP, AutoCAD MEP 3D, AutoCAD Civil 3D, CADmech, CADpipe, NavisWorks and Google Sketch-up.
"Utilizing these combined BIM applications with an integrated team delivery approach not only will help to identify challenges before they become onsite problems, but it also provides a greater benefit by allowing the entire design and construction team to create and work from a seamless model throughout all stages of the project," said McCarthy Project Manager Todd Foos. As a result of this collaborative effort, the team has lowered the original target budget by approximately $14.5 million.
"St. Joseph Health System has determined that the best way to understand, evaluate and make decisions at each critical point of the project during design, is through the use of BIM tools. This has streamlined the decision-making process and given us the opportunity to quickly evaluate and analyze "What if" scenarios. The BIM tools are a benefit to all stakeholders on the project team," explained Jim Bostic, AVP Construction Division, at St Joseph Health System in Southern California.
The St. Jude Northwest Tower project is scheduled to complete in summer 2014 and open in fall 2014.

Rendering Source: Shimahara Illustration
Posted November 2, 2011
More Articles: