Subscribe Now
Keep up with the latest news with our magazine and e-newsletter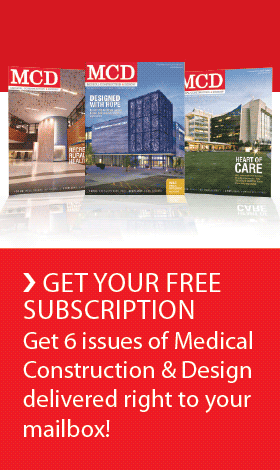 Subscribe to our E‑Newsletter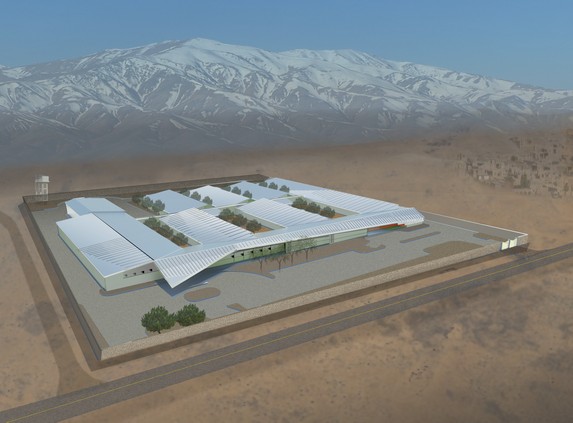 By Deborah Sheehan
Cannon Design worked with the International Organization for Migration and USAID to provide architecture and engineering design services for two, 100-bed, freestanding hospitals for development in the southeastern provinces of Gardez and Ghazni in rural Afghanistan. Both locations are approximately 80 miles south of volatile Kabul. Program elements included: an emergency department, radiology, surgery, obstetrics, lab, pharmacy, physical therapy, outpatient services, an education center and support services.
When aid agencies build healthcare clinics, they tend to be either for immediate disaster care or urban settings. They are either small and temporary, or large and infrastructural. The 100-bed prototype has the flexibility to provide both experiences. It is large enough to demonstrate a permanent commitment to the community, yet small enough to be placed in villages, near rural areas. This project proposes a permanent, site-specific building that encourages the participation and investment of local residents. It does not import Western solutions, but instead uses universal techniques to adapt to the cultural and medical needs of the visitors.
As the team was developing the design for the 100-bed prototype, there appeared to be a specific niche that the project was addressing. A confluence of a particular need: a particular quantity of services, and an architectural solution that is simple, flexible and transferable to many sites. The team recognized that the model being designed can address a void in the healthcare fabric of many developing nations.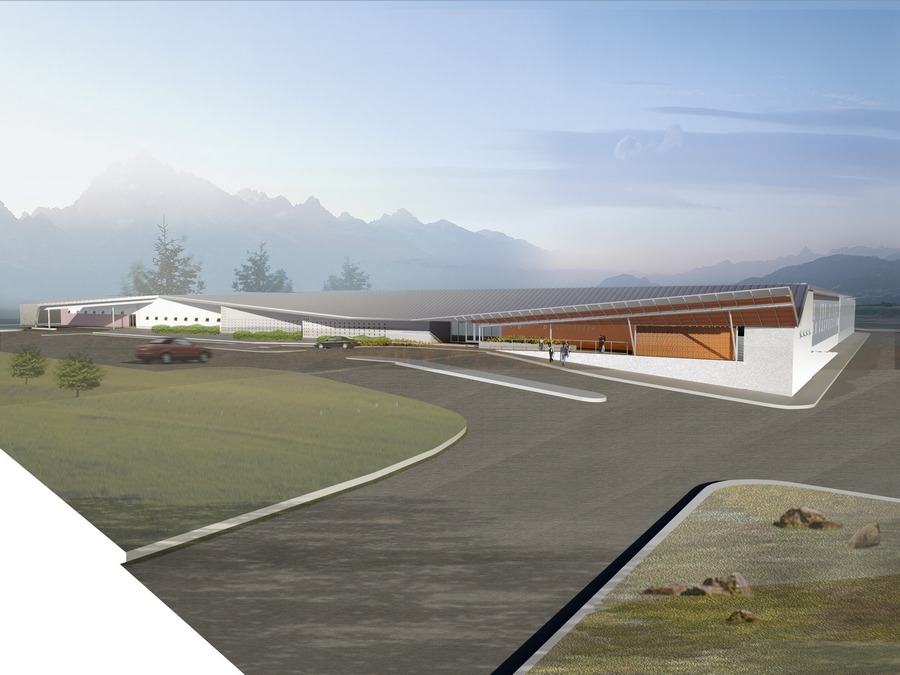 Bridging a gap
The project bridges a gap between rural clinics and urban hospitals. In particular, women and children without access to healthcare, prevent a community from recovering. The development of right-sized, flexible, simple hospitals can help to stabilize the population and develop security and prosperity. Aside from pure access to care for thousands, this endeavor seeks to access the future by putting down roots and investing in local, long-term growth. The prototype is designed to operate on a fully self-contained site as there will be no infrastructure to support outside utility services available to be brought onsite.
In Afghanistan and other developing contexts, there is no grid for water, power and waste. The ability to package these improvements at the right scale is one of the vectors via which these projects can transform the community. They must be small enough to operate off the grid, yet large enough to achieve an economy of scale in water and power production. These buildings are thought as more than health centers, but rather social centers: places for education, security, and employment. By providing a hub of infrastructure, the 100-bed hospital becomes an engine for change.
A scalable strategy
The fundamental planning modules represent a simple and achievable outcome for areas of the world most in need of quality, permanent healthcare. An expandable strategy of building in rural areas accomplishes this.



On the way to the simplest solution, the team explored schemes based on an original layout from the client. Standardizing the 15-meter width throughout the building in the final scheme led to radically simplifying construction and building the conceptual basis for the scalable hospital.
At the 20-bed scale, the facility can swing between outpatient day hospital, and inpatient care. The inpatient exam rooms receive the rush of visitors in the morning, and then convert to extended recovery for the last surgery cases of the day. The classrooms can be leveraged as public health screening and inoculation places. This hospital can grow to the 50-bed and then the 100-bed by: 1. Building some shell treatment spaces and using the space for interim support; 2. Reserving places for future functions like bedded care; 3. Reusing public health spaces in the future in new programs like healthcare workers training classrooms; 4. The use of mobile modality trailers and trucks can greatly leverage staff and resources across large distances. This scheme allows the sterile processing to be accomplished with mobile units, as an interim step between, bulk storage and sterile processing department.
As the number of highly trained personnel increase for inpatient services, the need to recruit and train staff from the community must be accommodated. This scheme uses onsite housing, built to house the trades during construction, as a dedicated dormitory. Together with the education and administration spaces, a complete school of nursing is possible. At this scale, specialty hospitals are ideally suited to address major needs. A courtyard creates a secure, public space and orients visitors to circulation flows around it. This scheme is the lowest level of fully "permanent and off grid." Power generation and sterile processing are brought into the building, no longer using mobile resources.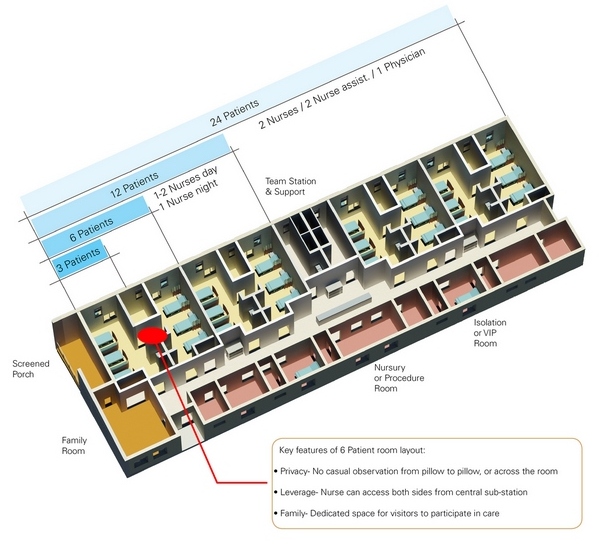 The 100-bed hospital is the starting point for consideration of this strategy. One can subtract elements but keep the essential drivers of services of ED surgery and outpatient, keeping places for support and administrative functions to begin and expand as need increases. A key difference between this and other solutions implemented is the clinical model. The prototype can provide all the basic services needed for community health and education, with enough space to house a couple of key specialties. In Afghanistan, the need for training mid-wives and female caregivers is essential to lowering infant mortality rates. Orthopedic services are also in high demand due to landmine injuries. The 100-bed module provides enough space for basic medical-surgical services, as well as an emphasis on OB. and Ortho. In other parts of the world, other specialties would be delivered, along with training and public health. One of the planning innovations proposed is a six-bed unit that can be operated as a three-bed unit when staff levels permit. By dividing the units into gender-specific wards of 24, then into rooms of six, then into groups of three, there is tremendous flexibility. Depending on care model, service line, staff level and cultural preference, the units can be managed in many configurations without renovation.
A universal module
Because the project is site specific, and expandable, it uses a universal module, and is buildable with any common material. The 15-meter clear span, single-story, single-slope roof provides an architectural building block, a "widget" that can accommodate many types of space, in any part of the world. The walls can be built from brick, adobe, concrete or sandbags. The roof trusses can be shipped as a kit of parts and assembled on site. High windows encourage natural ventilation and daylighting.
Deborah Sheehan is Cannon Design's regional director for healthcare in Chicago, Ill. and is responsible for the design and construction of more than $1 billion in healthcare projects.
Tags:
Posted November 17, 2011
More Articles: