Subscribe Now
Keep up with the latest news with our magazine and e-newsletter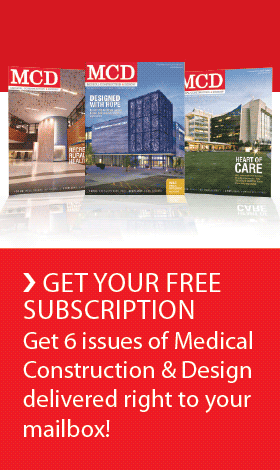 Subscribe to our E‑Newsletter
PHILADELPHIA, Pa. — The Children's Hospital of Philadelphia announced the sale of $270 million fixed-rate bonds to raise money for future growth of the CHOP Care Network. The bond sale will provide $100 million for development of a state-of-the-art ambulatory care center, the largest construction project in the hospital's 156-year history.

The hospital's full expansion, a $2 billion investment through 2017, represents one of the biggest hospital projects in any U.S. city. When complete, the five-story ambulatory care center will provide an enhanced level of outpatient care, particularly for children with multiple chronic conditions that may need to see a number of specialists in the course of their visit. In addition to $100 million for construction of the ambulatory care center, Children's Hospital will use $170 million to repay existing debt.
"This bond sale allows Children's Hospital to fund one of the largest construction projects currently underway in Philadelphia," said Steven M. Altschuler, M.D., Chief Executive Officer at Children's Hospital. "Our ongoing expansion is anticipated to create significant construction-related jobs, additional economic and community benefit to the city, and most important – a higher level of care for children."
The hospital broke ground on Oct. 6 on the Nicholas and Athena Karabots Primary Care Center. This $30 million, 52,000-square-foot facility will provide top-quality pediatric care and community programs to children and families in the surrounding community. Children's Hospital also recently purchased property along the Schuylkill River to accommodate expansion of existing and future programs.
Children's Hospital underwent a $2.6 billion expansion over the last decade and is now ranked the 21st largest employer in Pennsylvania, adding some 7,000 new jobs since 2002 and providing more than $14 million in annual wage tax revenue. Last year, the hospital opened the 12-story environmentally friendly Colket Translational Research Building. The $504 million project encompasses 700,000 square feet— four new laboratory floors, administration and conference space, and a two-story ground floor housing a lobby and cafeteria. Children's Hospital now has one of the largest pediatric research programs in the country, where nearly $250 million in research is conducted each year.
During its first full year of operation in 1855, Children's Hospital admitted 67 children and had 821 patient visits. Last year, there were more than 28,000 children admitted and nearly 1.6 million patient visits, including children from 62 Pennsylvania counties, 47 states as well as 26 countries as a result of a new international medicine program attracting patient families to Philadelphia for extended periods of time.
"Our dedicated employees — and state-of-the-art facilities like this new ambulatory care center — have helped CHOP become the nation's top ranked children's hospital," said Thomas J. Todorow, Senior Vice President and Chief Financial Officer at Children's Hospital. "Our plans are ambitious and it is important to recognize that operating revenue alone is not enough to fund our vision."
The sale, negotiated by the Philadelphia Hospitals and Higher Education Facilities Authority, will provide $100 million of Series 2011 C bonds to help fund construction a world-class ambulatory patient care center, as well as $170 million of Series D bonds to repay 2008 variable-rate debt.
J.P. Morgan served as senior manager on the fixed-rate bond sale, with Fairmount Advisors Inc. serving as financial advisor and Fox Rothschild LLP as bond counsel. Moody's Investors Service rates Children's Hospital debt Aa2 and Standard & Poor's Financial Services has an AA rating.
About The Children's Hospital of Philadelphia: The Children's Hospital of Philadelphia was founded in 1855 as the nation's first pediatric hospital. Through its long-standing commitment to providing exceptional patient care, training new generations of pediatric healthcare professionals and pioneering major research initiatives, Children's Hospital has fostered many discoveries that have benefited children worldwide. Its pediatric research program is among the largest in the country, ranking second in National Institutes of Health funding. In addition, its unique family-centered care and public service programs have brought the 516-bed hospital recognition as a leading advocate for children and adolescents. For more information, visit http://www.chop.edu.
Posted October 17, 2011
More Articles: