Subscribe Now
Keep up with the latest news with our magazine and e-newsletter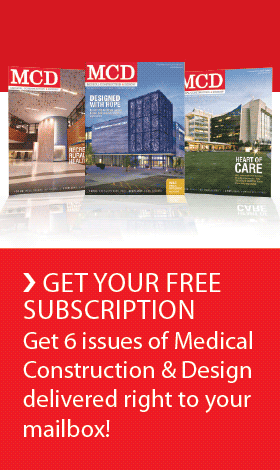 Subscribe to our E‑Newsletter
NEW PORT RICHEY, Fla. — Lend Lease is managing the construction of the new 236-bed medical center in New Port Richey, Fla. Scheduled to be completed fall 2011, the medical center will provide care for the New Port Richey region, as well as Pasco, Hillsborough and Pinellas counties.

The five-story, 400,000-square-foot hospital with a four-story, 90,000-square-foot attached medical office building sits on a 55-acre greenfield site, which provides an abundance of space for future hospital expansion and standalone buildings. The reinforced concrete and structural steel building will have an EIFS skin with stone wainscot and punched opening windows, first floor storefront and bitumen roofing.
The full-service medical center will provide a 24-hour emergency department with 30 examination rooms and 10 observation beds; two entrances, one for walk-in emergency patients and one exclusively for ambulances and emergency vehicles, and a heliport, adjacent to the ambulance entrance.
The medical center will also provide diagnostic imaging, radiology, surgery, oncology, orthopedics, neurosurgery, cardiology and cardiovascular services, joint replacement and spine care, urology, endoscopy, pain management and respiratory and  rehabilitation therapy.
Women's Services include gynecology and obstetrics services, which include labor/delivery/recovery/postpartum rooms, baby nursery, a cesarean delivery suite, a private gynecology suite, and a diagnostic and wellness area. The center will feature a sleep disorder center.
Eight operating rooms, a 12-bed post anesthetic care unit, two endoscopy rooms and 28 outpatient preparation rooms will comprise the surgical suite; 34 critical care rooms placed around a central nursing station, two nursing 'substations', nursing work areas with direct visual access to patients, located between patient rooms will be contained within the critical care department.
All patient rooms are private, complete with private bathrooms, and hallways and elevators dedicated to 'patient only' use.
The latest digital and wireless technology will be installed throughout the hospital including a picture archiving communications system, a patient tracker, electronic medical administration record, pharmacy scanners and patient monitoring interface. The main lobby provides access to registration, elevators, outpatient services, as well as a dining area.
Sitework includes two roadways, a parking area and a helipad. Pressure grouting was used to mitigate any chance of a sinkhole and vibratory stone piers support the spread footings.
About Lend Lease
Lend Lease is a leading international property and infrastructure group.  Listed on the Australian Stock Exchange, Lend Lease has a significant presence in the Americas, Australia, Asia and Europe. In the U.S., Lend Lease offers more than 90 years of experience in the project management and construction industry. In the past decade alone, the firm has provided construction services on over 2,500 projects for 1,100 clients nationwide through its legacy Bovis Lend Lease business. The company provides a full range of construction services including construction management, general contracting, program management, project management, design/build and consulting services.
Posted October 25, 2011
More Articles: