Subscribe Now
Keep up with the latest news with our magazine and e-newsletter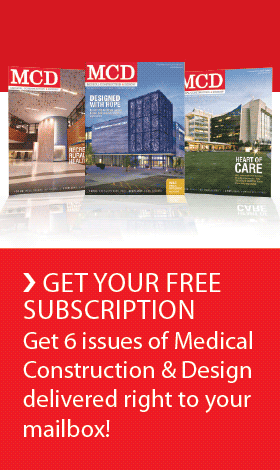 Subscribe to our E‑Newsletter
ODANAH, Wis. — After years of operating from a number of different portable buildings due to a fire in 2006 and relying on medical services located miles from the reservation, Bad River will soon celebrate more than the opening of a new Health and Wellness Center. The community will gather to renew the commitment of health for the Bad River community, and celebrate the success in creating a healthcare delivery system that meets the needs of the tribe now and into the future.

"We are turning the corner. This new facility provides us the space to offer a wider array of health care services to meet the needs of Bad River," said Bad River Tribal Chairman Mike Wiggins. "We have come a long way and it's just the beginning of a stronger health department and a healthier community."
In planning and designing the facility, DSGW Architects worked closely with Bad River band members, elders, facility staff, directors and council members. This group of active stakeholders shaped the program and final design of the clinic.
"Guiding principles were established early in the planning process and communicated through a series of meetings," stated Michael Laverdure, DSGW Architects designer and director of the First American Design Studio. "One example of incorporating culture into the facility was done through a "medicine path." As an informative and healing path, it encourages patients to reflect on Anishinabee culture at seven locations. Offering stations are located on each end of the path to offer prayers and asema."
The 25,000-square-foot Health and Wellness Center includes clinical exam rooms, an outpatient pharmacy, optical lab and testing, and a six chair dental clinic.
"It's an exciting time. We look forward to enhancing the services we currently provide and can now offer new services, such as dental," said Clinic Administrator Deb Tutor.
In addition, the design incorporates office space for medical records, billing and community health programs.
Funding for the Health and Wellness Center was provided by Indian Health Services, which provided $2 million for the project, and the Shakopee Mdewakanton Sioux Tribe, which made a grant of $1 million for the project. The clinic is also funded by the Federal Department of Urban Development, Health Resources and Services Administration, Delta Dental and the Bad River Tribal Judgement Fund.
About DSGW Architects and the First American Design Studio   
Established in 1938, DSGW is an architectural firm offering planning, design and interior services to communities of every size and character. Its 30+ member team has offices in Duluth, Virginia, Grand Rapids, and St.Paul. Over the last 30 years, DSGW Architects has provided services to over sixteen Native American Communities throughout the country. To sustain and focus DSGW's collaboration with First American communities, DSGW has created the First American Design Studio within the firm that focuses on Native American community development. One of the guiding principles of the First American Design Studio is dedicated to the advancement of opportunities for Native Americans to become fully engaged in the design and construction of projects.  For more information, visit  www.dsgw.com.
About Bad River Band of Lake Superior Chippewa   
The Bad River Band Of Lake Superior Tribe of Chippewa Indians is located on a 125,000+ acre reservation in Northern Wisconsin on the south shore of Lake Superior (Known by the tribe as Gichi Gami) in Ashland and Iron Counties. The tribe has over 7,000 members. For more information, visit http://www.badriver-nsn.gov/history.
Posted October 25, 2011
More Articles: