Subscribe Now
Keep up with the latest news with our magazine and e-newsletter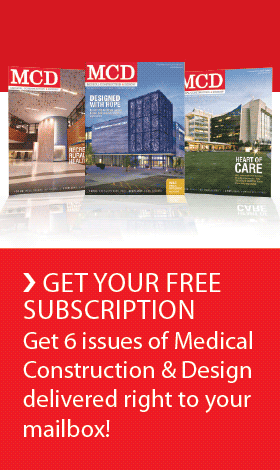 Subscribe to our E‑Newsletter
MINNEAPOLIS, Minn. — For decades, critically ill babies born at Abbott Northwestern Hospital have been whisked through an underground tunnel for emergency care at Children's Hospitals and Clinics of Minnesota. It is stressful to separate moms from their babies immediately after birth, but it was necessary to provide the best care possible for both.

Recognizing the need for a central place where mothers and infants could bond while receiving the highest level of care, Abbott Northwestern and Children's – Minneapolis have partnered to create The Mother Baby Center. Construction will soon begin on the center.
The Mother Baby Center at Abbott Northwestern and Children's – Minneapolis will merge Abbott Northwestern's labor, delivery and newborn nurseries with Children's Neonatal Intensive Care Unit, Special Care Nursery and Infant Care Center.
The birth center, located on Children's campus will have a dedicated entrance for expectant moms and families. The 96,000-square-foot four-story building will include 24 private patient rooms, a 20-bed ante-partum/post partum unit, 13 labor and delivery rooms, three operating rooms and skyway access to Abbott Northwestern.
It will be steps away from Children's new NICU, which features 44 private patient rooms with pullout sofas for parents and an environment especially designed for premature babies. The family centered Mother Baby Center will allow mothers and babies to be together, while providing babies with nationally renowned care from the Children's NICU.
The partnership will also create care coordination for high-risk patients, enhancements to the Midwest Fetal Care Center, and telemedicine services to provide better care to underserved communities. Maternal integrative therapies will be provided by the Penny George Institute for Health and Healing.
Allina and Children's have a strong history of successful collaborations. The two systems operate under a similar model on the St. Paul campus, where United Hospital's birthing center is across the hall from Children's NICU. This arrangement has provided a solid foundation to build upon.
"Currently, mothers of critically ill babies remain at Abbott Northwestern while their infants are transferred to the NICU at Children's, which leads to a separation at a critical time for all members of the family," said Penny Wheeler, MD, chief medical officer of Allina Hospitals & Clinics, who is also an obstetrician and gynecologist. "By bringing our services together, we create a center that allows us to keep families together, a key goal for our organizations, and offers the best quality and experience for those we serve."
"Our existing collaboration with Abbot Northwestern has produced some of the best outcomes in the country when it comes to caring for premature infants and babies with critical health needs," said Alan L. Goldbloom, MD, president and CEO at Children's. "The Mother Baby Center will build on that success, giving mothers a chance to deliver in a state-of-the-art facility, while still having immediate access to the best possible care for their infants."
Completion of the Mother Baby Center is scheduled for the end of 2012. Cost of construction of the new facility is $50 million.
One-third of the cost is being raised by Abbott Northwestern and Children's foundations. To date, major donors include Mary Lee Dayton, Sit Investment Associates, Inc., Riverbridge Partners, HDR Architects, The Martha "Muffy" Macmillan Family, Rick and Susie Chaffee, Linda and Robert Barrows, and employees and partners of RJF, a Marsh & McLennan Agency LLC Co.
Posted October 5, 2011
More Articles: