Subscribe Now
Keep up with the latest news with our magazine and e-newsletter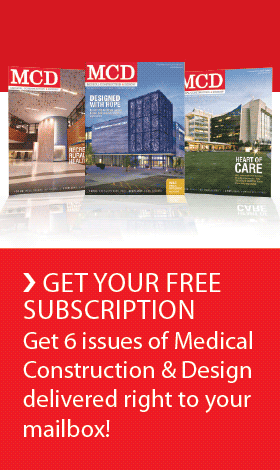 Subscribe to our E‑Newsletter
SAN DIEGO, CALIF. — Construction work on San Diego's latest cancer treatment facility has reached a milestone with the topping out of structural steel work at the Scripps Radiation Therapy Center on the Torrey Pines Mesa in La Jolla, Calif.
The 41,000-square-foot center, which broke ground last spring, is being built on an 8-acre parcel. The $43.9-million facility is scheduled to open for patient care by the third quarter of 2012.
DPR Construction is the project's general contractor. Key subcontractors include FreemanWhite (design-build); Hope Engineering (structural engineering); RBF Consulting (civil engineering); Wimmer Yamada & Caughey (landscape design); University Mechanical (mechanical and plumbing design-build); Dynalectric (electrical design-build); Rossin Steel (structural steel); California Sheet Metal (exterior skin); and Vision Systems (exterior glazing system). DPR is self-performing concrete work and drywall work at the center.
Scripps Radiation Therapy Center will feature some of the most advanced technologies in the world for treating cancer. The facility will include three new, state-of-the art linear accelerators: one TrueBeam STx linear accelerator – which will be the first of its kind in San Diego – and two Clinac linear accelerators, each manufactured by Varian Medical Systems of Palo Alto, Calif.
The FDA-approved technology can treat cancers anywhere in the body where radiation treatment is indicated. It is particularly well suited to treat challenging cases in the brain, spine, lung, liver and prostate, which are surrounded by critical structures. The technology is powerful, fast and flexible, allowing physicians to treat patients with greater precision and in less time than traditional approaches.
The center will also include a 16-slice CT simulator with 4-D imaging capability, which will enable radiation oncologists to more accurately treat tumors that move, while minimizing the impact on surrounding critical structures. Additionally, the facility will offer a patient education resource library; clinical research space; a healing garden; patient locker and gowning areas and physician offices. The center is designed with the ability to add two more linear accelerators.
When complete, the facility will have the capacity to treat approximately 1,200 patients annually. The center is expected to draw patients primarily from Scripps' 23 outpatient centers and five hospital campuses. Most patients will receive care on an outpatient basis. It will consolidate two existing radiation oncology centers, which are now housed at Scripps Memorial Hospital La Jolla and Scripps Green Hospital.
Posted September 20, 2011
More Articles: