Subscribe Now
Keep up with the latest news with our magazine and e-newsletter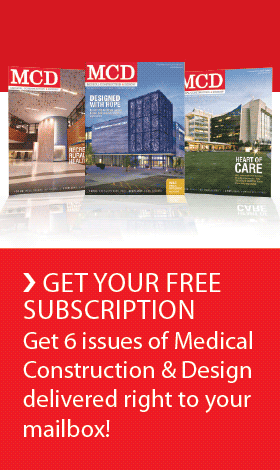 Subscribe to our E‑Newsletter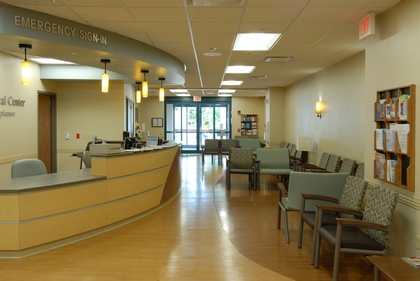 NASHVILLE, Tenn. — More than half of all patients admitted to Summit Medical Center arrive via the emergency department – and they aren't always gentle arrivals. It is the emergency department, after all. That's why this part of the hospital is designed to take a beating and still look great.
And thanks to excellent maintenance, Summit's emergency department still looked good 15 years after the hospital opened. But it had become too small, as changes in America's healthcare system have caused more people to use the emergency department than 15 years ago. So, Summit turned the necessity of enlarging the department into an opportunity to make it a more inviting entry to the hospital, as well as a more commodious treatment area.
"Like many hospitals across the nation, we are seeing a dramatic upswing in use of our emergency department," said Randy Farrar, director of emergency and critical care services at Summit Medical Center. "So, there was no question that we needed to enlarge it, as well as make modifications to assure we are compliant with federal privacy codes that were not in place 15 years ago. But we also realized that increased use of our emergency department means that it has become the front door to the hospital for many patients, and we want to make sure that it looks as good as it works."
Summit turned to Nashville's standalone interior design firm specializing in healthcare facilities, Inner Design Studio, to help turn its need for more space into an opportunity to create more attractive space. In "re-visioning" the emergency department as an important main entrance, as well as a treatment area, Summit is at the leading edge of an emerging national trend in hospital design, according to Inner Design Studio professionals.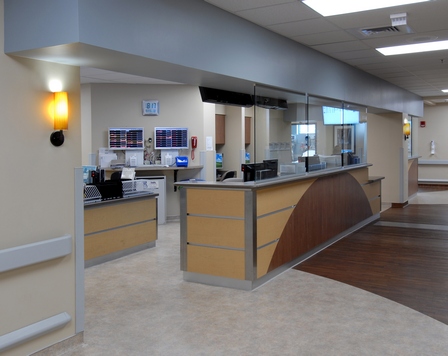 "The renovation completely transformed the space," said Pam Faulkner, senior designer for Inner Design Studio and head designer on the Summit project. "It moved from a traditional, somewhat clinical look to a very welcoming environment that works as well as it looks. The department now makes much more efficient use of space and the patient experience is more personal, private and healing-centered. It's an outstanding example of how design can contribute to positive medical outcomes and we are very grateful to Summit's visionary leadership for encouraging us to push the envelope. It's not often that we get to work with hospital administrators who want to be at the forefront of healthcare design."
Summit completed its emergency department interior renovation this month. The project was undertaken in three phases so that the department could continue to function as renovations were underway. From start to finish, the project took six months.
The first phase, which began in June 2010 and was completed in December 2010, focused on creating more functional workspaces for the staff and remodeling vacant office spaces into two additional patient rooms. Before, workstations were overcrowded and lacked an efficient layout. The new layout repositioned file cabinets, work monitors and workstation areas to enhance efficient workflow. Additionally, spaces previously used as offices were converted into two new private patient exam rooms.
"This project is a case study of how to create more useable space without actually adding square footage. It shows how design alone can make a space appear larger, and actually be larger in terms of useable space, without the expense of constructing an addition," Faulkner said.
During the second phase, patient exams rooms were renovated to create more private, intimate spaces for guests and a sub-wait area was added outside the triage rooms. Previously, a portion of the 16 patient exam rooms were divided by dated cubicle curtains, which no longer met privacy codes under HIPPA. After the renovation, Summit added eight additional patient rooms that are now divided by walls and doors to give patients a more intimate, personal healing space. Currently, the emergency room has 24 private patient exam rooms, compared to the initial 16 rooms previously before the renovation. In addition, a sub-wait area with seating and tables was added outside the triage rooms to accommodate guests who are waiting for patients to be taken to an exam room, labs or imaging. The second phase was completed in five months.
From May to July 2011, the emergency department waiting area was renovated as part of the third phase. Before, the waiting room could only hold around 30 guests. The renovation focused on expanding and elongating the waiting area to provide more separation between patients, creating a more defined pattern of flow from the registration desk to the seating area, and incorporating a warmer color palette. After the renovation, the new waiting area can accommodate up to 50 people and features an updated look with warmer tones. Interior updates include a wider reception desk creating a more efficient work space for admitting patients, various wood floor materials that are used to separate seating areas and show a pattern of flow, a warmer color palette used throughout the walls and furniture, and new artwork. The floors and walls of the patient corridor adjacent to the waiting area received the same renovations as the waiting area that creates a more thoughtful design flow.
"The interior renovations to Summit Medical Center have added much needed space to the facility and will allow them to admit more patients," said Faulkner. "In addition, Summit offers a warmer, more private and intimate healing environment that will suit patients' needs for a long time."
Tags:
Posted September 14, 2011
More Articles: