Subscribe Now
Keep up with the latest news with our magazine and e-newsletter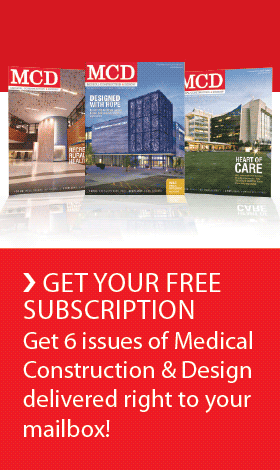 Subscribe to our E‑Newsletter
MEMPHIS, Tenn. — Methodist Le Bonheur Healthcare has chosen the design and construction team for its new Olive Branch Hospital and set the groundbreaking for 3 p.m. Oct. 19. Gresham, Smith and Partners, Smith Seckman Reid, Incand Turner Construction Company have been selected as an integrated project delivery team for the design and construction of the new hospital.

The full-service, 100-bed hospital will support MLH's commitment to sustainability by being designed to achieve LEED certification. The new hospital will support the facility's mission of collaborating with patients and families to be the leader in providing high quality, cost-effective patient and family-centered care.
"We continue to move forward in our efforts to provide Olive Branch and its surrounding communities with state-of-the-art healthcare facilities which will assist us in the provision of high quality health services everyone deserves," said David Baytos, senior vice president of Mississippi Healthcare Services, Methodist Le Bonheur Healthcare. "Methodist Le Bonheur Healthcare is honored to bring a full-service hospital closer to our patients. The design and construction of this new facility will provide social, economic and sustainable benefits for our community for years to come."
"Our team is focused on providing Olive Branch with a facility that is attractive, operationally efficient and cost effective, as well as prepared to accommodate and adjust with the future of healthcare," Greg Gore, AIA, NCARB, principal-in-charge, Gresham, Smith and Partners. "Lean and evidence-based design principles will complement our spirit of collaboration and creativity as we develop a facility that provides excellence in delivery of care, allows for the incorporation of known and unknown future technologies and has a relentless focus on patient safety and satisfaction."
Smith Seckman Reid, Inc will be providing engineering design, medical communication system planning, Commissioning and LEED facilitation services for the project. R. Clay Seckman, PE, executive vice president of SSR added "We are excited about continuing our relationship with Methodist Le Bonheur Healthcare, and the innovative delivery method that will be used for this project. We are grateful for the opportunity to be involved."
Turner Construction Company will provide construction management services for the project and serve as general contractor. Randy Keiser, vice president of Turner Construction stated, "We look forward to delivering a sustainable and efficient hospital for the people of Olive Branch which supports Methodist Le Bonheur Healthcare's mission of healing and health in alignment with their integrated approach to healthcare delivery." He further added, "Our team's goal is for both the process and project to set a new, higher standard for the community."
IPD requires collaboration of the entire building team including the owner, architect, engineers, contractor and subcontractors through all phases of design and construction. The delivery method helps to optimize project results, reduce waste and maximize efficiency.
GS&P, SSR and Turner recently teamed together and utilized an IPD approach on the design and construction of a 550,000-square-foot, 286-bed replacement hospital. The team worked together from the inception of design to the completion of the facility which resulted in the project remaining successfully under budget and ahead of schedule. The facility is a model of convenient, efficient and safe healthcare for the growing region.
About Gresham, Smith and Partners:
Gresham, Smith and Partners provides design and consulting solutions for the built environment that contribute to the success of national and international clients. For more than 40 years, GS&P has focused on enhancing quality of life and sustainability within communities. GS&P consists of industry-leading professionals practicing architecture and engineering design as well as scientists and highly specialized planning and strategic consultants in Aviation, Corporate and Urban Design, Environmental Compliance, Healthcare, Industrial, Land Planning, Transportation and Water Services. GS&P consistently ranks among the top architecture and engineering firms in the United States. For more information regarding GS&P, visit www.gspnet.com.
About Smith Seckman and Reid, Inc.:
SSR is a nationally recognized engineering design and consulting firm, with more than 500 staff members in 13 offices across the country. Founded in 1968, SSR has maintained a core focus in the design and operation of healthcare facilities, and has added services targeting the environmental, transportation, sports and entertainment market sectors.
About Turner Construction Company:
Founded in 1902, Turner Construction Company is recognized as the nation's leading general builder, specializes in general construction, construction management, design-build, green building, and Building Information Modeling (BIM). During 2010, Turner completed over $7.4 billion in construction projects worldwide. For more information, visit Turner's website at www.turnerconstruction.com.
Posted September 9, 2011
More Articles: