Subscribe Now
Keep up with the latest news with our magazine and e-newsletter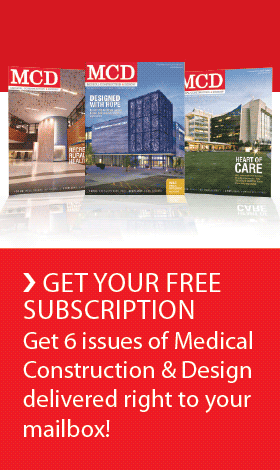 Subscribe to our E‑Newsletter
RIVERSIDE, Calif.– KDC, a national real estate development and investment and March HealthCare Development have signed a Memorandum of Understanding to develop a medical complex on the former March Air Force Base in Riverside County.
Nathan Golik, senior vice president and leader of KDC's medical development division, is overseeing the venture on behalf of KDC. "We are constantly evaluating opportunities to partner with hospital systems to provide capital and development expertise in this rapidly changing healthcare climate," said Golik. "March LifeCare's business model fits our strategy and will provide healthcare to an underserved market and redevelop one of California's most recognizable decommissioned military bases."

"It is a real pleasure to welcome KDC to our quality partnership in Zone 1, which will be the anchor for America's first medical city," stated Don Ecker, March LifeCare founder and chairman.
The master-planned March LifeCare medical complex will be constructed on the former March Air Force Base, located just east of Riverside on Interstate 215, which was decommissioned in 1996. The March Joint Powers Authority, a commission that represents the county and the adjoining cities, has been overseeing the redevelopment effort.  In July 2010, March HealthCare Development broke ground on the new medical complex during a ceremony that included the demolition of the 16 remaining structures at the former base.
Plans for the $3.3-billion March LifeCare medical complex will include a wide range of healthcare services. KDC is partnering with March HealthCare Development to construct Zone 1, considered the gateway to the campus, and the first of 11 zones.  Zone 1 encompasses 35-acres and is entitled for 1.2 million square feet of building space with 2,900 parking spaces.  It will include general and specialty hospitals, medical office buildings, outpatient services and an ambulatory surgery center.
Once the 11 zones are complete and the project is built out, the March LifeCare medical complex will encompass 236 acres and will house approximately 6 million square feet of health care related development, including a 550-bed hospital, medical buildings, a hotel, retirement community, centers of clinical excellence, ambulatory care facilities, a hotel, retail and training facilities.
KDC, March HealthCare Development and Riverside Medical Clinic are partnering to incorporate a quality hospital "operator" as they design an Accountable Care Organization (ACO) including health plans that currently contract with Riverside Medical Clinic, a March LifeCare partner.  Dr. Steve Larson, Riverside Medical Clinic chairman and CEO, said that the announcement of the ACO and hospital operator will become a critical part of University of California, Riverside Medical School's desire to open in 2012.
About KDC
KDC, one of America's leading commercial real estate and investment companies, provides a full range of commercial real estate services including corporate build-to-suit development, acquisitions, corporate facility project/construction management, project financing, asset and land management, and marketing and leasing. KDC is headquartered in Dallas and has offices in Atlanta; Charlotte, N.C.; and Detroit. For more information, visit kdc.com.
About Riverside Medical Clinic
Founded in 1935, Riverside Medical Clinic is one of the oldest and most successful health care organizations in the Inland Empire. Modeled after the Mayo Clinic, the vision was to bring top notch primary and specialty physicians into one group, offering virtually every outpatient service the community might need from a single source. That vision has materialized into the largest private ambulatory healthcare system in the Inland Empire. As the first fully accredited multi-specialty group in the area, Riverside Medical Clinic now serves a community of more than 226,000 with state-of-the-art technology and straight-from-the-heart health care.
About March LifeCare
From birth to hospice and at 6 million square feet of health care related development, March LifeCare has been called the largest health care project in the Western United States. At total build out, the development will include a 550-bed hospital, medical office buildings, centers of excellence, retail, a senior continuum of over 700 beds, ambulatory care facilities, a hotel and healing institute, and education, research and training facilities.
Posted September 1, 2011
More Articles: