Subscribe Now
Keep up with the latest news with our magazine and e-newsletter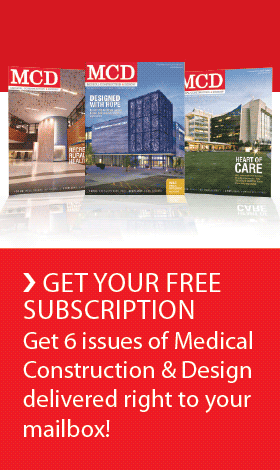 Subscribe to our E‑Newsletter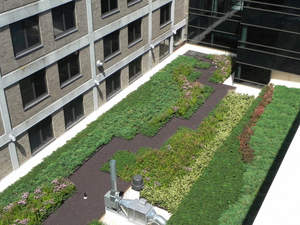 BUFFALO GROVE, Ill. — Riverside Medical Center in Kankakee, Ill. recently unveiled the installation of a large eco-friendly vegetative living green roof system in celebration of the hospital's commitment to environmental stewardship and the launch of the hospital's East Tower.

The planting system and vegetation on the living roof act as insulation and will reduce heating and cooling costs by as much as 20 percent. The installation provides patients, visitors and employees with an ever-changing landscape canvas atop a rooftop space that was previously barren.
The green roof is nestled in the hospital's new East Tower, which is the largest addition in the history of the hospital with 160,000-square-feet of new space, which will include 12 newly designed, highly advanced operating rooms, seven richly appointed labor, delivery and recovery rooms, one dedicated C-section operating room, 18 new high-tech private ICU rooms, 23 family centered private rooms, and additional support space. The system was designed and installed by Ambius, a division of Rentokil Initial plc, a provider of interior landscaping solutions.
"Riverside Medical Center is committed, not only to the best possible care of our patients, but to also help take care of the planet and reduce our carbon footprint," said Phillip M. Kambic, president and CEO of Riverside Medical Center. "The green roof was designed to help make a positive difference today and for future generations. Patients, visitors and staff will now have an aesthetically pleasing view, rather than that of an unappealing white roof." Kambic points out that several research studies have indicated that a natural view can play an important role in improving health.
The new East Tower addition is being built with many green materials including low-VOC paint, recycled flooring content, renewable resource flooring, urea and formaldehyde-free adhesives, super-efficient low-E glass, heat-resistant white TPO roofing, occupancy sensors for reduced energy consumption and Energy Star rated appliances.
"Riverside Medical Center's new living green roof is not just an attractive biological alternative to a dead roof," says Denise Eichmann, Ambius Project Development North America senior project manager. "This living roof encourages a different way of thinking altogether. Installing green roofs is about ensuring a commitment to address the most pressing environmental issues of our time — climate change, energy efficiency and sustainability."
"Living roofs were commonly found on the sod houses of the American prairie but in recent decades, architects, builders and city planners have turned to green roofs for their beauty and practicality," adds Eichmann. "Green roofs have the ability to mitigate environmental extremes common on conventional roofs. When rain falls on a conventional roof, it sheets off and floods into storm drains — unabsorbed, unfiltered and undeterred. A living roof works the way a meadow does by absorbing water, filtering it, slowing it down and even storing some of it for later use. This ultimately helps reduce the threat of sewer overflows, extends the life of a city's drain system and returns cleaner water to the surrounding watershed."
Posted August 29, 2011
More Articles: