Subscribe Now
Keep up with the latest news with our magazine and e-newsletter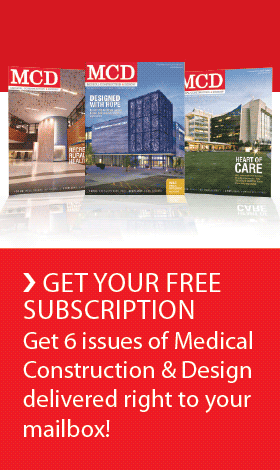 Subscribe to our E‑Newsletter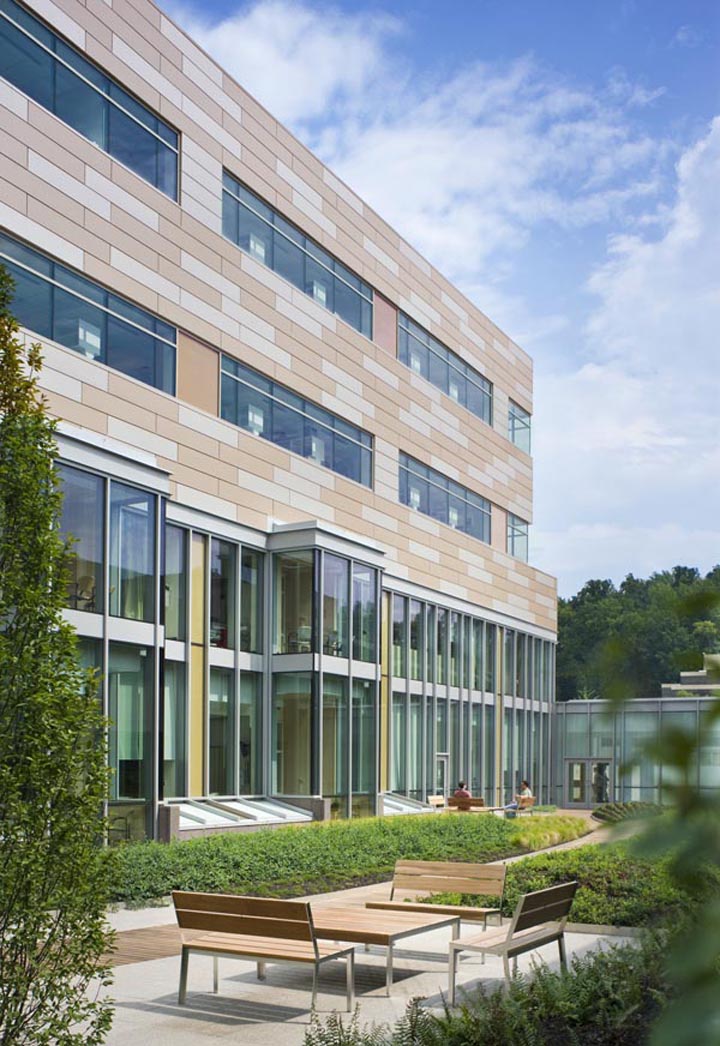 BOSTON, Mass. — Payette, a leading architectural design firm specializing in complex buildings for academic teaching, medical and scientific research, and healthcare, announced that the Penn State Hershey Cancer Institute has earned LEED Certification from the U.S. Green Building Council. Payette designed the 176,000-square-foot cancer institute in response to the USGBC's efforts to promote and encourage the design, construction and operation of high-performance sustainable buildings. Key green components include site and building selection, water efficiency, energy efficiency, materials selection, and indoor environmental quality.

Driven by the belief that direct and visual access to nature plays a holistic role in healthcare, rooftop gardens embody a commitment towards sustainability and provide a direct connection for visitors, guests and staff to experience the healing power of nature. Hallmark features of the project, the Healing Garden and the Hospital Courtyard Garden, are green roofs hidden over mechanical spaces, demonstrating Payette's solution for weaving sustainable elements into the function of the building, while supporting and preserving the needs of its guests.
"Penn State and Payette share the opinion that high quality and highly functioning building spaces should exhibit exemplary sustainable responsibility; and that by doing so, we provide a better environment for our patients, staff and guests," said Dr. Thomas Loughran, director of the Penn State Hershey Cancer Institute "We have achieved our goal of LEED Certification, and in turn have solidified our commitment to protecting health and wellness in all areas of our hospital community."
Sustainable features permeate the project and extend from the site conditions to the indoor air quality. Touching upon major themes, the design team took environmental stewardship into consideration at every turn. Features include:
• Site and Building Selection: Preserving and enhancing the landscape is a project priority. Located within a belt of protected farmland and woodlands, the project and its associated parking garage protect and preserve open space – returning more useable landscape to the campus than before construction. Situated on local and regional transportation lines, the project is easily accessible to public transportation.
• Water Efficiency: The Cancer Institute, both a working advanced research lab and an active outpatient healthcare facility, meets the stringent requirements of the building safety and health code requirements for water use safety. To protect water resources, the gardens and landscape feature plants and trees that will require 50% less water for irrigation than normal.
• Materials: Building materials and furnishings, as well as many of the products chosen for the project, contain a high percentage of recycled and regional content. All of the wood came from forestry sources that are certified sustainable by an independent authority. In addition, the Cancer Institute has rolled out an extensive recycling program that includes convenient and dedicated space and receptacles on every floor within the hospital.
• Indoor Environmental Quality: On this tobacco-free campus, the new building contains a system of monitors that check the level of carbon dioxide, increasing the amount of fresh air when a large number of people are using a room. Also, all potential indoor sources of pollution are carefully monitored and exhausted directly to the outside. To increase indoor air quality, only low-emitting finishes were chosen. Penn State has implemented a green housekeeping program that emphasizes waste reduction and non-toxic cleaning products, improves indoor air quality, and protects the environment from harmful cleaning chemicals. This holistic approach benefits the health of building residents and staff.
• Natural Lighting: Access to natural light and nature are essential to the welcoming and peaceful environment of the Cancer Institute. The clinical floors include a 40–bed infusion therapy unit and outpatient clinics with family lounges oriented toward the Healing Garden. Transparent vertical surfaces allow for natural light to permeate each infusion suite. Sliding glass partitions and cubicle curtains between infusion suites allow for communication between patients and views of the Healing Garden.
"We have always tended toward sustainable design, and it was a pleasure to work with Penn State on the design of their new LEED Certified Cancer Institute," said Kevin Sullivan, AIA, LEED AP, principal at Payette. "This building is a living, breathing example of how sustainable features can not only address the requirements of a very sensitive end user, but also how they can replace traditional building materials and methods in a way that creates an aesthetic space for many to enjoy."
An integral part of the project design team, the Sustainable Performance Institute, a project of the Green Roundtable, is a Boston-based independent nonprofit organization whose mission is to mainstream green building and sustainable development using the tools of education, policy and technical assistance. In addition, Payette worked with associate architect Array Healthcare Facilities Solutions on the Penn State Hershey Cancer Institute. Other project team members include Gilbane, construction manager; Bard, Rao + Athanas (BR+A) Consulting Engineers, mechanical, electrical and plumbing engineer; Gannett Fleming, Inc., structural, civil and traffic engineer; Walker Parking Consultants, parking; and Hargreaves Associates, landscape architects.
Image © Warren Jagger Photography
Posted August 30, 2011
More Articles: