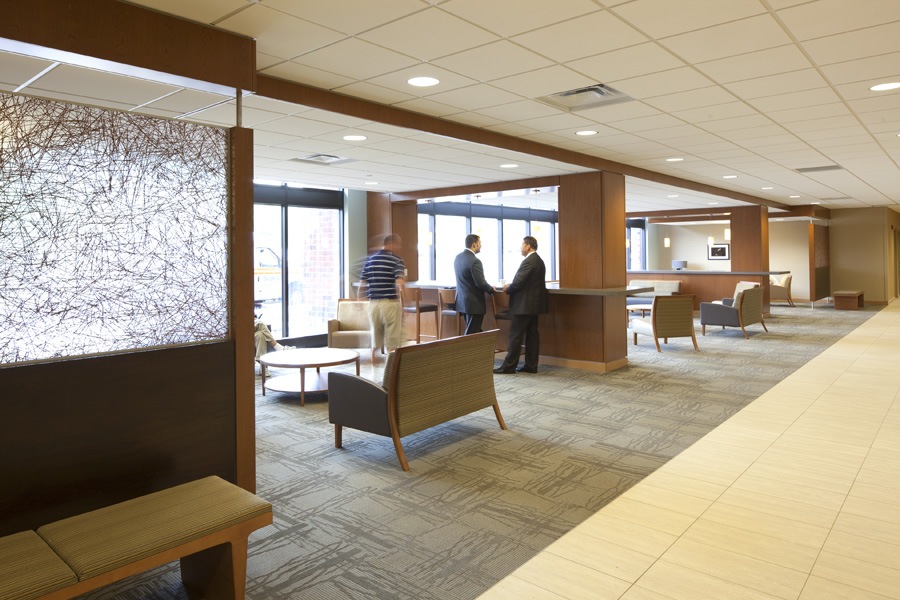 Subscribe Now
Keep up with the latest news with our magazine and e-newsletter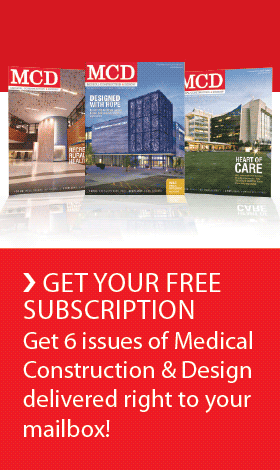 Subscribe to our E‑Newsletter
By Christine Guzzo Vickery
Along with the many cost-saving and efficiency principles driving innovations in healthcare architecture—from Lean to sustainable design—three trends are altering space planning and interior design in ways that better serve patients and their families. One trend is providing clients instant access to 24/7 connectivity. Another is incorporating educational or resource centers within medical facilities, for members of the greater community and clients to use for information gathering. The third is including home-like lounges for families and play areas for children. Such trends are inspiring innovations in healthcare interiors that ensure families remain well-informed, connected to friends and relatives and comfortable during their stay.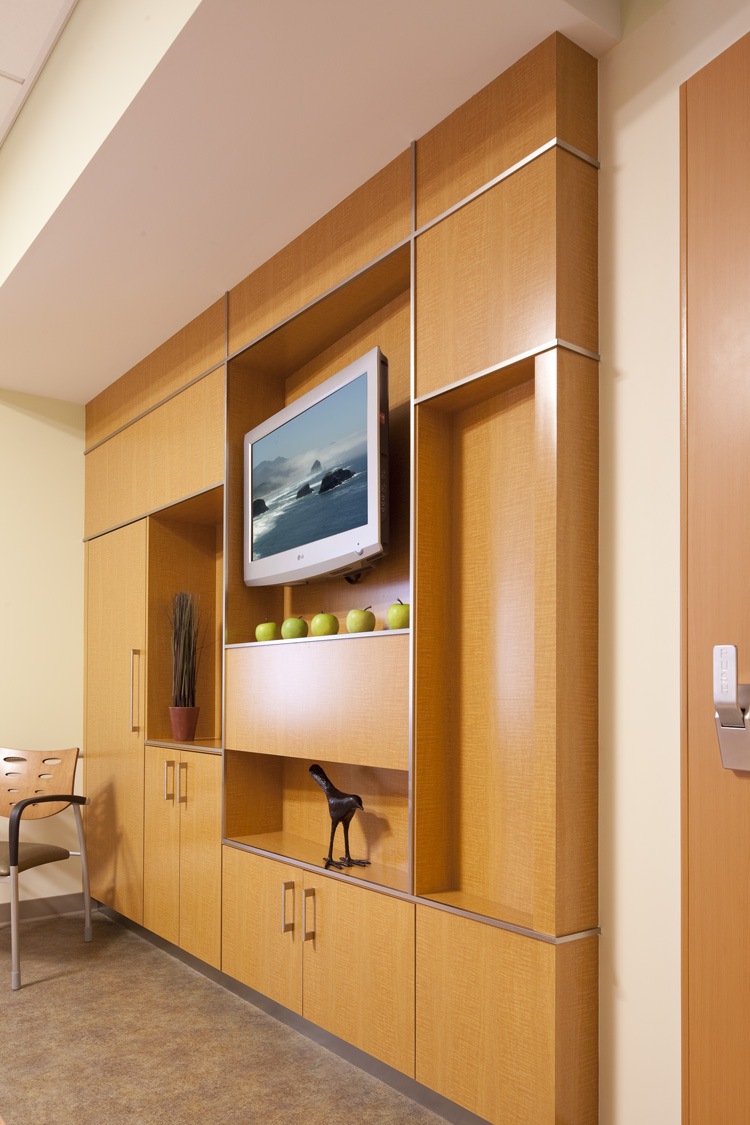 Ensuring wireless connectivity
Patients and their families want to be able to surf the Internet, get work and homework done, and connect with relatives and friends via Skype, Facebook and Twitter. To facilitate these connections, some hospitals and medical centers are incorporating distributed antenna systems, which provide wireless accessibility throughout a medical center, including private patient rooms. With such systems, all hospital staff can work more easily and with greater efficiency, and thus provide increased attention to patients and families.
Also, designated data hubs are being phased out. Today, docking stations and charging outlets are integrated throughout a medical facility to provide uninterrupted power for cameras in OB wards; and instant connections for laptops in resource centers, and for smart phones, iPods, iBooks and laptops in patient rooms and family lounges.
Patient rooms are also outfitted with technological innovations. From their beds or sitting areas, patients can enjoy cable television or screen movies, watch DVDs or hospital channels on medical issues and procedures, or access the Internet on a large flat-screen monitor. To eliminate a tangle of wires and cables near beds, patient rooms are equipped with wireless keyboards, hand-held interfaces and touch-screen controls. As an added bonus, such devices allow patients to control the room lighting, temperature, sound and even the window curtains in the room.
Community resource centers
Patient and family education centers are now being enhanced to provide members of the local community with state-of-the art facilities for research. Such knowledge centers are often part of greater community outreach efforts on the part of hospitals and medical facilities.
The centers include a resource area with private computer cubicles connected to databases so individuals can research medical conditions, procedures, medications, and healthcare options. The center may also incorporate an auditorium and/or lecture hall for talks by clinicians, physicians and visiting researchers. Meeting rooms with flexible walls for various space configurations can accommodate community training sessions or specialty workshops on subjects from wellness to hospice, birthing to breastfeeding to bereavement.
Many are designed to resemble a business facility, with professional finishes and corporate furnishings, so the center has a different feel from the more family-friendly lounges, and private patient and treatment areas.

Family lounges and children's play areas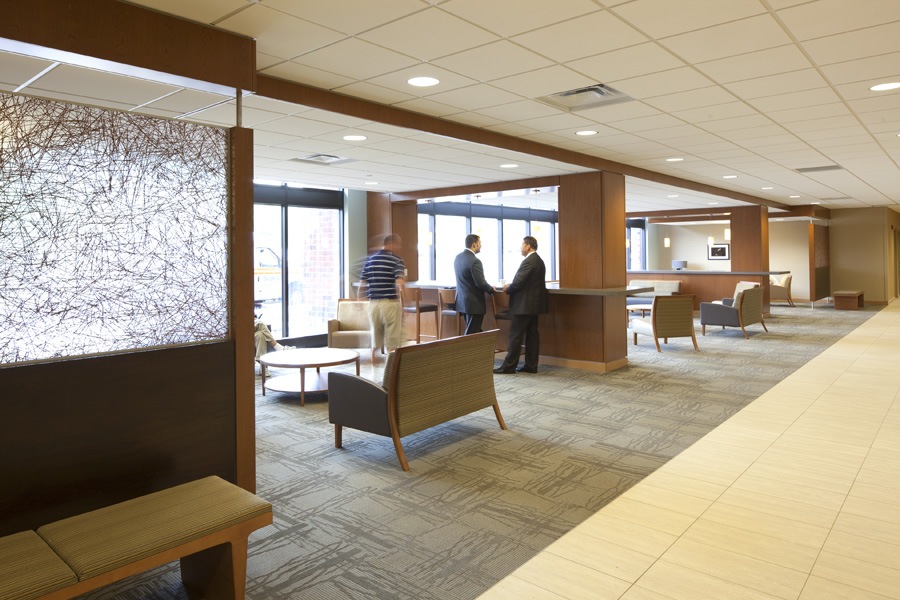 Home-like family lounges are becoming the norm in hospitals to enhance comfort and reduce stress, while age-appropriate play areas provide uplifting distractions to children of various ages.
Family lounges, including waiting areas, might be located in a spacious, light-filled, two-story atrium with clustered seating areas for privacy. High-back chairs, like those found in living rooms, give parents a chance to lean back and rest their heads. Comfy oversized chairs and two-seat sofas allow children to nestle in with parents. Table lamps provide home-like lighting, while textural sculptures and other artwork provide visual interest.
Many hospitals, especially pediatric units, also incorporate sibling lounges or play spaces. For toddlers and young children, play spaces might include interactive 3D sculptures, mazes and games—perhaps even in a safe green space outdoors. Areas specifically for teenagers include appropriate artwork, places for listening to music or doing homework on laptops, and seating for comfortably hanging out with friends.
Throughout these lounges and play areas, wireless connectivity and electrical outlets allow parents to work, teenagers to talk on smartphones or text with friends, children to watch movies on netbooks and grandparents to read from Kindles or Nooks.
Instant connectivity, comfortable areas for families and children, and knowledge centers for patients, families and the greater community are just some of the trends spurring the ongoing evolution of healthcare design, and reflect a new level of compassion and care medical facilities offer to clients.
Christine Guzzo Vickery, CID, EDAC, is a vice president of interior design and research at HGA Architects and Engineers in Minneapolis. She has worked with healthcare systems across the country and has focused her career on designing supportive, healing healthcare environments that inspire patients, family and staff.

Photos by Steve Henke/Henke Studio

Tags:
Posted August 16, 2011
More Articles: