Subscribe Now
Keep up with the latest news with our magazine and e-newsletter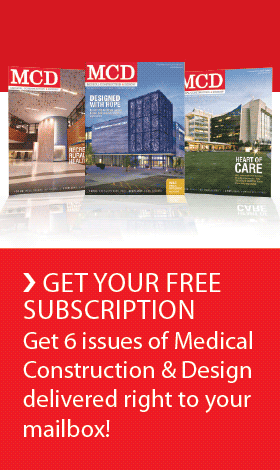 Subscribe to our E‑Newsletter
Yale-New Haven's commitment to healthy environment honored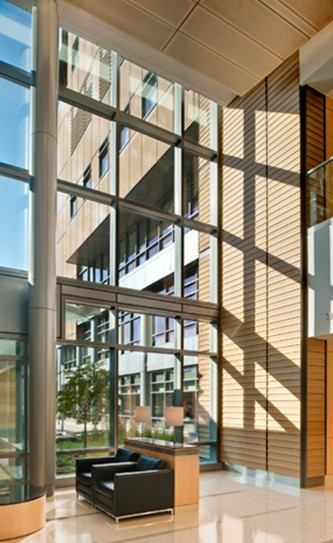 Creating an environment that promotes healing complements the development and practice of treatments that heal. That was the thinking behind the design of Smilow Cancer Hospital at Yale-New Haven Hospital, which has received an Award of Merit in the Connecticut Green Building Council's (CTGBC) 2011 Green Building Design Awards. Norman Roth, Yale-New Haven's Senior Vice President of Administration, accepted the award at the June 21 ceremony in New Haven.
The hospital was designed by national healthcare architects Shepley Bulfinch and landscape architects Towers|Golde, and built by Turner Construction.
Eight years in the making, the 516,000 square foot cancer hospital in downtown New Haven integrates healing with sustainable design and operations.  Located on a tight urban site, the 14-story building incorporates many sustainable strategies, including a terracotta rain screen exterior, generous daylighting, and a mid-level rooftop garden. The hospital, which was completed in two phases in 2009 and 2010, is pursuing LEED certification.
"From the outside in, big or small, every aspect of Smilow preaches sustainability, " said Greg Heiges, Shepley Bulfinch's project manager for the Smilow Cancer Hospital project. "That covers everything from a site that's more pervious than it was prior to construction and a high-efficiency irrigation system, to materials that were selected to minimize chemical off-gassing within the building.  There's even a new bicycle hut to encourage alternative transportation for staff."
The facility provides comprehensive inpatient and outpatient services, including 168 private patient rooms, 12 operating rooms, radiation therapy, and a full complement of integrated imaging technologies.
Other 2011 award recipients included Mary Hooker Environmental Science Magnet School (Hartford); 360 State Street (New Haven); and Stepping Stones Museum for Children (Norwalk). This is the second environmental honors for Smilow, which received a Green Business Award from the Connecticut Business Journal in 2010.
Sustainable Highlights
The design team applied evidence-based design principles regarding the benefits of access to daylight and nature, locating patient-centered elements such as lobbies and corridors, infusion spaces, and waiting areas. This includes a daylit patient corridor in the operating suite. A 2,500 square foot landscaped healing garden on the seventh floor overlooks the city, with its plantings and paths visible to patients on the upper floors. 
Energy use: The team worked to reduce energy consumption, providing the owner with a series of rebates from the local utility provider. This effort reduces watts per square foot, providing occupancy sensors in non-patient areas, and using natural light where possible. Variable speed drives on pumps and other items also reduce energy consumption. Room pressure monitors throughout the building ensure that set points are not excessively overrun, reducing power needs for excess air supply.
Indoor air quality: Indoor air quality was a high priority. The building's air handling units (AHUs) have three levels of filtration:  Merv7, Merv13, and Merv17. The final tier incorporates HEPA filters.  Each AHU contains ultraviolet lights downstream of the cooling coils to reduce the potential for mold, fungus, and viruses. The AHUs are also equipped with outside air flow measuring stations to ensure the proper amount of outside air is introduced to the building. The optimized HVAC system was independently commissioned and set up for measurement and verification.
Water conservation: A 30% reduction in water consumption was met by utilizing low flow faucets. This lowered the baseline value from 2.5gpm to 1.5-1.1gpm, and assisted greatly with infection control efforts. In the planting beds located at grade and on the rooftop garden, the supplemental irrigation system uses high-efficient components and a drip system in lieu of sprinklers. Only the minimal amount of water is supplied to sustain the gardens.
Site decisions and design: Prior to development the site was dominated by a parking lot bounded by a low brick building and chain link fence. There was little pervious surface; minimal green space; and a sidewalk that was a long stretch of uninhabited space. Site design included construction of a greenscape plaza at the entry, where the parking lot and underground fuel tanks once sat. The hospital promotes alternative transportation with a commuter "bike hut"; alternative car fueling stations; and proximity to public transit. In addition, the hospital now has a highly regarded carpooling program for employees.
Building envelope and building materials:  A unitized pressure-equalized rainscreen curtain wall system uses a terra cotta façade asa lightweight material that is nearly impervious to the elements. This allowed for a reduction in structural steel while providing a durable building envelope. The shop-unitizing of each panel reduced wasted material and field labor and allowed for bench-testing prior to installation. The pressure-equalized rainscreen prevents negative pressure and forced leaks from entering the building, eliminates trapped condensation within the exterior wall, and provides a 50% higher effective R-value. Panel openings use low-emissivity insulated glass to reduce infrared heat from entering the building.
80% of the building's 2,000 sf of non-roof impervious surfaces have a high reflectivity rate, with a Solar Reflectance Index of over 29. The majority of pervious surfaces are also filled with native plant species. 
Inside, low-VOC paints and finishes assist with indoor air quality and reduce health risks. Solid-surface finishes and epoxy paints within operating rooms allow for ease of cleaning and reduce infection control concerns. Terrazzo flooring installed in public areas requires only water mopping and minimal maintenance with extreme durability.
Tags:
Posted August 18, 2011
More Articles: