Subscribe Now
Keep up with the latest news with our magazine and e-newsletter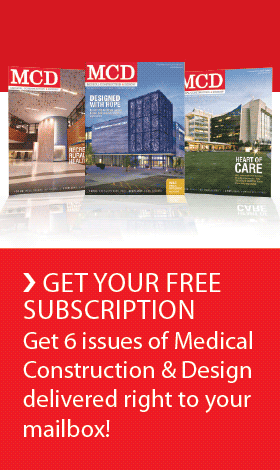 Subscribe to our E‑Newsletter
New course on designing hybrid operating room to be held at Perkins+Will
PLYMOUTH MEETING, Pa. — ECRI Institute, an independent nonprofit that researches the best approaches to improving patient care, announces its new designation as an American Institute of Architects (AIA/CES) approved provider of continuing education services for the healthcare design world. Two courses have been developed already including, "Building a Hybrid Operating Room," a program being offered Aug. 31, at Perkins+Will, in its New York City offices.

"These AIA/CES-approved programs are an excellent way to bring ECRI Institute's in-depth expertise in medical technology, especially our clinical knowledge of emerging technologies, to the healthcare design field," said Thomas Skorup, MBA, vice president, Applied Solutions at ECRI Institute. "It's very important for architects to understand these new technologies so that the hospitals they are designing now are more likely to be future-proof and meet clinical workflow and patient safety goals."
The curriculum for the August course, taught by ECRI Institute's Jay Ticer, senior associate, Applied Solutions, explores the concept of the hybrid operating room and the varied components used to provide patient care in this environment. It addresses issues related to the design, layout and implementation of these highly sophisticated patient care spaces. Upon completion of the program, participants will be able to recognize the procedure types and related imaging systems required for a hybrid operating room and differentiate the types of hybrid operating rooms and their unique benefits and challenges.
"Having worked with ECRI Institute's medical equipment planners, we know their depth of expertise," notes John Rodenbeck, senior associate at Perkins+Will. "These new AIA/CES-approved courses from ECRI will be very helpful to my architect colleagues."
An AIA/CES-approved course provided by ECRI Institute is "Infection Control Risk Assessment for Healthcare Construction Activities," a hands-on learning course for architects and construction healthcare management professionals. "Integrating the Operating Room" and "The Hybrid Operating Room" are two additional programs that may be of interest to architects.
ECRI Institute's expert staff provides medical equipment planning services to architects, their healthcare clients, and directly to healthcare providers worldwide for over four decades. Their unique set of competencies includes complete scientific objectivity, a full range of project management skills, equipment procurement and management support, and up-to-date information on effective new clinical technologies. Backed by the depth of ECRI's expertise, they help hospitals design the best possible clinical and operational workflows. ECRI Institute's equipment planning staff draws on the knowledge of the organization's multi-disciplinary staff of 350 full-time physicians, nurses, architects, engineers, equipment analysts, and planners.
For more information about ECRI Institute's AIA/CES-approved courses or medical equipment planning support, contact ECRI Institute by mail at 5200 Butler Pike, Plymouth Meeting, PA 19462-1298, USA; by telephone at (610) 825-6000; by e-mail at consultants@ecri.org, or by fax at (610) 834-1275.
About ECRI Institute
ECRI Institute (www.ecri.org), a nonprofit organization, dedicates itself to bringing the discipline of applied scientific research to healthcare to discover which medical procedures, devices, drugs, and processes are best to enable improved patient care. As pioneers in this science for more than 40 years, ECRI Institute marries experience and independence with the objectivity of evidence-based research. Strict conflict-of-interest guidelines ensure objectivity. ECRI Institute was designated as a Collaborating Center of the World Health Organization and is designated as an Evidence-based Practice Center by the U.S. Agency for Healthcare Research and Quality. ECRI Institute PSO, listed as a federally certified Patient Safety Organization by the U.S. Department of Health and Human Services, strives to achieve the highest levels of safety and quality in healthcare by collecting and analyzing patient safety information and sharing lessons learned and best practices. Find ECRI Institute on Facebook (www.facebook.com/ECRIInstitute) and on Twitter (www.twitter.com/ECRI_Institute).
About The American Institute of Architects
For over 150 years, members of the American Institute of Architects have worked with each other and their communities to create more valuable, healthy, secure, and sustainable buildings and cityscapes. Members adhere to a code of ethics and professional conduct to ensure the highest standards in professional practice. Embracing their responsibility to serve society, AIA/CES members engage civic and government leaders and the public in helping find needed solutions to pressing issues facing our communities, institutions, nation, and world. Visit www.aia.org.
Posted August 9, 2011
More Articles: