Subscribe Now
Keep up with the latest news with our magazine and e-newsletter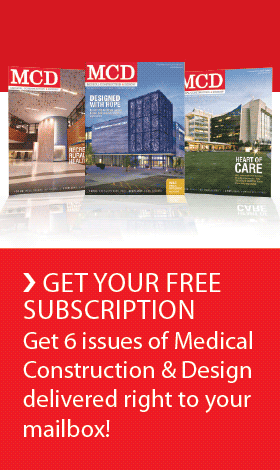 Subscribe to our E‑Newsletter
Major Gift to Help Fund State-of-the-Art Research Building
ATLANTA — Children's Healthcare of Atlanta and Emory University have received a $4 million gift from the Zeist Foundation, an organization that seeks opportunities to leverage its investments in organizations that are innovative, collaborative and sustainable in serving children, youth and families. The gift has been specified to support the construction of a new health sciences research building at Emory. The two institutions broke ground on the construction in June 2011.

The new building will include a two-story working bridge that will connect it to the Emory-Children's Center, a pediatric outpatient center adjacent to Children's Healthcare of Atlanta at Egleston. This working bridge will be named in memory of George W. Brumley, MD, who served as head of the Department of Pediatrics at Emory University and as Medical Director at Children's at Egleston from 1981 to 1995. Brumley passed away in 2003, and two of his daughters—Nancy Brumley Robitaille and Marie Brumley Foster, and son-in-law, Brad Foster—are carrying on his legacy through the Zeist Foundation, which created the George W. Brumley Jr. Chair in Pediatrics. Neonatologist and neonatal infectious disease specialist Barbara Stoll, whom Brumley recruited to Emory, holds the chair. Stoll is Medical Director of Children's Healthcare of Atlanta at Egleston, President of the Emory-Children's Center, and Chair of the Department of Pediatrics in Emory School of Medicine.
"This gift from our foundation extends the Brumley family's philanthropic legacy and fulfills the vision of Dr. Brumley to connect the work of researchers and practitioners so that children in Georgia receive the best medical care available," said Brad Foster, Executive Vice President of The Zeist Foundation and Trustee of Children's Healthcare of Atlanta Foundation. "We are proud to be able to push medical advances forward and partner with Emory and Children's for the future health of children."
"We are so grateful for the incredible commitment the Zeist Foundation has made to improving the lives of children, as well as humbled to honor Dr. George Brumley and his family in such a profound manner," said Eugene A. Hayes III, President of the Children's Healthcare of Atlanta Foundation.
The new five-story building will encompass 200,000-square-feet, with four stories above ground.  More than half of the new facility will focus on pediatric research through the Emory-Children's Pediatric Research Center, a partnership between Emory and Children's Healthcare of Atlanta. Fourteen key priority centers have been identified as part of this partnership. They are: hematology and oncology through the Aflac Cancer Center, immunology and vaccines, transplant immunology and immune therapeutics, pediatric healthcare technology innovation, cystic fibrosis, developmental lung biology, endothelial biology, cardiovascular biology, drug discovery, autism, neurosciences, nanomedicine, outcomes research and public health, and clinical and translational research.
The new facility will provide the necessary infrastructure for investigators conducting research to improve the quality of care and develop better treatments for Georgia's pediatric population. This project has implications for the city of Atlanta as a growing research community, building on collaborations with Emory University, Georgia Institute of Technology, Morehouse School of Medicine and others.
Children's Healthcare of Atlanta
Children's Healthcare of Atlanta, a not-for-profit organization, is committed to enhancing the lives of children through excellence in patient care, research and education. Managing more than half a million patient visits annually at three hospitals and 16 neighborhood locations, Children's is one of the largest clinical care providers for children in the country. Children's offers access to more than 30 pediatric specialties and is ranked among the top children's hospitals by Parents magazine and U.S.News & World Report. With generous philanthropic and volunteer support, Children's has made an impact in the lives of children in Georgia, the United States and throughout the world. Visit www.choa.org for more information.
Emory University
The Robert W. Woodruff Health Sciences Center (WHSC) of Emory University, a Georgia nonprofit corporation, is an academic health science and service center focused on missions of teaching, research, health care and public service. Funded research in WHSC exceeded $500 million in 2010.
This gift is part of Campaign Emory, a $1.6 billion fund-raising endeavor that combines private support and Emory's people, places, and programs to make a powerful contribution to the world. Investments through Campaign Emory fuel efforts to address fundamental challenges: transforming health and healing, gaining ground in science and technology, resolving conflict, harnessing the power of the arts, and educating the heart and mind.
Posted August 1, 2011
More Articles: