Subscribe Now
Keep up with the latest news with our magazine and e-newsletter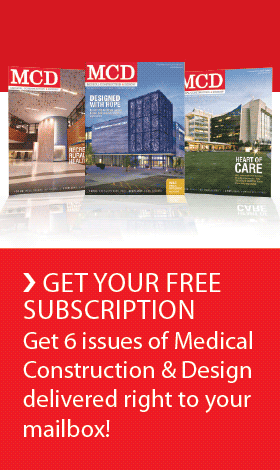 Subscribe to our E‑Newsletter
PITTSBURGH, Pa. — Allegheny General Hospital announced the opening of a new, state-of-the-art neurosurgical intensive care unit that will provide patients with access to one of the most advanced facilities of its kind in the country.
Dedicated in honor of pioneering AGH neurosurgeon Peter Jannetta, MD, the new NICU was designed to meet the unique needs of neurosurgical patients and the medical teams who care for them, said Jack Wilberger, MD, Chair of AGH's Department of Neurosurgery.

"The immediate post-operative period is a critical time in the recovery of patients who have undergone invasive, often life-saving neurosurgical procedures," Dr. Wilberger said. "The design of this new unit and the leading-edge technology that we have incorporated into it will greatly enhance our clinical capabilities and afford patients their best chance of having a successful treatment outcome."
The new NICU features 22 large private patient rooms and was conceptualized with significant input by physicians and nurses from the hospital's neurosciences and critical care programs. Design elements intended to optimize patient care and safety, family comfort and the staff's work environment were all driven by patient caregivers.
One of the unit's key technological innovations is its use of a boom system that suspends all patient-care equipment from the ceiling, providing the medical team with complete, unobstructed access to a patient's head at all times. Placing important equipment such as medical gas lines and imaging portals on overhead movable consoles also allows each ICU room to be quickly manipulated to accommodate additional medical equipment when necessary, including a portable, mobile CT scanner.
"Mobile CT is an important capability in this critical care setting," said Khaled Aziz, MD, director of AGH's Center for Complex Intracranial Disease and Director, Division of Neuro-Critical Care. "Patients who have undergone surgery for a brain tumor, aneurysm or traumatic injury often require follow up CT imaging during post surgery hospitalization to assess the brain's healing process and detect any complications.
In addition to mobile CT, the new NICU is equipped with a full spectrum of sophisticated diagnostic and therapeutic technologies designed to enhance the care of critically ill neurosurgical patients, including intracranial pressure monitoring, brain oxygen monitoring, transcranial dopler ultrasound, invasive hemodynamic monitoring and continuous electroencephalogram (EEG) monitoring.
The NICU is staffed by a multidisciplinary team of expert clinicians, including specialists in neurosurgery, neurology, critical care, neuro-radiology, anesthesiology, nursing, clinical pharmacy and physical therapy.
"Technology is wonderful, but it is the exceptional dedication and caliber of those who take care of our patients at the bed side that truly distinguishes this program. There is no more talented or experienced staff in the region," said Antonios Zikos, MD, an AGH critical care specialist and Medical Director of the NICU.
A Level 1 trauma center that is also designated as a Spine Surgery Center of Excellence, Primary Stroke Center and Comprehensive Epilepsy Center, AGH affords patients access to the complete spectrum of neurological critical care services around the clock. The hospital's NICU annually admits more than 1,500 patients.
Posted August 2, 2011
More Articles: