Subscribe Now
Keep up with the latest news with our magazine and e-newsletter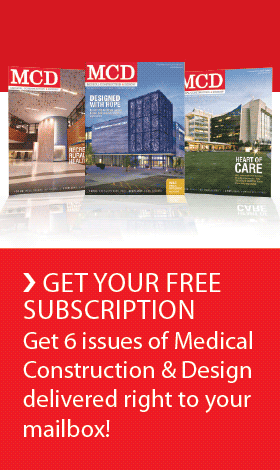 Subscribe to our E‑Newsletter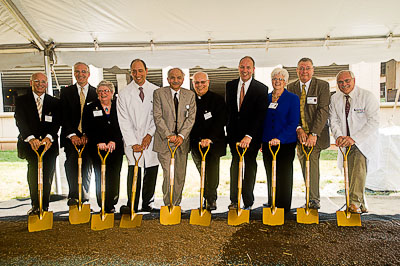 LANGHORNE, Pa — St. Mary Medical Center broke ground for a $22 million expansion and redesign of its Emergency Department and Trauma Center that will transform the way emergency care is provided to the community. The Emergency Department expansion is part of a larger capital expansion project totaling more than $70 million.
In 2010, St. Mary treated more than 67,000 patients in its current Emergency Department designed for a capacity of 50,000. While experiencing double-digit growth in the Emergency Department in each of past three years, patient satisfaction scores remain in the 90th to 95th percentile. The new expansion and redesign will provide the ability to care for up to 100,000 people annually — nearly double the current capacity — to help meet the increasing need in the region for prompt and advanced emergency care. 
"We place the highest value on all who entrust their lives — and the lives of their loved ones — to us each and every day. And it is St. Mary's goal to meet the healthcare needs of our community, now and in the future.  This expansion demonstrates St. Mary's commitment to the community — we will be here whenever you need us," said Greg Wozniak, President and CEO of St. Mary.
St. Mary will invest nearly $22 million in an expansion that will increase the capacity to 58 bed-treatment areas, plus 11 pediatric beds, in addition to streamlining the way emergency care and treatment are provided. It is expected to be complete fall 2012.

Bristol-Myers Squibb Pediatric Emergency Care Center at St. Mary Medical Center
The Bristol-Myers Squibb Foundation recently approved a $2 million grant to support the expansion of pediatric emergency services, which will be named the "Bristol-Myers Squibb Pediatric Emergency Care Center at St. Mary Medical Center."
St. Mary is the only hospital in Bucks County with a dedicated 24/7 pediatric emergency care center, including a separate setting for pediatric triage. The existing pediatric emergency care center currently treats approximately 14,000 patients each year. That number is up from 7,000 cases just five years ago, and the need for pediatric emergency care also is expected to grow rapidly in our community.
Once completed, the new pediatric Emergency Department will expand the center's capacity to 11 beds. A specially equipped pediatric resuscitation room, ambulance-entrance access, and separate sick-kids and well-kids reception areas are among the new features. Pediatric emergency care at St. Mary is provided by specially trained physicians and nurses in a unique setting designed to reduce stress and reassure children and parents.

Emergency Department and Trauma Center Expansion and Redesign
The Emergency Department expansion and redesign features attractive family-friendly features to enhance the experience of care received at St. Mary while improving processes to have a patient seen by a physician earlier in the visit and to move faster on care decisions and treatment.
"A lot of thought, research, and expert analysis went into the redesign and expansion," says Dr. Gary Zimmer, chair of St. Mary Emergency Medicine. "Along with the new physical layout of the Emergency Department, we are implementing a best-practice model of care delivery. It is all about getting the care the patient needs delivered to them in a more efficient and more effective timeframe.  This is a big 'win' for residents in our area."
Dr. Zimmer also notes that throughout the entire phase of construction and redesign, the Emergency Department and Trauma Center will continue to function with full staff and resources. "People who need emergency care should continue to come to St. Mary for treatment" says Dr. Zimmer. "We are never closed, and the expansion project will not interfere with patient care."
With the completion of the expansion, St. Mary will introduce a Split-Flow Model to manage high patient volume. Patients will be seen first by a nurse immediately upon entering the Emergency Department. The nurse will make an initial evaluation and directs patients to Pediatric, Prompt Care, Urgent Care, or a Rapid Assessment Unit (RAU). Prompt care is for minor injuries or conditions, such as a sprained ankle or flu; urgent care is for those with severe illness or conditions who are likely to be admitted to the hospital; and rapid assessment is a resource-intense process in which evaluations, studies and tests are quickly done, and the patient moves to a comfortable, private waiting area for results and treatment decisions.  The expansion and redesign will allow St. Mary Emergency Department space to be configured to accommodate this Split-Flow Model which is designed to parallel process triage and registration, have patients seen by a provider as quickly as possible, and effectively manage patients based the severity of their conditions.
A new ambulance entrance will provide more convenient access to trauma bays and urgent care for adult and pediatric patients. St. Mary has the only Regional Trauma Center in Bucks County that has state accreditation by the Pennsylvania Trauma Systems Foundation (PTSF). With the relocation of the trauma bays, the capacity to treat trauma patients will increase from three to four. 
The St. Mary Emergency Department and Trauma Center handle a wide range of illnesses and injuries with specialized medical teams prepared to respond immediately to traumas, strokes, and heart attacks. St. Mary provides around-the-clock access to surgery, cardiovascular catheterization, digital X-ray, CAT scan, laboratory and other emergency services.  The St. Mary Emergency Department and Trauma teams provide the advanced level of critical care offered in many metropolitan-area hospitals. 
"A hospital's emergency and trauma care is the number-one reason for choosing a hospital," says Wozniak.  "In addition, more than 40 percent of households in our community will have need to use emergency care in any given year. This is an important resource for our community."

"Expanding on Excellence" Capital Campaign
Representatives from the St. Mary Medical Center Foundation also attended the groundbreaking ceremony and announced an $8 million capital campaign "Expanding on Excellence: Your health. Your hospital. — The Campaign for St. Mary Medical Center" to support the current and upcoming expansion and growth of services at St. Mary. 
Throughout its 37-year history, St. Mary Medical Center has upheld a reputation for continually investing in the health and well-being of the community it serves.  The $70 million capital expansion, of which the Emergency Department expansion is a part, also includes:
Expansion of the Surgery Department, including advanced Neurosciences Technology
New Intensive Care Unit with Neurosciences Capabilities
Expansion of Inpatient Facilities
Additional improvements include a new front entrance and renovations to the lobby and chapel to better accommodate needs of patients and visitors.
St. Mary will raise the necessary funds for the capital expansion through a combination of private financing, available unrestricted cash, and generous gifts from the community, including a $100,000 grant from The Ronald McDonald House Charities presented by President Mike Anton to the St. Mary Medical Center Foundation.
"No one looks forward to going to a hospital, but eventually we or our loved ones all need these services," says Sue Wert, chair for the Foundation Board of Trustees, and a Bucks County resident. "And when we need excellent care, we know we can turn to St. Mary.  But while we count on St. Mary to be there for us, St. Mary also relies on financial support from the community to take that quality of care to the next level.  Our campaign — 'Expanding on Excellence' — will do just that, transforming the way healthcare is delivered in the Bucks County region."
The last expansion of the St. Mary Emergency Department was completed in January 2006. It featured a 16-bed addition as part of a $60 million capital expansion. The seven-bed Pediatric Emergency Care Center was opened at that time to become the first and only emergency department in Bucks County providing a specialized unit for pediatric care.  The 2006 expansion also included a patient reception area and a new parking garage with allocated space for emergency patients and visitors.

About St. Mary Medical Center
Licensed for 374 beds, St. Mary Medical Center in Langhorne, PA, is the most comprehensive medical center in the area.  Its compassionate staff of more than 600 physicians, 2,700 colleagues, and 1,000 volunteers is committed to providing excellence in patient safety and quality care. St. Mary offers state-of-the-art technology and highly skilled physicians and clinical professionals in providing advanced care for complex cases. Services include a comprehensive cardiovascular program; the only state-accredited Trauma Center in Bucks County; Emergency Services with a dedicated Pediatric Emergency Care Center; a Joint Commission-certified Primary Stroke Center; neurosciences; specialized diagnostic imaging; obstetrics and NICU; a Joint Commission-certified joint replacement program; exceptional orthopedic surgical capabilities and rehabilitation; a Joint Commission-certified sleep disorders center, pain management; Wound Healing and Hyperbaric Medicine Center; the St. Mary Breast Center; and the St. Mary Regional Cancer Center. St. Mary's outreach to the poor and underserved includes its Community Ministries in Bensalem – the Mother Bachmann Maternity Center, Children's Health Center and Family Resource Center – as well as ongoing support for the Adult Health Clinic operated by the Bucks County Health Improvement Partnership.
Tags:
Posted July 12, 2011
More Articles: