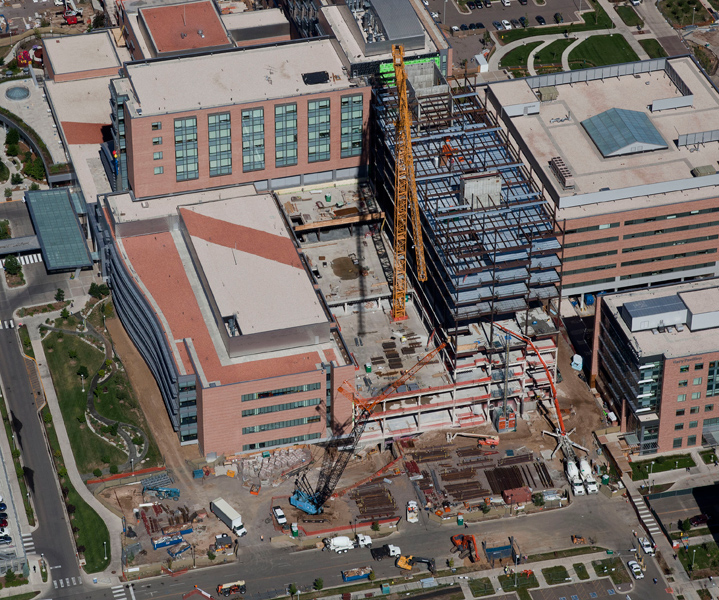 Subscribe Now
Keep up with the latest news with our magazine and e-newsletter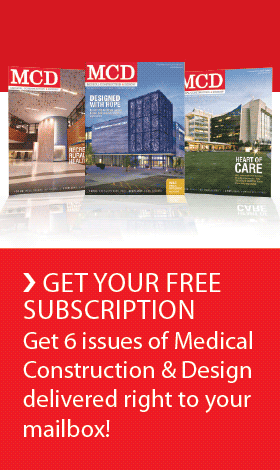 Subscribe to our E‑Newsletter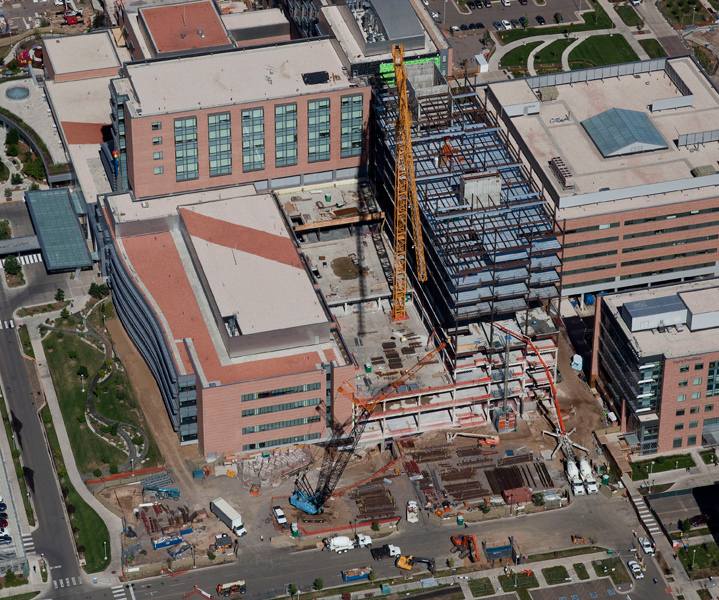 AURORA, Colo. — Construction on the new $230-million East Tower at Children's Hospital Colorado) in Aurora, Colo., reached a notable milestone recently with the topping out of the 10-story structure. The expansion is being constructed by the joint venture team of McCarthy Building Companies, Inc. and Gerald H. Phipps, in conjunction with design partners H+L Architecture and ZGF Architects LLP under an Integrated Project Delivery tri-party agreement.
The new East Tower will connect to the existing 1,440,000-square-foot, 298-bed Children's Hospital Colorado facility built by the same team, which opened to patients just three years ago. 
"When it came time to select a team for our expansion, I thought of our past experiences – and I immediately thought of Phipps/McCarthy," explained Leonard Dryer Jr., Children's Hospital Colorado senior vice president and CFO. "Their superior performance on the original hospital instilled faith in their abilities to complete this project. The idea of a tri-party agreement is relatively new for construction teams and the hospital especially. But, with a team that has worked together successfully before, the experience and trust we have in each other made for a great tri-party team and a perfect match for our expansion project."
Construction of the new 355,000-square-foot addition is currently on schedule to complete in late 2012. Upon completion the facility will connect to the existing hospital on the north face of the outpatient building and the east face of the hospital building. The facility will have the capacity to provide an additional 200 beds and will be home to cancer care, heart and rehabilitation medicine, and an advanced maternal/fetal medicine center. In total Children's Hospital Colorado's main facility at the Anschutz Medical Campus will then have a footprint of 1.8 million-square-feet.
The team is currently coordinating aggressive material tracking and recycling of demolition and construction materials and completing full energy modeling of the East Tower addition to ensure the most advanced building enclosure and efficient mechanical, electrical and plumbing systems.
"Unlike the initial project on a greenfield site, this expansion requires careful coordination to minimize disruption to ongoing facility operations while still keeping pace with the fast-track schedule," noted Phipps/McCarthy Project Manager Justin Peterson. "We hold weekly meetings and project walks with the hospital's construction, epidemiology, facilities and safety teams to keep everyone up to date. We also have detailed processes in place to ensure all are aware of what activities are happening in the hospital on a daily basis, helping the construction team to adjust our schedule and construction to best fit the needs of staff and patients."
A variety of innovative design and construction solutions are also being implemented to help manage these complex issues.
"From the earliest stages of the project, the team knew efficiencies could be achieved by moving the detailing and coordination process for the building's embed plates, anchor bolts, reinforcing steel and formwork systems upstream and thus bypassing the traditional shop drawing and submittal process," commented GH Phipps Preconstruction Director Gary Constant.
Phipps/McCarthy suggested contracting directly with the project's structural engineer of record S.A. Miro, Inc. out of Denver to provide these detailing services. Working closely with the Phipps/McCarthy team, S.A. Miro, Inc. maintained separate in-house design and detailing teams and completed the advanced detailing work concurrently with design deadlines. This early effort enabled the team to pre-plan many of the most difficult elements of construction, including the building's climbing formwork system and also to more precisely define the scope of work when the project was put out for bid resulting in much tighter bid spread.
To save time and dollars, the team also worked together to create rated construction separation walls to be used as temporary enclosure walls when peeling the existing building façade off to gain access for the expansion tie-ins. By creating a rated, weather-tight wall, impacts to the hospital were limited to one time at each tie-in location and these walls were then able to remain in place to become part of the permanent building.
With construction underway, the team is using Bluebeam® document control for collaborative document management and is utilizing innovative mobile kiosks in the field to enable all field staff to have access to this information in real time. Unlike the use of only tablet PC's and iPads, these mobile kiosks are available to all personnel on the jobsite when they need it. Rapid changes are tracked and documented as they are developed with the design team and implemented in the field to minimize rework and improve overall project efficiency.
About McCarthy Building Companies, Inc.
Founded in 1864, McCarthy (www.mccarthy.com) is the largest American-based healthcare builder in the country. McCarthy has constructed more than 800 significant healthcare facilities and renovated thousands more – while consistently appearing on Modern Healthcare's Top 5 list of leading healthcare construction management companies. McCarthy is 100 percent employee-owned.
About GH Phipps Construction Companies
GH Phipps (www.ghphipps.com) is an employee-owned full service Construction Manager/General Contractor. Average revenues over $230 million make GH Phipps one of Colorado's largest contractors and one of the nation's top 400 contractors since 1985. Corporate headquarters are located in Greenwood Village, Colo., with branch offices in Colorado Springs and Fort Collins.
About H+L Architecture
Founded in 1963, H+L Architecture (www.hlarch.com) specializes in healthcare, K-12, higher education and science/technology practice areas. Ranked as the number one healthcare design firm by Mountain States Construction in 2010, the firm has offices in Denver and Colorado Springs, Colo.
About ZGF Architects LLP
ZGF (www.zgf.com) is nationally recognized for architecture, planning and interior design and urban design, with offices in Portland, Seattle, Los Angeles, New York and Washington, DC. The firm has received more than 500 design awards, including the Architecture Firm Award, the highest accolade given to a firm by the American Institute of Architects.
About Children's Hospital Colorado
Children's Hospital Colorado (www.childrenscolorado.org) has defined and delivered pediatric healthcare excellence for more than 100 years. Founded in 1908, Children's Hospital Colorado is a leading pediatric network entirely devoted to the health and well-being of children. Continually recognized as one of the nation's outstanding hospitals by U.S. News & World Report and ranked fifth in their Best Children's Hospitals 2011-12 Honor Roll, Children's Hospital Colorado is known both for its nationally and internationally recognized medical, research and education programs as well as the full spectrum of everyday care for kids throughout Colorado and surrounding states. Children's Hospital Colorado is recognized for excellence in nursing from the American Nurses Credentialing Centers and has been designated a Magnet® hospital since 2005. With more than 1,000 healthcare professionals representing the full spectrum of pediatric specialties, Children's Hospital Colorado's network includes its main campus on the Anschutz Medical Campus, 14 Network of Care locations and more than 400 outreach clinics.
Posted July 14, 2011
More Articles: