Subscribe Now
Keep up with the latest news with our magazine and e-newsletter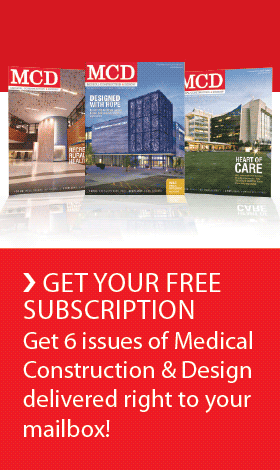 Subscribe to our E‑Newsletter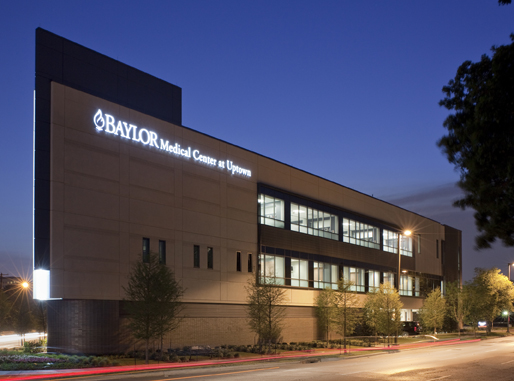 DALLAS, Texas –The new Baylor Medical Center at Uptown in Dallas, is now open and providing expanded, state-of-the art healthcare services to an increased volume of patients.

Indianapolis-based Duke Realty spearheaded development of the new $27.1 million, three-story, 63,000-square-foot facility to replace Mary Shiels Hospital, using a premier uptown Dallas site adjacent to the original hospital.
Baylor Medical Center at Uptown, which was completed in December, includes 24 patient beds, 6 operating rooms, an emergency room, a procedure room, an outpatient imaging center including an MRI, CT, and fixed X-ray room, and an emergency room. The replacement facility allowed the center to increase the number of inpatient beds and to accept more advanced surgical cases.
"Mary Shiels Hospital was almost 50 years old, had become functionally obsolete, inconvenient for patients, and didn't allow us to expand services to patients," says Matt Chance, CEO of Baylor Medical Center at Uptown. "Our new facility offers the latest technology, provides a variety of patient and family conveniences, includes more patient beds, and allows us to perform higher-acuity surgical cases."
Baylor Medical Center at Uptown was the first hospital to be completed under the city of Dallas' Green Initiatives for improved energy efficiency and environmental quality. The facility also recently received LEED-Silver certification by the U.S. Green Building Council.
Construction of Baylor Medical Center at Uptown began in December 2009 and was completed about one year later. The general contractor for the project was Brasfield & Gorrie and the architect was Page Southerland Page. The facility is notable for its triangle shape as it was built on a small 1.24-acre triangular wedge of land. The building is situated on a pedestal so parking is located on part of the ground floor rather than underground. The partners have the option to add more parking in the future.
Duke Realty officials say Baylor Medical Center at Uptown was completed four weeks ahead of schedule despite a number of challenges, including the tight triangular site, weather-related delays, the need to make sure the site didn't include a portion of a neighboring historic cemetery and, of course, the economy.
About Baylor Medical Center at Uptown
Baylor Medical Center at Uptown was initially established as Mary Shiels Hospital in 1947 in Dallas. Baylor Medical Center at Uptown's mission is to maintain the highest quality of healthcare services through a total commitment to providing innovation, specialization, a superior, welcoming environment, and highly trained, caring professionals. Baylor Medical Center at Uptown performs a broad range of inpatient and outpatient surgical procedures, including the specialty areas of ear, nose and throat; general surgery, gynecology; orthopedic; pain management; plastic surgery, and spine procedures. The center is accredited by the Joint Commission, is fully licensed by the state of Texas and is Medicare certified. More information is available at www.bmcuptown.com.
About Duke Realty
Duke Realty owns and operates more than 139 million rentable square feet of industrial, office, and medical office space in 18 major U.S. cities. Duke Realty Corp. is publicly traded on the NYSE under the symbol DRE and is listed on the S&P MidCap 400 Index. More information about Duke Realty is available at www.dukerealty.com.
Duke Realty's healthcare division supports hospitals and physician groups with development, ownership, leasing and management services. With more than 20 years in the industry, our team offers proven experience in providing hospitals and physician groups comprehensive planning, development, ownership and facility management services. Projects have ranged from small medical office buildings to large healthcare centers with diagnostics, oncology and surgery services.
Formerly known as BremnerDuke, Duke Realty's healthcare division was created by the February 2007 acquisition of Bremner Healthcare by Duke Realty. To find out more, please visit www.dukerealty.com.
Posted July 15, 2011
More Articles: