Subscribe Now
Keep up with the latest news with our magazine and e-newsletter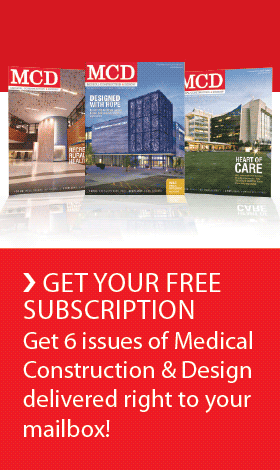 Subscribe to our E‑Newsletter
VALENCIA, Calif. — Nexus is partnering with Tift Regional Medical Center to help create a brand-new, world-class data center to better serve the Tifton community. Anticipating growth beyond the capacity of its existing data center environment, TRMC's board approved construction of a new state-of-the-art data center. Deployment has been underway for approximately 18 months and the estimated completion date is June of 2012.
To meet the growing storage, bandwidth, and security needs associated with CPOE (computerized physician order entry) initiatives, modern practice management and to ensure they meet "Meaningful Use" standards, TRMC is investing over $10 million in the new hardened, secure facility. With over 15,000 square feet (4,800 of which is dedicated raised-floor space) and the ability to double that footprint in the future, the new data center leverages the best technology available in redundancy and availability.

Architected by Nexus engineers in partnership with TRMC's IT department, this medical-grade network incorporates a new EMC storage array and leverages Cisco's Nexus family of switches and Cisco's MDS fibre channel technology. To gain additional resilience and adaptability, virtualization technologies have been leveraged with plans to further virtualize additional applications in future phases. The result is a scalable, highly-available network designed to support medical application delivery in a highly redundant manner.
Classified as a Tier 2 data center, the raised-floor area of the facility can withstand up to 200mph winds and the administrative areas will withstand winds of up to 90mph. The facility also employs the highest security standards, including gate controls, badge access, and video surveillance and has the capacity to host off-site storage.
"We're pleased to be collaborating with Tift Regional Medical Center to bring this state-of-the-art Core Foundation Service to the community. The increased bandwidth and storage will enable increased reliability, efficiency and access to medical systems, improving the availability of medical content and ultimately the quality of care. The enhanced network security measures will continue to improve the safeguards in place, ensuring privacy and confidentiality of patient data well into the future," said Donn Wurts, Managing Principal of Nexus' Healthcare practice.
"Nexus understands the unique challenges of the healthcare industry, and were able to help us design and implement a Cisco data center and edge network architecture that will maximize the quality of care and service that we provide to our patients and staff," said Wade Brewer, TRMC Director of Technology Services. "They've been very responsive to our changing needs during the engineering and deployment stages, and have continually met or exceeded our expectations during the process."
"It is critical that our IT environment be reliable as well as robust. Nexus and Cisco deliver on both counts, both in our new data center as well as throughout Tift Regional Medical Center," said Guy McAllister, TRMC Assistant Vice President & CIO.  "Our relationship with Nexus has been instrumental in helping us maintain that data reliability from the data center to the end user."
About Tift Regional Medical Center
With a reputation as an innovative provider of quality care, Tift Regional Medical Center (TRMC) is a not-for-profit, 191-bed regional hospital serving 12 counties in South Central Georgia.  Located in Tifton, the hospital's medical staff includes more than 95 physicians with the majority board-certified in over 30 specialties. Tift Regional provides a wide-range of services, including six Centers of Excellence offering advanced, expert care in oncology, cardiology, neurology, surgery, women's health and emergency medicine. Tift Regional Medical Center is under the direction of the Tift County Hospital Authority, a nine-member board of volunteer trustees appointed by the Tift County Board of Commissioners.  Though guided by a government-appointed entity, TRMC provides charitable care for the community without a single tax levied on local taxpayers. For additional information, please visit www.tiftregional.com.
About Nexus IS, Inc.
Based in Valencia, CA, Nexus IS, Inc. leverages its extensive experience and expertise to enable organizations to Connect, Collaborate, and Create. We do this by providing expertise in end-to-end technology solutions based on five distinct, yet complementary practices: Collaboration, Data Center, Borderless Networks, Business Video, and Managed Services. Nexus partners with industry leaders including Cisco, EMC, VMware, NetApp, Microsoft, and NEC to ensure its customers are provided the most comprehensive and competitive solutions. Nexus serves the private sector, from small business to the Fortune 500; and the public sector including local, state, and federal government. Additionally, Nexus has highly specialized vertical market practices including education, retail, hospitality, and healthcare where it has developed proprietary applications that turn unified communication into clinical workflow solutions. For additional information, please visit www.nexusis.com.
Posted June 13, 2011
More Articles: