Subscribe Now
Keep up with the latest news with our magazine and e-newsletter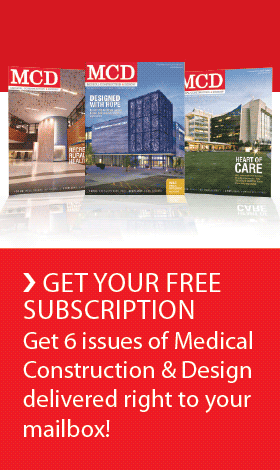 Subscribe to our E‑Newsletter
SAN FRANCISCO, Calif. — The list of requests presented by San Francisco City officials to California Pacific Medical Center would add almost $2 billion to the hospital's plans to rebuild its current facilities to meet State-mandated seismic requirements in order to continue to serve the healthcare needs of San Francisco, nearly doubling the expected cost of the project, according to a CPMC analysis.
Hospital administrators expressed "major concerns" about the requests and said they could not afford to meet City Hall requests in exchange for City approval of plans to rebuild its St. Luke's Campus in the Mission District and to build a new hospital at Geary and Van Ness to replace its Pacific and California campuses. The facilities are being built to comply with new State seismic laws and at no cost to taxpayers.

CPMC completed an analysis that detailed the cost of the list from City Hall. The hospital said the construction costs of the new facilities are almost $2 billion and that the addition of another almost $2 billion in requests from the City would make the project "fiscally impossible" to build and continue to serve the healthcare needs of San Francisco.
"Our analysis of the long-term, ongoing requests from the City totals more than $1.7 billion and would add approximately $35 million a year to our operating costs," says Warren Browner, M.D., MPH, CEO of CPMC. "The one-time, non-health related costs alone total more than $100 million. It would be an understatement to say we can't afford those numbers. Nobody could."
The ongoing requests include:
• Additional $15.5 million a year in charity care above our current level
• Additional $13.5 million a year in Medi-Cal shortfall above our current level
• $3.375 million a year in cash payments to the San Francisco Clinic Consortium
• Additional $2 million in costs for transit
The ongoing requests made of CPMC have no specified termination date but are expected to be funded for as long as CPMC serves San Francisco.
The one-time, non-health related costs include:
• $77.5 million for affordable housing
• $10 million to fund construction of future Muni bus lines
• $10 million for traffic and pedestrian safety measures and streetscape improvements in the Tenderloin
• $7 million for street improvements around the St. Luke's Campus
Browner said: "We will work with the Mayor and City leaders to come up with a more balanced approach to serving the health needs of the people of San Francisco." He noted that this past year alone, CPMC provided services to the poor at a cost of nearly $100 million. These include free medical care to uninsured patients who use CPMC's Emergency Rooms, partnering with the City to care for Healthy San Francisco patients, and providing care to Medi-Cal recipients. "Our doctors and nurses have been caring for San Franciscans for more than 150 years, and we plan to do so for at least another 150 years."
CPMC needs approval from San Francisco's Planning Commission and Board of Supervisors for conditional use permits, height and density change requests and other impacts in order to rebuild its hospitals. The Planning Commission is holding a series of hearings through the summer. If it approves the plans, the project will go to the Board of Supervisors for a final vote.
Browner said the benefits of the project cannot be overstated. "This is part of our citywide healthcare plan to meet current earthquake safety standards, improve disaster and emergency preparedness in the City, ensure our hospitals will remain open in the event of an earthquake, and provide the latest medicine, research, technology, advances and education to our patients."
The project will also bring significant economic and job-related benefits to The City. The new seismically-safe hospitals – which the hospital is required to build by state law – will inject $1.9 billion into the economy, create 1,500 high-paying union construction jobs, retain the jobs of the 6,800 people who work for CPMC, and protect the health and safety of the hospital's patients.
Browner said. "CPMC cares for hundreds of thousands of people every year, we provide one-third all of San Francisco's emergency room services, and deliver more than 7,000 babies annually. Our patients deserve earthquake-safe buildings with the latest medical advances as soon as we can build them. We have the funding in hand. Now we need San Francisco's help to get our plans approved."
About California Pacific Medical Center
At San Francisco's California Pacific Medical Center, we believe in the power of medicine. We research the most up-to-date treatments, hire the most qualified individuals, and practice the most modern, innovative medicine available. We deliver the highest quality expert care, with kindness and compassion, in acute, post-acute and outpatient services, as well as preventive and complementary medicine. But we also believe that medicine alone is only part of the solution. That's why we look intently at each individual case and treat the whole person, not just the illness. It's why we go beyond medical care and provide our patients with things like disease counseling, family support and wellness treatments. As one of California's largest private, community-based, not-for-profit, teaching medical centers, and a Sutter Health affiliate, we are able to reach deep into our community to provide education, screening and financial support in some of the city's most underserved neighborhoods. Medicine can transform a body. But going beyond medicine can transform a life. www.cpmc.org.
Posted June 8, 2011
More Articles: