Subscribe Now
Keep up with the latest news with our magazine and e-newsletter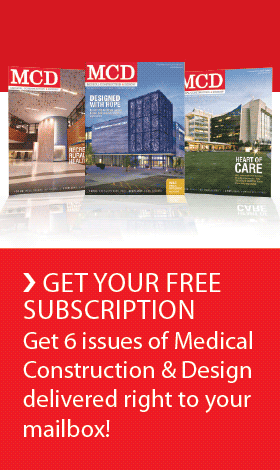 Subscribe to our E‑Newsletter
CHICAGO, Ill. — The Rehabilitation Institute of Chicago has selected architecture firms HDR and Gensler in a joint partnership to design its new Research Hospital. The new RIC Research Hospital will infuse 21st Century biomedical science into the clinical environment to help patients achieve the best recovery.
RIC is the top destination for patients from around the globe who suffer from disease or injury and are in search of the best rehabilitation care. With its research fueling novel treatments for a wide variety of patient conditions, the demand for RIC's services has grown progressively in recent years and is becoming more important than ever, especially with aging demographics. Age is linked to increases in debilitating neurologic, bone, and joint conditions. Factoring in medical and scientific advancements, people will live longer and demand more advanced care and better outcomes.
"HDR is excited to have this opportunity to apply our leading expertise on designing facilities that accelerate the delivery of research discoveries to patient application," says Abbie Clary, AIA, project principal for HDR. "We share RIC's commitment to truly integrate research, education and patient care in order to transform the process of rehabilitation from disease and injury.  We will put the full power of our intellectual capital and design talent to work to create a facility that will be a major catalyst for inventive thinking, helping RIC to fulfill its vision of establishing new directions in rehabilitation and the next generation for the delivery of healthcare."
"Design has the power to transform people's lives, and that is going to be very clear in this building, " says Nila R. Leiserowitz, Managing Principal of Gensler Chicago. "In collaboration with RIC and HDR, we will design a facility that makes new connections possible between patients, healthcare providers and urban context. We are delighted to be a part of the team that will reinvent healthcare architecture for the world leader in rehabilitation." 
About RIC's New Research Hospital
RIC is in the conceptual planning phase for its new research hospital.  RIC is launching a new paradigm of rehabilitation care – one that embeds RIC's leading research and clinical activities right into the patient care setting with a focus on advancing patient Ability. Currently, RIC is designing and testing its new model of care via renovation of a floor in its existing hospital.  The new floor will be a test-bed for its new design of care.  In addition to expanding capacity to admit more inpatients, RIC has also designed the world's first "Ability Lab"—a novel patient treatment space and fertile ground for the transformation of great hope into great recoveries.
"Twenty years ago, we did not have access to the science or to the smart tools that we have today – it's time to converge our research with our care in ways no other place is doing in order to understand and solve patient problems better and faster. " Smith said. "We believe the answers to today's problems dwell in this nexus where bright minds converge around the patient condition, and they are as vivid as our imagination!  Our new research hospital will enable all of this."
Philanthropic and community support are pivotal components to RIC's success in achieving our bold vision for the future of rehabilitation medicine, as well as for the success of our new research hospital," said Smith.  "At this early stage of planning, RIC is working to foster both longstanding and new relationships with people interested in investing in this dynamic area of medicine."
About The Rehabilitation Institute of Chicago
The Rehabilitation Institute of Chicago (RIC) is the nation's #1 ranked provider of comprehensive physical medicine and rehabilitation care to patients from around the world and is the leader in research and development of the cutting-edge treatments and technologies in its field.  Through aggressive medical protocols, RIC guides the patient care process toward a better outcome. 
RIC holds an unparalleled market distinction with a record seven, multi-year, multi-million dollar federal research designations awarded and funded by the National Institutes of Health and the Department of Education's National Institute of Disability and Rehabilitation Research in the areas of spinal cord injury, traumatic brain injury, stroke, neurological rehabilitation, outcomes research and rehabilitation engineering research.  RIC operates its 165-bed, current flagship hospital in downtown Chicago, as well as a network of more than 30 sites of care distributed throughout the Midwestern region, through which it delivers inpatient, day rehabilitation and outpatient services. 
Founded in 1954, RIC has been designated the "#1 Rehabilitation Hospital in America" by U.S. News & World Report every year since 1991.  RIC sets the standard of care in the post-acute market through its innovative applied research and discovery programs, particularly in the areas of neuroscience, bionic medicine, musculoskeletal medicine and technology transfer. For more information, go to www.ric.org. 
About Gensler
Gensler is a global design, planning, and strategic consulting firm networked across 38 locations on five continents. Consistently ranked by U.S. and international industry surveys as the leading architecture and interior design firm, Gensler leverages its deep resources and diverse expertise to develop design solutions for industries across the globe. 
For its longstanding commitment to the advancement of sustainable design, Gensler received the Leadership Award from the U.S. Green Building Council in 2005. For more information, go to: www.gensler.com.
About HDR
HDR Architecture, Inc. provides complete design and planning services to healthcare clients from more than 40 offices across the United States, as well as in Canada, the United Kingdom and United Arab Emirates. The firm is well-known as an innovator in building design for inpatient and outpatient healthcare environments, science and technology research, and civic facilities. HDR is one of the nation's first "advocate firms" for the new Evidence-Based Design Accreditation and Certification (EDAC) program, and an endorser of the "Architecture 2030 Challenge," an initiative designed to dramatically reduce greenhouse gas (GHG) emissions by changing the way buildings are planned, designed and constructed. Visit www.hdrarchitecture.com.
Posted June 29, 2011
More Articles: