Subscribe Now
Keep up with the latest news with our magazine and e-newsletter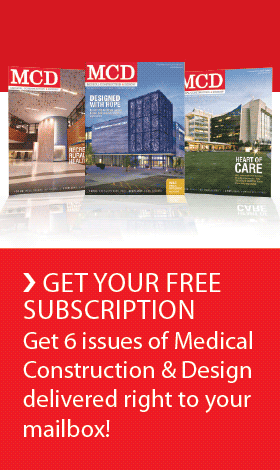 Subscribe to our E‑Newsletter
By Angela Lee
Country music legend Reba McEntire has been helping residents of Denison, Texas and southern Oklahoma for more than 20 years. And, it's a labor of love.
Because of her, the new Reba's Ranch House — a home-away-from-home for families of critically ill patients — is open. Reba's Ranch House, a service of the Texoma Health Foundation, is a special place for people to go when loved ones are being treated at Texoma Medical Center. It provides a free-of-charge haven for families who cannot afford temporary housing.
According to associates, McEntire reads every letter sent by family members staying at the house with her morning coffee. She's been known to smile and weep after reading these warm expressions of gratitude and hope.
A native of Oklahoma, McEntire is the third of four children of Clark and Jacqueline McEntire. Today, she is known as one of country music's most accomplished entertainers. Even with her many successes, McEntire has never forgotten her hometown roots. Her family has been part of the Texoma Medical Center for years, receiving medical care. She performs for fans every year in Denison, Texas to help raise funds for the Texoma Medical Center.
Building a foundation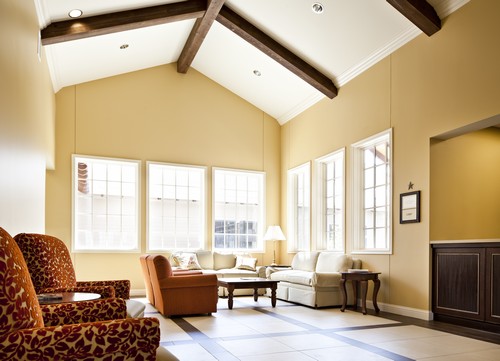 The original Reba's Ranch House was built in 1992 with the proceeds of five years of Memorial Day concerts donated by McEntire. Since that time, more than 24,000 guests representing more than 8,800 families have found the comforts of home at the house during their time of need.
Due to a surge in population growth, a new 300,000-square-foot Texoma Medical Center was built — just 20 minutes away from the existing hospital — on land purchased from Tom and Peggy Johnson. As it existed at the time, Reba's Ranch House was in no position to seek, much less purchase, acreage closer to the new hospital. Texoma Medical Center magnanimously returned to the Johnsons ready to purchase land on behalf of Reba's Ranch House. It was during negotiations the Johnsons agreed to donate the land, and this major gift served as a catalyst for a new house more central to its service area.
From this point on, the connections that Texoma Medical Center had continued to pave the way for the new Reba's Ranch House. When asked to design and build the new house pro-bono or at reduced cost, the same team that designed and constructed Texoma Medical Center responded with a resounding "yes." The design direction: create a house that celebrates the spirit of the existing Ranch House, while complementing the new Texoma Medical Center.
With these new developments, Michelle Lemming, president and CEO of the Texas Health Foundation, and Cliff Williamson, chief operating officer of Reba McEntire's Starstruck Entertainment and Reba's Business, Inc., joined and helped guide the efforts of the design and construction teams.
Making the house a home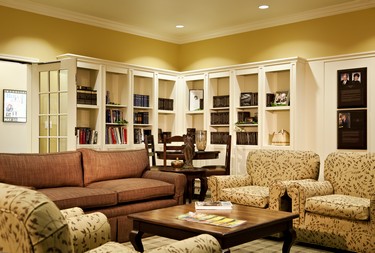 Because the house had been established more than 20 years earlier and made possible through community donations of time, talent and gifts, special consideration needed to be taken to incorporate and recognize aspects of the original home and its history in the design of the new house. This required all team members to go above and beyond what would normally be involved in the design and construction of a brand new facility.
Challenged with having only a small staff of volunteers, Reba's Ranch House depended on its finance and work committees to form the construction committee. These volunteers came to the table weekly, whether it was a design meeting or a meeting with McEntire for her input and feedback, investing a great amount of time in the project to ensure that historical pieces from the original home were celebrated in the new facility.
Recently opened, the second Reba's Ranch House— set in the woods — is designed with warm, natural color tones, accented with Austin stone, Hardiboard siding and ranch-styled wood trusses and dormer windows. It is sited to promote energy efficiency with right-sized windows and truss-provided shading.
The 12-unit house is complemented by a peaceful, landscaped courtyard garden. TVs are not provided in each of the 12 rooms, creating an environment where families can share stories and support each other. The house also provides facilities including a separate apartment for overseer, Barbara Point — known as the angel of Reba's Ranch House — as well as Foundation offices, which include a waiting area, two offices, a boardroom and educational classrooms. The final design truly represents the spirit of giving and caring that permeated every aspect of the project and everyone involved.
An 8- by 10-foot handmade quilt had been given to the Reba's Ranch House before its opening in 1992 to serve as a symbol of comfort to families staying at the house. It hung from the high ceilings of the original house's vestibule. The design of the new house accommodated the quilt's measurements, allowing the quilt to be the first thing families see as they enter.
Also in the lobby is a niche with a glass door specifically designed to hold the groundbreaking shovel used by McEntire for the original house. Autographed twice, the shovel is displayed with two photographs of McEntire signing the shovel and a portrait taken from the original house of McEntire with her son as a baby.
Continuing from the lobby, the floor plate promotes interaction and support among families at all turns. Just like your own home, the design centers around the kitchen and living spaces. A large kitchen, with several ranges and sinks, allows multiple families to cook at the same time. Additional common areas — including dining room, library room, and indoor and outdoor play spaces— are designed to allow families to share experiences with each other, providing comfort and healing.
Many items from the original house had been given in memory of a loved one. For example, a local carpenter made and donated a 10-foot-wide kitchen hutch in memory of his son. This hutch filled an entire wall in the original kitchen and the project team redesigned the proposed new kitchen to highlight this piece.
The same Legacy Library that existed in the original house is preserved, accommodating the 12 original plaques remembering the first Reba's Ranch House donors. Though new furniture could not be donated, designer fabric had been gifted to the foundation, and Indesign reupholstered and re-stained the existing furniture for a consistent look in keeping with the aesthetic of the new house.
When expansion is required, the house is ready. It is designed for future growth with an expansion chassis incorporated into the kitchen, dining and bed units. In addition to Texoma Medical Center, the Reba's Ranch House currently serves Texas Health Presbyterian Hospital-WNJ in Sherman, Texas; Red River Regional Hospital and Sam Rayburn Memorial Veterans Center in Bonham, Texas; Medical Center of Southeast Oklahoma in Durant, Okla. and Marshall County Medical Center in Madill, Okla.
The team created a house that serves as a home for many families in their time of need. This significant structure represents goodwill, charity and hope.
Angela Lee, AIA, ACHA, LEED AP, is senior vice president of HKS, Inc.
Reba's Ranch House Project Team
Architect: HKS
General Contractor: Brasfield & Gorrie
Interior Designer: Indesign
MEP Engineer: ccrd partners
Landscape Architect: Talley Associates
Architectural Signage: ASI, Inc. and Focus EGD
Tags:
Posted June 16, 2011
More Articles: