Subscribe Now
Keep up with the latest news with our magazine and e-newsletter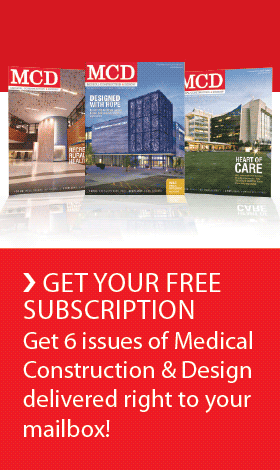 Subscribe to our E‑Newsletter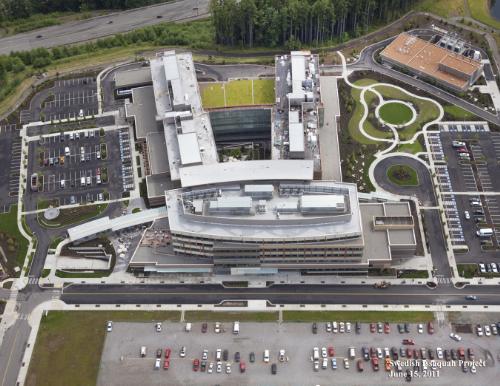 SEATTLE — Swedish announced that construction of its new 550,000-square-foot medical campus in Issaquah, including a five-story medical office building, cancer center, ambulatory care center, and comprehensive hospital, is ahead of schedule.
Phase I – which includes the medical office building housing primary and specialty care clinics, the Swedish Cancer Institute, an emergency department, pharmacy, laboratory, imaging center and eight retail stores – is set to open July 14.
The hospital and all of its inpatient services will open three months ahead of schedule, as part of Phase II, on Nov. 1, 2011. The hospital will open with 80 inpatient beds, expanding ultimately to 175 beds in the future.
Located at 751 N.E. Blakely Drive in the Issaquah Highlands, the new medical campus sits on 12.5 acres of land just off I-90/Exit 18. The full-service health-care campus is King County's first hospital built from the ground up in 25 years. As a result, Swedish is creating 900 new jobs for people working in the ambulatory-care clinics and hospital settings.
"We are thrilled to be able to meet the healthcare needs of the fast growing Eastside community," said Kevin Brown, chief strategic officer, senior vice president and chief administrative officer of Swedish/Issaquah. "We identified a need in the community and are addressing it by building this new campus. In the past, Eastside patients often had to travel to multiple locations on congested roadways for needed care. Our goal is to bring health care closer to home. We are proud to offer our high-quality patient care to people who live and work in the Greater Issaquah and Sammamish areas." 
Implementing the Science of Healthcare Delivery
Throughout the design review and construction process, Swedish has worked to integrate the medical campus into the fabric of Issaquah and has continued to rely on community input for the project. Its Community Advisory Council, made up of Issaquah and Sammamish residents, and its neighborhood partners have inspired the design of the new medical campus – from the actual look and feel of the buildings and the variety of sustainable features to the different available retail offerings.
Swedish is also delivering on its commitment to redefining the delivery of health care to the region. Patients and families who must spend time overnight in the new hospital will experience a restful, healing environment that blends world-class customer service with safe, high-quality medical care. The Swedish team will continue to enhance its patient experience and will seek to expedite the care of the patient to minimize waiting, and to optimize patient flow through the system. An example of this can be found in the Emergency Department, where anyone needing emergency care will be treated in 90 minutes or less.
"Swedish/Issaquah is a laboratory for the science of healthcare delivery, innovation and best practices," said Dr. John Milne, vice president for medical affairs and an emergency physician at Swedish. "Built in one of the largest green building neighborhoods in the state, the medical center is designed as an innovative, sustainable and flexible complex that combines extensive 'green' building practices into a high performance medical setting. The key goals are to integrate advanced technologies and processes that significantly reduce energy consumption, cut our carbon footprint, and lower overall operating costs so Swedish can provide the most cost-effective care."
Hospitals spend more on energy per square foot than any other commercial building type. The Hospital Energy Alliance estimates that hospitals in the United States use the equivalent of the power needed for more than one million homes per year. The total annual energy bill for hospitals is more than $5 billion.
"We knew this going into the design process of Swedish/Issaquah," Brown said. "Every hospital should be concerned about its total energy use, supply reliability and price volatility, as well as the potential impact for greenhouse gas reduction policies on operations and profitability."
Swedish's response was to work closely with Puget Sound Energy, the regional electricity and gas utility, to set an energy usage goal equivalent of the power needed by more than 2,200 homes per year. Every major project element and internal system within the new medical campus was adjusted based on a specific energy-usage target. Patients, staff, physicians and visitors will all benefit from the energy efficiencies.
Swedish targeted a 10-year payback for its investment in energy efficiency and experts believe it will easily meet that. The entire hospital is designed for flexibility and adaptability, as Swedish's needs change in the future. Most patient rooms are the same size, so very little additional construction or retrofitting will be required in the future.
Retail Amenities Focus on Healthcare Needs of Patients, Families
Swedish/Issaquah offers a total of 16,000-square-feet of retail amenities that complement the medical center's services by offering options that are not available in a traditional retail shop. These include items focusing on the needs of pregnant women, new moms and babies, a large selection of post-operative breast surgery garments as well as private prosthesis and wig fittings by specialized staff. Swedish/Issaquah is also offering a unique drop-in child-care center for parents who prefer to not bring their children, ages six weeks to 12 years old, to their medical appointments.
The medical center is also changing the way people think about hospital food at its restaurant, Cafe 1910, named for the year Swedish opened its doors. Cafe 1910 is a restaurant-style cafe with a focus on eating healthier foods. All of the deep-fat fryers you find in most restaurants have been removed from the kitchen in favor of healthier options. The hospital is also cutting out soft drinks from its eatery in an effort to demonstrate its commitment to helping families and staff select healthier options.
The retailers will be co-located within the atrium plaza, which links the medical office building with the inpatient portion of the campus. It will be open to the public starting in mid-July.
Neighborhood Community Open House planned for July 9
To commemorate the opening of Phase I, Swedish will be hosting a fun celebration with a variety of free activities, including interactive tours of the brand-new medical center, an up-close look at the newest medical technologies available to the community, health-education lectures, cooking demonstrations and health screenings, kids activities such as a Teddy Bear Clinic and finger casting, meet and greets with Swedish physicians and staff, shopping and surprises at the new retail stores, as well as giveaways.
In addition, the Issaquah Highlands' annual Highlands Day festival will be held in conjunction with Swedish's Phase I grand-opening event this year. The annual street fair is the Issaquah Highlands' largest and most exciting event of the year, with fantastic entertainment, games, food and more.
Events start at 10 a.m. and run until 5 p.m. The Swedish open house is free and open to the public.
For the latest information about key construction milestones and events, visit www.swedishissaquah.org.
About Swedish
Swedish has grown over the last 100 years to become the largest, most comprehensive non-profit health provider in the Greater Seattle area with 8,500 employees, 3,000-physicians and 1,200-volunteers. It is comprised of four hospital campuses (First Hill, Cherry Hill, Ballard and Edmonds); emergency departments and ambulatory care centers in Issaquah, Redmond and Mill Creek; Swedish Visiting Nurse Services; and Swedish Medical Group – a network of more than 70 primary-care and specialty clinics located throughout the Greater Puget Sound area. Swedish recently opened a new emergency department and medical office building (MOB) on its Ballard campus and will open a new MOB and hospital in the Issaquah Highlands in the summer of 2011. In addition to general medical and surgical care, Swedish is known as a regional referral center, providing specialized treatment in areas such as cardiovascular care, cancer care, neuroscience, orthopedics, high-risk obstetrics, pediatric specialties, organ transplantation and clinical research. For more information, visit Swedish online at www.swedish.org, www.swedishcares.org, www.facebook.com/swedishmedicalcenter or www.twitter.com/swedish.
In 2007, Swedish embarked upon an ambitious $100 million fundraising campaign. Campaign investments are used to support a wide-variety of initiatives throughout the health-care system, including cancer, heart and vascular, women and children, neurosciences, and orthopedics as well as programs to support underserved populations. To date, the campaign has secured gifts totaling more than $74 million. For more information or to support the campaign, visit www.campaignforswedish.org.
Posted June 28, 2011
More Articles: