Subscribe Now
Keep up with the latest news with our magazine and e-newsletter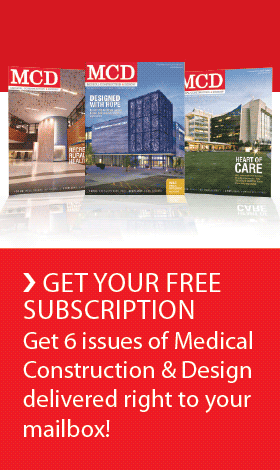 Subscribe to our E‑Newsletter
PORTLAND, Ore.– The Green Building Initiative launched Green Globes CIEB for Healthcare, an online self-evaluation tool, rating and certification program for existing hospital and long-term care facilities.
Green Globes CIEB for Healthcare is based on Green Globes environmental evaluation protocol, rating system and certification program. GBI incorporated the input from leading healthcare sustainability experts and its prior experience in the assessment and certification of 21 existing VA hospital facilities in a 2009 pilot program in order to develop the new software.

The new software enables facilities managers to evaluate the environmental performance, operations, and management of an existing hospital or long term care facility. With evaluation criteria and questions tailored to these facilities types, credits are awarded based on actual energy consumption as benchmarked by Energy Star, actual water consumption adjusted for the number of inpatient beds in the facility, along with other healthcare- specific survey questions. Improvement suggestions are provided in an automated report.
The assessment software has been deployed on a broad scale within the public sector. More than 170 Veterans Affairs hospitals and long-term care facilities have completed online surveys with the new tool, enabling portfolio-wide comparison and ranking of individual building environmental performance.
"Green Globes CIEB for Healthcare represents a credible and practical means to address environmental assessment, improvement and certification of even the most complex healthcare facilities," said Joe Pinelli, vice president and general manager of Green Globes. "With this new program, GBI has retained the best elements of the Green Globes system – an intuitive online survey and expedient, third-party assessment process."
For more information about Green Globes CIEB for Healthcare or to purchase an annual subscription, visit: www.TheGBI.org/commercial/healthcare/.
GREEN BUILDING INITIATIVE (GBI) is a 501(c)(3) nonprofit organization whose mission is to accelerate the adoption of building practices that result in energy-efficient, healthier and environmentally sustainable buildings by promoting credible and practical green building approaches for commercial construction. GBI is the exclusive U.S. licensee of Green Globes, a revolutionary green building guidance and assessment program that offers an effective, practical and affordable way to advance the overall environmental performance and sustainability of commercial buildings. www.TheGBI.org.
Posted June 6, 2011
More Articles: