Subscribe Now
Keep up with the latest news with our magazine and e-newsletter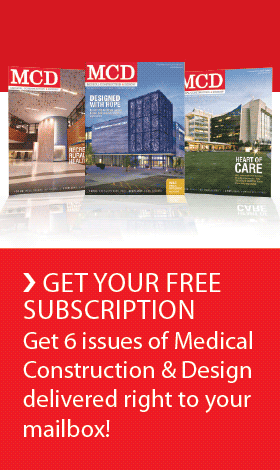 Subscribe to our E‑Newsletter
STAMFORD, Conn. — Stamford Hospital has received a $10 million grant from OdysseyRe, a worldwide underwriter of reinsurance and specialty insurance based in Stamford, to help fund the hospital's recently approved Master Facility Plan.

Stamford Hospital announced in December 2008 an ambitious master facility plan that would include building a new hospital at its current location over a 10-15 year timeframe. The project, estimated at $575 million, is planned in two phases.
The first phase of the plan features the construction of the first five stories of a new multi-level specialty healthcare building with public amenities and a pedestrian walkway connecting it to the current hospital.  Phase one will also include an all-new, state-of-the-art Emergency Department to handle current and anticipated future demands for services.
Highlights of the new Emergency Department include more than doubling the number and size of exam rooms to accommodate today's technology and the new guidelines endorsed by the American College of Emergency Physicians.  It will also have separate, dedicated areas for adult, pediatric, and psychiatric services as well as trauma and cardiac services.
Additionally, phase one will include new surgical suites, a newly located and expanded Intensive Care Unit, and consolidation of the Hospital's expanding Heart & Vascular Institute and Interventional Cardiology labs. The second phase of the facility plan features the long-term goal (10-15 years) of vertically expanding the new building to create an inpatient bed-tower to house medical and surgical beds with all private rooms and bathrooms in the future. Preliminary infrastructure work is expected to begin this year, with construction of a new central utility plant in 2012, and phase one construction beginning in 2013.
The mission of the OdysseyRe Foundation is to provide funding to charitable organizations active in communities in which OdysseyRe employees live and work as well as to charitable organizations dedicated to worldwide disaster relief efforts. In 2008, OdysseyRe gave Stamford Hospital a $2 million grant to fund the purchase of the da Vinci Surgical System.
"We are so fortunate that an organization of OdysseyRe's caliber is dedicated and committed to investing in the communities where it is based," said Brian Grissler, Stamford Hospital's president & CEO. "On behalf of our patients, who will benefit most from this grant, my heartfelt thanks to the employees of OdysseyRe for their continued support of Stamford Hospital and our vision to become the recognized regional center for health."
About Odyssey Re
OdysseyRe is a leading worldwide underwriter of property and casualty treaty and facultative reinsurance, as well as specialty insurance. OdysseyRe underwrites through Odyssey Reinsurance Company, Hudson Insurance Company, Hudson Specialty Insurance Company, Newline Syndicate #1218 and Newline Insurance Company Limited. OdysseyRe operates from offices located in the United States, London, Paris, Singapore, Stockholm, Tokyo, Melbourne, Toronto, Mexico City and São Paulo. OdysseyRe is a wholly-owned subsidiary of Fairfax Financial Holdings Limited, a financial services holding company, publicly traded on the Toronto Stock Exchange under the symbol FFH and FFH.U. Visit OdysseyRe's newly-designed website at www.odysseyre.com to learn more about the Company and its extensive underwriting capabilities around the world.
About Stamford Hospital
Stamford Hospital is a not-for-profit provider of comprehensive healthcare services in lower Fairfield County and the region.  The mission of Stamford Hospital is to provide, together with its physicians, a broad range of high quality health and wellness services focused on the needs of our communities.  Stamford Hospital is a member of the Planetree Alliance, a group of hospitals nationwide focused on patient-centered care.  Stamford Hospital is affiliated with New York Presbyterian Health System and is a major teaching affiliate of the Columbia University College of Physicians and Surgeons.
Posted May 12, 2011
More Articles: