Subscribe Now
Keep up with the latest news with our magazine and e-newsletter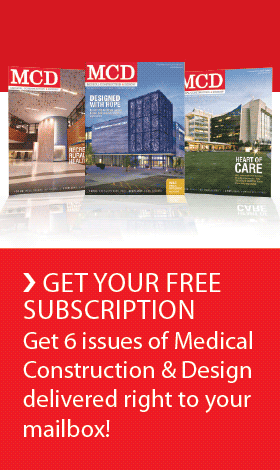 Subscribe to our E‑Newsletter
BAKERSFIELD, Calif. — San Joaquin Community Hospital recently unveiled its plans to build a full-service cancer center. The four-story, 60,000-square-foot facility will house radiation oncology, medical oncology and an outpatient surgery center – all under one roof. The estimated cost to build and equip The Cancer Center is $36.2 million. Officials expect it to be up and running in 12-15 months.
The center will have only the best technology and the most experienced caregivers, specialists with board certification and/or fellowship training specifically in oncology. In addition to the construction jobs, it is expected to create 100 highly-skilled, highly-paid professional positions – a welcome boost to the local economy.
In grand fashion, plans for what will be Kern County's first hospital-based, comprehensive cancer-care facility were unveiled – literally – at an event to show architectural renderings of The Cancer Center at SJCH. Once uncovered, the largest rendering – 60-feet wide – served as a backdrop to various speeches.
SJCH President & CEO Bob Beehler did the honors with a 3-2-1 countdown, culminating with the actual unveiling of the various renderings.
"I present to you, The Cancer Center at San Joaquin Community Hospital," said Beehler over a loud round of applause at the sight of the future facility. "Today we celebrate the end of the beginning of this project – we have purchased the land, engaged planners and architects, worked with our friends at the city to close this road (27th Street, between Chester Avenue and K Street). We have worked with Adventist Health to secure approval and funding for a substantial part of this project."
Beehler emphasized how SJCH's Sacred Work mission to heal the whole person – physically, emotionally and spiritually – is a natural fit to how The Cancer Center will operate.
"Nothing cries out for the unique ministry of Sacred Work like cancer patients and currently, 1 in 5 cancer patients leave town to seek care elsewhere," he said. "We intend to do something about that by providing cancer care equal to that available in the most respected academic centers; we will demonstrate that with our affiliations and our certifications."
With Kern County having some of the highest incident rates of cancer in California and a growing population, the Cancer Center will help meet current and future healthcare needs, adding to the local landscape of cancer care.
"We believe we need the home-field advantage with family support nearby," he said.
Wendy Wayne, a well-known community leader who also spoke at Tuesday's event, both agreed and identified with local cancer patients who seek treatment outside city limits.
In fact, over her own three-year battle with Stage 4 non-Hodgkin lymphoma, Wayne traveled a total of 12,500 miles to and from Cedars-Sinai Medical Center in Los Angeles for treatment and follow-up visits.
To put it in perspective, that's a distance equal to halfway around the world or four times back and forth across the U.S., Wayne told the audience.
"I am the 1 in 5 statistic," she said. "I traveled out of town for treatment … I am here today cancer-free, and I applaud San Joaquin Community Hospital for bringing a world-class cancer facility to Bakersfield. Now, if I need to accompany a friend or family member for cancer treatment, I'll just have to go across town, not out of town."
It was also announced that SJCH's building project is LEED-certified. The Cancer Center will be built with recyclable materials and will meet all energy-efficient standards. Even the materials from the continued demolition work are being recycled and precautions are in place to minimize the level of particulate matter during the teardown.
Since building a new patient tower in 2007, SJCH has become the first hospital between Los Angeles and San Francisco to have both a Nationally Accredited Chest Pain Center and Nationally Certified Stroke Center under one roof as well as the only hospital in Kern County with a Grossman Burn Center. Now, The Cancer Center signals the next phase in the hospital's expansion and will create a true medical corridor spanning Chester Avenue.
Posted May 18, 2011
More Articles: