Subscribe Now
Keep up with the latest news with our magazine and e-newsletter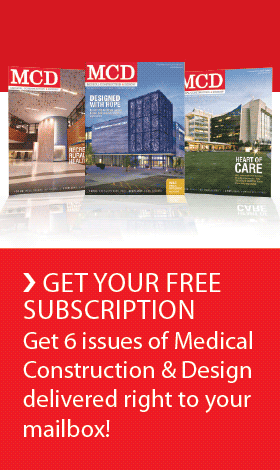 Subscribe to our E‑Newsletter
BOSTON, Mass.– Payette, a leading architectural design firm specializing in complex buildings for academic teaching, medical and scientific research, and healthcare, announces today that it has joined the AIA 2030 Commitment. The AIA 2030 Commitment is a challenge set forth by the AIA to its member firms to take a leadership role in reducing the energy consumption and greenhouse gas creation in the buildings we design and operate.
The commitment has a clear long-term goal: by 2030, it will be standard practice to design and construct climate neutral buildings that do not use greenhouse gas emitting energy to operate. The goal is to reduce energy consumption across the firm's entire portfolio, not just for projects seeking green building certification.  This effort reflects Payette's long-standing core values: to design efficient and responsible projects for their clients that contribute to the health and well-being of their campuses and communities.
The annual reporting framework that underlies the AIA effort will help expand a valuable exchange of best practices.  Firm principal Charles Klee, AIA who will coordinate Payette's effort, echoes this: "We have always worked with our clients to construct forward-looking buildings.  The 2030 Commitment helps document how well we are doing and sets the performance bar high – pointing to where we need to go."  Klee elaborates to say, "Many of our clients see the environmental impacts of their projects beyond the mainstream reporting frameworks.  As a part of the AIA 2030 Commitment, we will bring rigor and accountability to this sort of vision and elevate the entire practice, to achieve the imperative for high-performance buildings."
In addition to the significant targets to reduce the impact of the firm's work, Payette is developing a Sustainable Action Plan to reduce the environmental impact of our operations as part of the Commitment.  The firm's new office, opened in March 2011 and seeking USGBC LEED-Gold certification, has already dramatically reduced the environmental impact of Payette's daily operations.
Klee reports, "As architects, and stewards of the built environment, we recognize the need for professional practice to evolve.  For example, Payette's open design studio puts our building scientist, Andrea Love, right in the center of the action.  In one of her many roles, she is charged with assisting project teams to develop energy efficient, reduced carbon footprint designs.
Major new Payette commissions now in design, such as the Spinal Cord Injury Center for the Veterans Administration-New England HealthCare Network and the Duke University Levine School of the Environment, are two examples with aggressive energy reduction goals.  In widely ranging typologies reflecting the diversity of Payette's work, both projects craft unique design guidelines for environmental responsibility – implementing significant reduction targets to greenhouse gas emissions, and serving as models for reaching the AIA 2030 Commitment goals.
About Payette
Payette is a leading architectural design firm whose practice focuses on technologically and programmatically complex buildings for scientific research, higher education, healthcare, and corporate research clients. For more than three quarters of a century, Payette has practiced innovation in these highly technical buildings while developing a culture based on deep readings of program as one of the essential subtexts of architecture. This thorough understanding of how hospitals and laboratories work has helped clients such as Columbia University, Harvard University, Princeton University, Penn State Hershey and Children's Hospital Boston transcend function to transform places and improve people's lives. For more information, please visit www.payette.com.
About Architecture 2030
Architecture 2030, a non-profit, non-partisan and independent organization, was established in response to the climate change crisis by architect Edward Mazria in 2002. 2030's mission is to rapidly transform the U.S. and global building sector from the major contributor of greenhouse gas emissions to a central part of the solution to the climate change, energy consumption, and economic crises. Our goal is straightforward: to achieve a dramatic reduction in the climate-change-causing greenhouse gas (GHG) emissions of the building sector by changing the way buildings and developments are planned, designed and constructed.
Posted May 19, 2011
More Articles: