Subscribe Now
Keep up with the latest news with our magazine and e-newsletter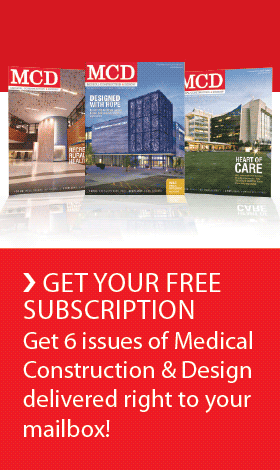 Subscribe to our E‑Newsletter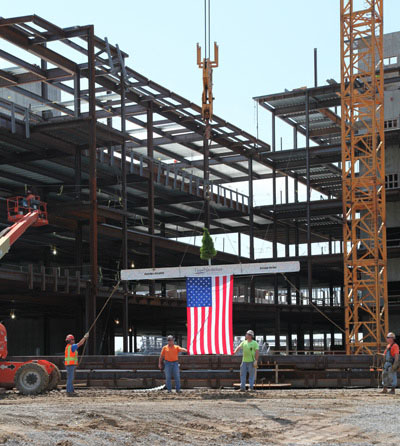 MOUNT VERNON, Ill. — McCarthy Building Companies, Inc. topped out the new 134-bed, 359,000-square-foot replacement hospital and broke ground on a 141,000-square-foot medical office building for Good Samaritan Regional Health Center in Mount Vernon, Ill.

The $140-million hospital project doubles the size of the existing facility and is about 30 percent complete. It also includes eight observation beds and all rooms are private. The medical office building is connected to the hospital and includes a surgery center and outpatient diagnostic services. Both concrete and structural steel buildings have brick and stone veneer, include five floors over a garden level and are planned to complete in time for use in late 2012.
McCarthy and Jefferson County-based partners, Shores Builders and Lipps Construction, broke ground on the hospital project in April 2010 and expect to complete work by October of 2012. McCarthy broke ground on the medical office building March 15. McCarthy expects to complete the $14.5-million core and shell portion and lobby of the medical office building in the spring of 2012 with completion of the interiors aligning with the October completion of the hospital.
McCarthy is construction manager for both projects that are designed by BSA LifeStructures. Both the design and construction processes include a number of innovations, including room design that incorporate short distance between bed and bathroom to minimize risk of patient falls, energy performance rated high-efficiency heating and cooling system, decentralized nursing stations to reduce distance between patients and caregivers and a "family zone" in each private room that allows families to stay overnight with loved ones.
McCarthy is using Building Information Modeling, Bluebeam software and prefabrication to improve construction efficiency and coordination on the project. The project partners and subcontractors coordinate three dimensional images of the mechanical, electrical and plumbing systems on a smart board in McCarthy's onsite BIM lab which is virtually linked to the company's home-office lab. BIM allows the project team to create a model for use in the field, incorporating submittals, installation sequencing and startup sequencing to the model to expedite construction.
"BIM models have expanded well beyond MEP systems to include the structure, building enclosure, framing, drywall, equipment and more," said McCarthy project manager Andrew Poirot. "The use of virtual planning helps to avoid issues during installation."
The team is also improving efficiency by using prefabrication on the project in an innovative way. They are assembling wall sections of patient bathrooms and patient room headwalls, inclusive of electrical and plumbing systems in a local warehouse and delivering them to the site for installation.
Both projects add jobs to the area, with between 120 and 150 tradespersons at work daily on the 36-acre site. At the peak of construction approximately 350 to 400 tradespersons will be working on the hospital. An additional 50 to 60 persons will be put to work on the medical office building project. The project is expected to create approximately 112 permanent health care jobs at the hospital and surgery center by the third full year of operation, and some additional 40 physician office positions.
Founded in 1864 and headquartered in St. Louis, Mo., McCarthy Building Companies, Inc. is one of the oldest and largest commercial builders in the Midwest and the largest American-based healthcare builder in the country. McCarthy has constructed more than 800 significant healthcare facilities and renovated thousands more – while consistently appearing on Modern Healthcare's Top 5 list of leading healthcare construction management companies. McCarthy is 100 percent employee-owned. More information is available on line at www.mccarthy.com.
Posted May 24, 2011
More Articles: