Subscribe Now
Keep up with the latest news with our magazine and e-newsletter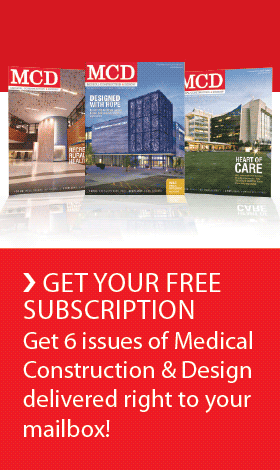 Subscribe to our E‑Newsletter
Nine Firms Rise to Top after Rigorous Grading Process
OAKLAND, Calif. — After reviewing more than 100 design concepts from architects, design firms, students, healthcare companies and engineering and construction firms from throughout the U.S. and the world, Kaiser Permanente announced nine finalists in its "Small Hospital, Big Idea" competition.

Launched in February, the open design competition called for ideas for a small, eco-conscious, patient- and family-friendly hospital that would foster the collaboration and use of emerging medical technology that is central to care at Kaiser Permanente.
The nine finalists are: Aditazz; Ellerbe Becket; Gresham, Smith and Partners; HGA; Lee, Burkhart, Liu; Mazzetti Nash Lipsey Burch; Perkins+Will; SmithGroup and Iceland-based TBL architects.
The finalists were selected through a rigorous and lengthy scoring process that included multiple reviews by dozens of Kaiser Permanente nurses, physicians, planners, hospital administrators, construction managers, architects, and engineers.
After an initial screening by the competition advisory committee to ensure proposals met the competition's design criteria, a multidisciplinary team of 35 people met May 3-5 in San Diego to review 78 proposals. The diverse team spent collectively more than 100 hours discussing the proposals, with members sharing unique perspectives and professional expertise. Each proposal was then graded individually and privately based on how each team member felt the concept met the design criteria. Designs were scored on innovation; reduces life cycle costs; incorporates ways to improve healthcare; flexibility; efficiency and environment of care. Out of that lengthy evaluation process, the highest-scoring, Top 18 proposals emerged.
The Small Hospital, Big Idea competition advisory committee followed the same rigorous grading process when they met May 10-11 in Laguna Beach to determine the top nine proposals. At every phase of evaluation, the screening and scoring was conducted "blindly," with the identities of entrants revealed only after the shortlist was created May 11.
The short-listed firms will be invited to present concepts to a design jury May 25-26 in San Diego. Judges will include Clemson University architecture professor David Allison; Charles Siconolfi, director of health care planning and design for HOK; and Jeffrey D. Selberg, executive vice president and chief operating officer of the Institute for Healthcare Improvement; along with leading Kaiser Permanente physicians, nurses, and architects.
The jury will select from the shortlist up to three finalists that will receive compensation of up to $750,000 to develop their concepts further. Finalists will be announced May 31, when Stage 2 of the competition begins. The final winner will be announced Nov. 4, and will be eligible to enter into a contract with Kaiser Permanente for the small hospital project.
For more information about the competition, visit the Small Hospital, Big Idea website at http://design.kpnfs.com/.
About Kaiser Permanente
Kaiser Permanente is committed to helping shape the future of health care. We are recognized as one of America's leading health care providers and not-for-profit health plans. Founded in 1945, our mission is to provide high-quality, affordable health care services and to improve the health of our members and the communities we serve. We currently serve 8.7 million members in nine states and the District of Columbia. Care for members and patients is focused on their total health and guided by their personal physicians, specialists and team of caregivers. Our expert and caring medical teams are empowered and supported by industry-leading technology advances and tools for health promotion, disease prevention, state-of-the art care delivery and world-class chronic disease management. Kaiser Permanente is dedicated to care innovations, clinical research, health education and the support of community health. For more Kaiser Permanente news, visit the KP News Center at: www.kp.org/newscenter.
Posted May 13, 2011
More Articles: