Subscribe Now
Keep up with the latest news with our magazine and e-newsletter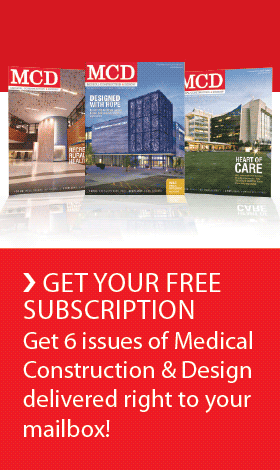 Subscribe to our E‑Newsletter
CHICAGO, Ill.–Jones Lang LaSalle and Pacific Medical Buildings announced the formation of a strategic alliance to deliver ground-up real estate solutions to healthcare organizations. The venture looks to capitalize on the strengths of each organization, combining PMB's investment capital, track record of developing healthcare facilities and national reputation with JLL's consulting and development expertise, local execution capabilities and national business development relationships. 
JLL and PMB will assist healthcare providers with strategic planning, development planning, and financing solutions for real estate assets and construction projects by building on both companies' foundation of advising and developing healthcare real estate assets from the user's perspective.
"Healthcare organizations' operational and real estate needs are growing in size and complexity. Systems need integrated expansion solutions that provide vital real estate expertise and can bring alternate sources of capital," said Mark Toothacre, President and CEO of PMB. "Hospitals have a difficult time raising capital needed to invest in new facilities, equipment and technologies that improve service. To ease the conflicts systems face with competing needs for capital, PMB can offer a variety of project ownership models from outright ownership by PMB to ownership with the project's tenants and our hospital partners. Our proven model for developing and financing facilities affordably, combined with Jones Lang LaSalle's local service delivery and national operational capabilities and capital markets expertise will form the best standard for outpatient development solutions."
"Our clients have consistently looked to Jones Lang LaSalle to serve as their single-source for a full spectrum of services. With this alliance, we build upon a foundation of developing real estate assets from the perspective of the healthcare organization and its unique requirements, combining national best practices, local execution, flexibility, and creativity," said Shawn Janus, Managing Director and head of development for Jones Lang LaSalle's National Healthcare group. "The combined forces of the PMB/JLL team are uniquely positioned to offer development expertise, execution capabilities and a capital solution to healthcare systems."
About Jones Lang LaSalle
Jones Lang LaSalle (NYSE:JLL) is a financial and professional services firm specializing in real estate. The firm offers integrated services delivered by expert teams worldwide to clients seeking increased value by owning, occupying or investing in real estate. With 2010 global revenue of more than $2.9 billion, Jones Lang LaSalle serves clients in 60 countries from more than 1,000 locations worldwide, including 185 corporate offices.  The firm is an industry leader in property and corporate facility management services, with a portfolio of approximately 1.8 billion square feet worldwide. LaSalle Investment Management, the company's investment management business, is one of the world's largest and most diverse in real estate with more than $43 billion of assets under management. For further information, please visit our website, www.joneslanglasalle.com.
About Pacific Medical Buildings
Pacific Medical Buildings (PMB) specializes exclusively in the development and management of medical office buildings, outpatient facilities and parking structures for hospitals, medical groups and universities. For almost 40 years, PMB's executives have led the industry in the development and management of medical care buildings, with 77 healthcare facilities constructed to date throughout the Western United States. The firm currently owns and manages more than 44 facilities totaling about 3 million square feet with more than 7,000 structured parking stalls, and has seven projects under development that will total approximately 500,000 square feet. The San Diego-based firm also has offices in Honolulu; Los Angeles; Phoenix; Nashville, TN; Vancouver, Wash.; Portland, Ore.; Louisiana; and Nevada. For more information regarding PMB, please visit our website, www.pacificmedicalbuildings.com.
Posted May 31, 2011
More Articles: