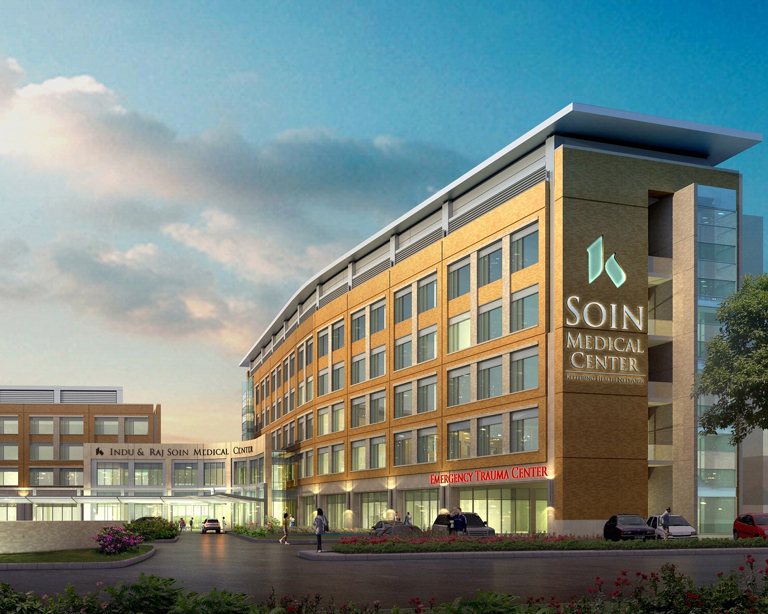 Subscribe Now
Keep up with the latest news with our magazine and e-newsletter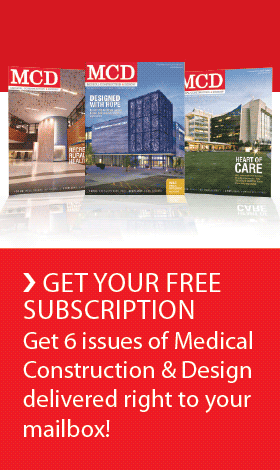 Subscribe to our E‑Newsletter
DAYTON, Ohio — To keep pace with the fastest growing area of the Dayton, Ohio metro area, Kettering Health Network has turned to HOK for a new $135 million hospital that can grow in increments.  The Indu and Raj Soin Medical Center is emerging in the eastern suburb of Beavercreek to serve residents of Greene County and surrounding areas. After initial construction as a 131-bed hospital, the design is created to facilitate expansion to up to 300 beds.

"We considered very carefully the services we want to offer at the new hospital," said Greg Henderson, president of Greene Memorial Hospital and project leader. "There are a great number of needs in the western part of the county, an area medically underserved for a number of years."
Located on 22 acres at Pentagon Boulevard and Royal Gateway Road, the six-story, 285,000-square-foot hospital will debut in the first quarter of 2012. It will feature emergency care, general surgery, orthopedic care, cardiac care, Mother-Baby Unit, critical care and medical imaging and diagnostic services. The hospital was named for Indu and Raj Soin, noted philanthropists in Dayton.
Town Square Concept
The space is designed to easily expand around a town square concept that unites all hospital services and simplifies wayfinding. Upon entering the main lobby, all diagnostic and procedural services, inpatient elevators, the chapel and emergency department will be visible. Additionally, families can access dining and retail from the lobby.
"Just as a town square connects all aspects of a village, our concept connects to all levels of care and amenities while providing a cost efficient way for the hospital to expand as needed," said Sheila Cahnman AIA, ACHA, LEED® AP, group vice president and regional leader, HOK Healthcare Group. "Each hospital service has its place and can be expanded without encumbering nearby space.  The emergency room, for example, can grow horizontally by removing a wall and building more space." 
Cahnman adds there is dedicated space planned for an additional patient tower, if needed.
Landscape views help orient visitors at key decision points. The strong outdoor connection is another unifying element for the building, with views of a pond and landscaped entry.
Meanwhile, the lobby includes a two-story wall of water that flows down to a ground floor cafeteria.  An outdoor terrace accessed from the dining area also has a water feature.  In addition, the facility is highlighted by a "creation wall" depicting the biblical seven days of creation to remind visitors of Kettering's faith-based mission.
To facilitate the optimal use of hospital resources, the design includes a master control center to track inpatient activity, emergency and all other traffic.   In the event of a serious disease outbreak or massive trauma event, the control center will efficiently move patients to appropriate care to maximize the use of the facility. Jain Malkin, Inc. served as interior designer.

Integrated Approach to Fast Tracking
An integrated team approach was deployed from day one to streamline design and construction and fast track the project.  Kettering, HOK, program manager Navigant Consulting Inc., general contractor Danis Building Construction Co. and Heapy Engineering all worked together, testing design ideas and evaluating constructability.  It has allowed the team to more swiftly advance phases of the project including site excavation, which was completed as the building design was being finalized.
In addition to the medical center, HOK is also the lead design consultant for a planned 120,000-square-foot medical office building that will connect to the hospital.  It will include physician offices, a cancer center, administration and a conference center.
Soin Medical Center will be the eighth hospital under the Kettering umbrella.  KHN also includes Kettering and Grandview medical centers, Greene Memorial Hospital, Fort Hamilton Hospital, Sycamore and Southview medical centers and Kettering Behavioral Medicine Center.
HOK is a global architectural firm that specializes in planning, design and delivery solutions for buildings and communities. Through its collaborative network of 23 offices worldwide, the firm serves diverse clients within the corporate, commercial, public and institutional markets. HOK is committed to developing resources and expertise to help lead the world toward sustainable communities and building environments. Founded in 1955, the firm's expertise includes architecture, engineering, interiors, planning, lighting, graphics, facilities planning and assessment and construction services.   Learn more at www.hok.com.
Posted May 27, 2011
More Articles: