Subscribe Now
Keep up with the latest news with our magazine and e-newsletter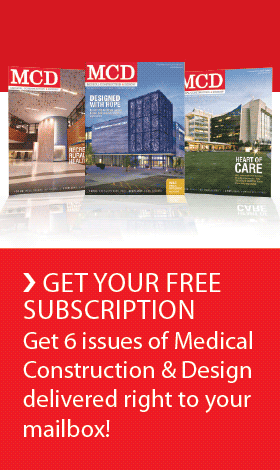 Subscribe to our E‑Newsletter
OVERLAND PARK, Kan. — HCA Midwest Health System announced that funding has been approved for a $121-million expansion and extensive renovation of Overland Park Regional Medical Center. The project will include a 72-private-bed tower, and is projected to add approximately 130 new jobs to the community as well as infuse millions of dollars into the local economy in terms of employment and taxes paid by the medical center.

"This is an unprecedented investment in Overland Park Regional Medical Center and will allow us to further advance the services and facilities we provide our community and the surrounding areas we serve," says Gay Nord, chief executive officer of Overland Park Regional Medical Center. "This investment is well deserved by our community, our patients, our medical staff, and our employees."
The project includes the addition of 215,291 square feet of new construction that will include private medical and surgical acute care beds, critical care beds, and orthopedic, neuroscience and trauma beds. A new, highly advanced emergency department will be constructed as part of this project with expanded trauma services as well as services specially designed to support EMS and Trauma. The project also includes the expansion of cardiac catheterization lab and neuro-interventional services as well as new endoscopy suites. JE Dunn Construction will serve as the general contractor for this project.
"This expansion and renovation of Overland Park Regional Medical Center will add to the more than $650 million that HCA Midwest Health System has invested in enhancing and expanding patient services since April 2003," says Steve Corbeil, president of HCA Midwest Health System. "HCA Midwest is deeply committed to Johnson County and the Kansas City area. The announcement of this expansion is an opportunity to thank our physicians and healthcare professionals for their dedication to quality patient care, which will be further enhanced with these improvements to the medical center."
"The physicians at Overland Park Regional Medical Center are thrilled with the proposed plan for expansion and renovation of the hospital," says Kirk Duncan, MD, President of the Overland Park Regional Medical Staff. "Through this project we will not only be able to respond to the increased demands for healthcare services in our communities, but also provide more efficient quality care to our patients and their families."
"We are proud to be the first acute-care hospital in Johnson County to offer patients all private rooms," says Ujjaval Patel, MD, chairman of the Overland Park Regional Medical Center Board of Trustees. "Upon completion of this expansion, local residents of Johnson and surrounding counties will have access to the most modern medical facility in the area."
Groundbreaking for this project is expected in begin late 2011. The hospital's emergency department and inpatient services will remain fully functional and will operate at full capacity throughout construction.
Posted May 6, 2011
More Articles: