Subscribe Now
Keep up with the latest news with our magazine and e-newsletter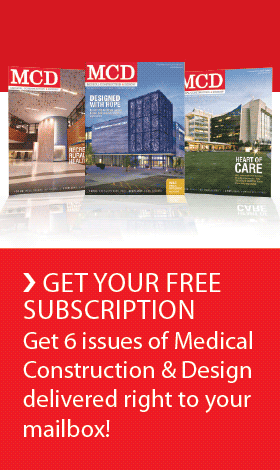 Subscribe to our E‑Newsletter
State-Of-the-Art Hospital Offers Added Comfort, Convenience for Patients
TRENTON, Mo. –Wright Memorial Hospital will begin moving patients into its new state-of-the-art facility on Tuesday, April 12. The 25-bed facility includes a nearly 60,000-square-foot hospital and adjoining 12,000-square-foot medical office building.
The $30-million hospital features digital mammography, a 64-slice CT scanner, two surgical suites and a 24/7 physician-staffed emergency department with trauma bay and private ambulance entrance. ACI/Boland served as project architect and JE Dunn was the general contractor.

The facility was designed to enhance the patient experience through added comfort and convenience and features patient-centered design throughout. Expectant parents have access to two beautiful labor and delivery suites with private bathrooms and a secure nursery area. Private inpatient rooms are equipped with wireless Internet, flat-screen televisions and handicap-accessible bathrooms with walk-in showers.
The facility incorporates the latest in medical technology including an electronic intensive care unit (eICU), opening in fall 2011. ICU patients will be cared for by onsite staff and will receive an extra level of care by physicians and nurses in the eICU, a patient monitoring system that observes patients in ICUs across Saint Luke's Health System from a single offsite location. Using sophisticated technology, the eICU team has immediate access to patients' computerized records, from medications and vital signs to test results and X-rays. With automated warning and decision–support software, the eICU adds an extra layer of monitoring in addition to that already provided at the bedside.
In addition, a complete electronic medical records system will be in place by 2012. This will allow physicians and nurses to more efficiently store, update, retrieve and manage patient information in real time—without paper records—in secure electronic files.
"Planning for the new facility began more than five years ago. The long-anticipated opening of the hospital and medical office building is the culmination of a vision to enhance healthcare services for citizens of Trenton and the surrounding area," said Don Sipes, vice president for Regional Services at Saint Luke's Health System.
"Since 1924, Wright Memorial Hospital has proudly served this community," said Karen Cole, Wright Memorial Hospital CEO. "That legacy of service will continue in our new, modern facility for generations to come."
Located southeast of Trenton, Mo., the new hospital sits adjacent to U.S. Highway 65 and offers improved access for patients and emergency vehicles. As a critical access hospital facility, Wright Memorial Hospital meets Medicare reimbursement criteria designed to improve access to healthcare in underserved rural areas.
"As the trustee of the J.B. Wright Charitable Trust, Citizens Bank & Trust is honored to continue Dr. J.B. Wright's dream to provide a hospital for the citizens of Grundy County and the City of Trenton in memory of his late wife, Eva. The reality of a new hospital could not have happened without the leadership and forward-thinking of our hospital board. The board, made up of representatives from the Trust, Saint Luke's Health System and the local community, was involved in every aspect of the project," said Danette Rardon, board member and Officer of the J.B. Wright Trust.

Community grand opening Sunday, April 10
Area residents are invited to a grand opening celebration on Sunday, April 10, from 1 – 4 p.m. to celebrate the opening of the new Wright Memorial Hospital. A special program and ribbon cutting ceremony will be held at 1:15 p.m. with tours immediately following. Hospital staff will be on hand to provide information and answer questions about the new facility. Refreshments will be served.
For more Saint Luke's Health System news, follow us on Twitter @saintlukesnews.
Posted April 7, 2011
More Articles: