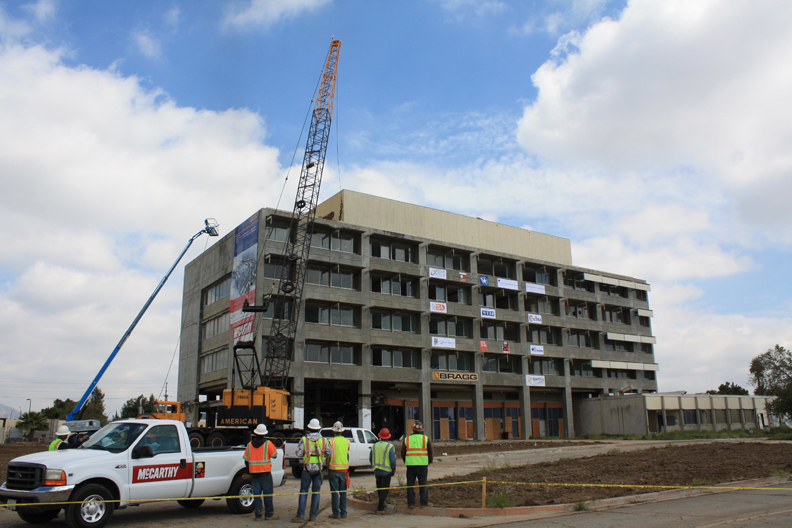 Subscribe Now
Keep up with the latest news with our magazine and e-newsletter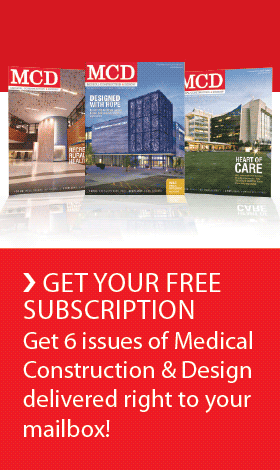 Subscribe to our E‑Newsletter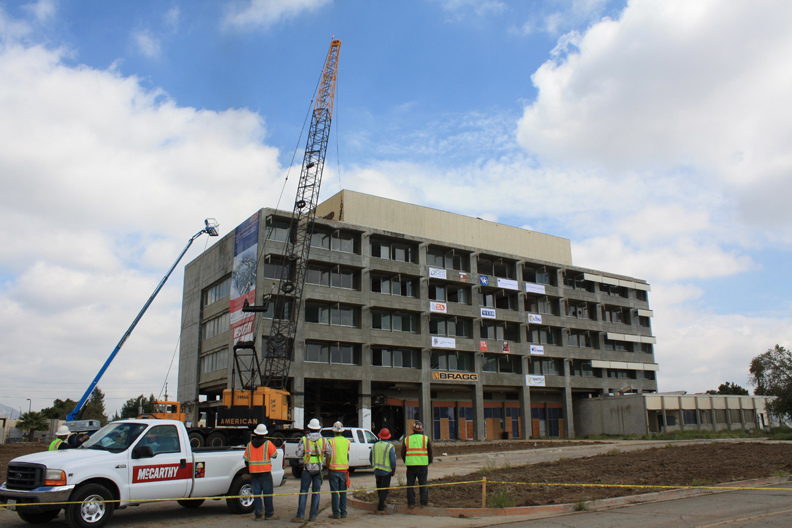 Demolition Marks Final Stages of Deconstruction, Makes Way for $3.3 billion March LifeCare Campus
RIVERSIDE/MORENO VALLEY, Calif. — McCarthy Building Companies, Inc., one of the premier hospital builders in the U.S., has begun demolishing the former March Air Force Base (AFB) Hospital to make way for construction of a $3.3 billion, 200 acre medical, "health and wellness city" known as March LifeCare.

A ceremony to mark the final stages of deconstruction at March AFB and kicking-off demolition of the 190,000 sq. ft., five-level military hospital tower was held on March 28. The event included speakers, a military fly-over, and a live band before a wrecking ball was swung from a 145-foot crane into the southwest corner of the hospital.
The event was attended by more than 100 U.S. veterans as well as other community members, healthcare community leaders, project team members, and state and local officials. Joining master developer March HealthCare Development was special guest Willie Brown, the longest serving Speaker of the Assembly and former Mayor of San Francisco. Brown, a redevelopment visionary, successfully led the effort to build a new medical research campus in San Francisco's Mission Bay neighborhood.
Along with Brown, some of the other speakers at the event included:
•    Don Ecker, Master Developer, March HealthCare Development/March LifeCare
•    Dr. Steve Larson, Chairman & CEO, Riverside Medical Clinic
•    Steve Barron, CEO, St. Bernardine Medical Center, Catholic Healthcare West
•    Marion Ashley, Chairman, March Joint Powers Authority
•    Joel Ayala, Director, Governor's Office of Economic Development
Since July 2010, McCarthy Building Companies, the March LifeCare program master construction manager, has been working with U.S. Demolition Company to raze a total of 22 buildings on the base before construction of the new facilities can begin. Bragg Crane Co. brought in an American 125-ton crane with a 145-ft. boom and jib, lifting an 8,000 lb. wrecking ball for the initial work. The hospital demolition is expected to be complete in three months.
"We are recycling much of the materials from the old buildings," said Laura Barton, McCarthy assistant project manager. "Concrete will be crushed then compacted back into the former basement areas, and the remaining concrete and asphalt from all the demolished buildings will be processed as aggregate base for future March LifeCare campus streets."
Brown, in his remarks before a crowd of some 500 people, said the new March LifeCare City will become the standard to which future healthcare facilities will look, "…it will be replicated all over this Country." Last year, former Governor Schwarzenegger said of March LifeCare, "This is going to be known as the 'Mayo Clinic' of the West."
When completed, March LifeCare will include six-million square feet of healthcare related structures including a 550-bed hospital, a senior continuum of over 700 beds, medical office buildings, retail, ambulatory care facilities, education, research and training facilities, plus a hotel, a healing institute and a veteran's facility. Construction is planned in phases and will provide some 12,700 local construction jobs and employ 7,200 permanent medical-related personnel when completed.
Internationally renowned architectural firm Ho+k designed the Master Plan for the March LifeCare Campus.
March LifeCare is being called the largest healthcare construction project in the West and is attracting the attention of federal, state and local officials at a time when the Inland Empire area suffers through some of the worst unemployment figures in the U.S., hovering around 14 percent.
Laura Barton noted that March LifeCare's original founder, Don Ecker, has provided, "…vision, enthusiasm, and tireless work that brought this project to life. March LifeCare will have a lasting positive impact on the local community and the way total health care is delivered to individuals here. McCarthy is proud to be part of the team!"
About McCarthy Building Companies
McCarthy Building Companies, Inc. is the nation's 10th largest domestic general contractor (Engineering News-Record, May 2010) and has been ranked among the top five national healthcare builders by Modern Healthcare since the magazine began its annual ranking more than 30 years ago.  In Southern California, the firm has completed over $2.4 billion in healthcare work for the region's most elite healthcare institutions.  In addition to Newport Beach, McCarthy has offices in San Diego, Sacramento and San Francisco, Calif.; Phoenix; Las Vegas; Dallas; Houston; St. Louis and Atlanta.  McCarthy is 100 percent employee owned. More information is available online at www.mccarthy.com.
Posted April 1, 2011
More Articles: