Subscribe Now
Keep up with the latest news with our magazine and e-newsletter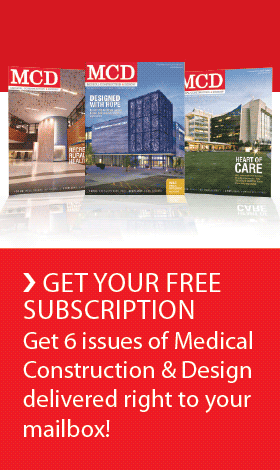 Subscribe to our E‑Newsletter
MERRIAM, Kan. – After opening the state-of-the-art Critical Care Services Expansion in January 2009, Shawnee Mission Medical Center (SMMC) opened the final two floors of the Expansion this week. The tower's new seventh and eighth floors are home to the Progressive Care Unit and a new Heart & Neuro Vascular Unit.

In addition, family support areas have been added to the units and will be available for friends and family members to rest while they stay close to their loved ones. The new family areas exude comfort and healing, with soothing earth-tones, wireless Internet access, multiple family gathering areas and a host of other unexpected amenities.
"Each department throughout the Expansion was thoughtfully designed with input from the physicians and nurses who work in the areas on a daily basis," said Samuel H. Turner, Sr., President and CEO. "Because of their feedback during the planning process, we've included new family support areas, as well as professional extras for nurses and physicians. Each of the amenities was recommended to our designers by staff members who knew what was needed for us to better care for patients and their families."
The seventh floor Progressive Care Unit opened on Wednesday and will care for patients needing a step-down from the Intensive Care Unit, but who are not yet ready for a traditional Medical/Surgical Unit. Staff will care for patients with pulmonary disease, chest tubes, pulmonary embolisms, deep vein thrombosis, post-bariatric patients and more.
The eighth floor Heart & Neuro Vascular Unit opened on Thursday and will care for patients suffering from congestive heart failure, primary vascular diagnosis and neurological conditions such as stroke, concussion, seizures and more.
"These new floors within the Critical Care Services Expansion were constructed to meet community demand and provide additional services to our patients," said Turner. "Our upward trend in patient volume illustrates that we continue to be the health care provider of choice in Johnson County and a trusted resource to community members throughout the Kansas City metropolitan area."
The overall design of the Critical Care Services Expansion echoes SMMC's mission of Improving Health Through Christian Service in subtle ways. Light is abundant as sun shines through the massive glass windows. Etched into glass partitions on each floor are prayers for patients, family and the hospital provided by those who work at SMMC. These words serve as silent messages of faith, hope and healing to patients and their families and friends.
"This project is a culmination of years of planning and hard work by hospital executives, physicians, nurses and associates," said Turner. "We have listened to the comments of our patients and have involved our medical professionals in the planning process in order to create a new facility that represents quality, innovation and commitment to our community."
The completion of these floors expanded SMMC into a 504-bed hospital.
Posted March 3, 2011
More Articles: