Subscribe Now
Keep up with the latest news with our magazine and e-newsletter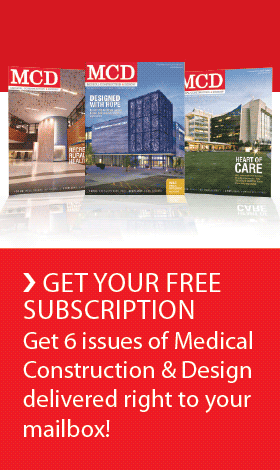 Subscribe to our E‑Newsletter
WATERBURY, Conn. — Saint Mary's Hospital officials recently announced plans to form a joint venture with LHP Hospital Group, Inc. (LHP), a leading national provider of capital and healthcare expertise to hospitals.
Saint Mary's and LHP have negotiated a definitive agreement, which is subject to review and approval from appropriate regulatory bodies. The agreement calls for an equally-shared governance structure where local control and leadership of the hospital are protected, while LHP will own a majority equity position in the newly formed joint venture that will own the hospital.

Saint Mary's plans to use LHP's capital infusion to eliminate its debt, provide greater security to its pensioners and establish a sizable foundation which will focus on community health needs. The agreement includes a commitment to make additional investments of at least $75 million for capital expenditures above routine levels.
In the next five years, LHP will support the hospital with financial resources and operational and clinical expertise in a number of important areas including:
* Implementation of the latest in health information technology, equipment and quality initiatives.
* Facility improvements and upgrades, including new equipment, equipment replacement, facility renovations, medical office space, technology and other capital improvements.
* Further development of existing service lines, including cardiology, neurosurgery, orthopedics, surgical specialties, emergency services and primary care base.
* Enhancement of physician recruitment and employee retention efforts.
* Long-term creation and preservation of jobs and healthcare access in our region.
* Access to experts, resources and best practices of their national healthcare network.
According to Chad Wable, CEO of Saint Mary's Hospital, "Our joint venture with LHP will be a transformational event for Saint Mary's which builds upon our success as one of the highest quality, lowest cost hospitals in Connecticut. The capital investment secures our future as a strong, local healthcare provider while providing greater certainty that we will achieve our vision of being the leading regional provider. We will now have the ability to invest aggressively in technology and services that will make healthcare better and more accessible for our community. We will attract physicians and other providers to our organization while creating economic vitality and jobs in the region."
The transaction stipulates that all caregivers and staff at the hospital will be retained and current leadership will remain in place.
Saint Mary's Catholic heritage and traditions and the Ethical and Religious Directives under which the hospital currently operates will be honored and maintained. In addition, Saint Mary's will continue to abide by the same charity care and uncompensated care policies as in the past and will fulfill the community benefit standards required of tax-exempt hospitals.
"Saint Mary's has long recognized the value of identifying a strategic capital partner whose goals are compatible with ours. LHP is the ideal partner. Our joint venture maintains our mission and local control, while providing us with capital and expertise that will enable us to fully implement our strategic plan and continually improve our quality, services and financial position," said Wable.
A Saint Mary's Task Force, appointed by Board Chairman Archbishop Henry J. Mansell, engaged in a thorough, deliberative process, which considered a variety of options to find the best partner for Saint Mary's. Saint Mary's representatives contacted more than 16 potential partners across the nation, and met with four finalist firms before selecting LHP as the preferred partner.
"Saint Mary's strong operating performance in recent years was an important aspect of the process, since we were able to approach the joint venture from a position of financial strength and market leadership," said Bob Mazaika, Saint Mary's Corporator and Chairman of the Task Force. "Now, LHP will provide us with the resources to grow as healthcare changes and we look to the future with confidence and optimism."
Currently, LHP has joint ventures with and manages two other hospitals. LHP's executives were formerly the management team at Triad Hospitals, Inc., which owned and operated fifty-four hospitals across the nation. LHP recently formed a joint venture with the Seton Family of Hospitals in Texas to construct, own and manage a hospital together in Harker Heights, TX. Seton is a member of Ascension Health, the largest Catholic and not-for-profit health network in the nation.
"For more than a century, Saint Mary's Hospital has served the healthcare needs of Waterbury and surrounding communities; today, LHP is pleased to have the opportunity to support and advance that mission of service," said Dan Moen, Chief Executive Officer of LHP. "We look forward to building a highly collaborative hospital environment that includes physicians, caregivers and the community. Our unique model of joint ownership with shared governance will provide Saint Mary's with the processes, capital and expertise necessary to deliver superior healthcare."
"Our joint venture with LHP is truly an important step and a significant moment in the life of Saint Mary's that will strengthen the hospital and our affiliates and enhance the quality of care in our community for generations to come," added Wable. "LHP has successfully partnered with other Catholic hospitals and is the right fit for Saint Mary's – culturally, organizationally and financially."
"Throughout this transition, our patients, staff, and this community are our top priority and we will remain focused on providing quality care. We ask for the community's support throughout the approval process to ensure a timely and smooth transition to a bright and exciting future for Saint Mary's Hospital."
More information about the transaction can be found at www.futureforsaintmarys.com.
About Saint Mary's Health System
Saint Mary's Health System is a leading regional healthcare provider anchored by Saint Mary's Hospital, an acute care community teaching hospital that has served Greater Waterbury for more than 100 years. Licensed for 347 beds, Saint Mary's is designated as a Level II Trauma Center and Primary Stroke Center, offers award-winning cardiac care and houses the region's only pediatric emergency care unit. As the leading provider of surgical services in Greater Waterbury, Saint Mary's was the first to introduce the daVinci® Robotic Surgery System. The health system's satellites and affiliates extend from Waterbury to Wolcott, Naugatuck, Southbury, Prospect and Watertown.
About LHP Hospital Group, Inc.
LHP Hospital Group, Inc. (LHP) is a privately held company established to provide essential capital and expertise to not-for-profit hospitals and hospital systems. In cooperation with local hospitals, LHP forms joint ventures to acquire, own, operate and manage acute care facilities in small cities and select urban markets throughout the United States. Headquartered in Plano, Texas, LHP is owned by affiliates of the private equity firm CCMP Capital Advisors, LLC and the CPP Investment Board as well as members of management and the board of directors.
Posted March 22, 2011
More Articles: