Subscribe Now
Keep up with the latest news with our magazine and e-newsletter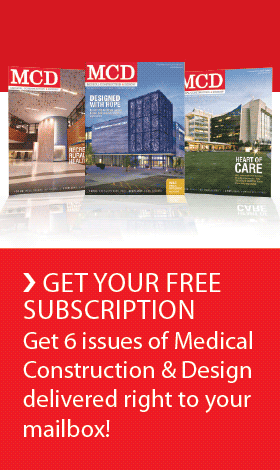 Subscribe to our E‑Newsletter
Regional Medical Center to Open in Under a Year
FORT WAYNE, Ind. — Parkview Health officials recently led a media tour inside the Parkview Regional Medical Center construction site. Construction work is ahead of schedule. The project will now be substantially completed in November, with the facility opening to patients in March 2012. Construction on the 900,000-square-foot, $536 million Parkview Regional Medical Center began in September 2008.

Current construction activity includes flooring, painting, drywall, cabling, and build-out of interior areas. More than 3,600 construction workers have been on the job ite over the course of the project. More than 2 million worked man-hours have occurred.
Guiding Principles
Parkview's team of leaders, co-workers, architects, space planners and consultants have used the following principles to guide decision-making during the planning, design and construction of the regional medical center.
1. Carefully consider safety and quality throughout the planning and design work.
2. Build service excellence into the new facilities.
3. Make decisions to maximize physician effectiveness and satisfaction.
4. The design needs to be affordable for our community by creating greater cost efficiencies as volume grows.
5. Organize activities in the designs around the care delivery processes.
6. Make sure flows and workspace are lean and support teamwork and communication.
7. Use technology to improve patient care and staff efficiency.
8. Build growth, adaptability and flexibility into the new environment.
9. The design should be comfortable, uplifting and support the diverse needs of our patients and families.
10. We must demonstrate stewardship in the design and the buildings must embrace the community and the environment.
Parkview is committed to making the regional medical center a destination that feels like a warm and inviting home. The facility is designed in a way to promote health and wellness that instills confidence and hope. Color schemes, flooring, windows, reduced noise, and natural lighting will create a healing environment for patients and families. More than 40 teams of hospital leadership, physicians and staff assisted in the design of the patient care areas.
Floor-by-floor highlights:
Ground level – Laboratory; Pharmacy; Kitchen; Facilities; Physician parking
1st – Emergency department; Imaging; Administrative offices; Dining; Fort Wayne Cardiology clinic; Outpatient cardiac services; Conference Center; Gift Shop; Future home of outpatient pediatrics clinic and Ronald McDonald House
2nd – Surgical trauma and pediatric intensive care units; Operating rooms; Chapel; Cardiovascular intensive care unit and catheterization lab in Heart Institute; Endoscopy; Interventional radiology; Pathology
3rd – Medical intensive care unit; Dialysis; Coronary intensive care unit and congestive heart failure unit in Heart Institute
4th – Acute surgical care patient rooms; Inpatient therapy; Telemetry unit in Heart Institute
5th – Acute surgical care patient rooms; Fort Wayne Cardiovascular Surgeons clinic; Cardiac rehabilitation; Pulmonary rehabilitation
6th – Acute medical care patient rooms
7th – Future growth area
8th – Samaritan offices
Roof – Helipad
Parkview Regional Medical Center highlights:
*400+ beds with all private rooms
*Specialty centers for heart, orthopedics, cancer, women's & children's services, and outpatient services
*Adult and pediatric trauma centers
*Samaritan medical flight services
*Full-service 24/7 ER with board-certified emergency physicians.
Posted March 30, 2011
More Articles: