Subscribe Now
Keep up with the latest news with our magazine and e-newsletter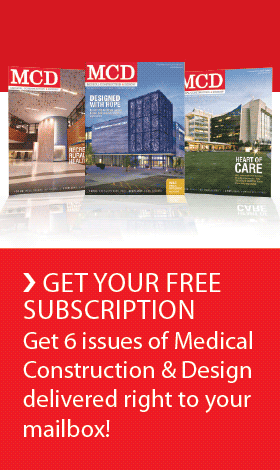 Subscribe to our E‑Newsletter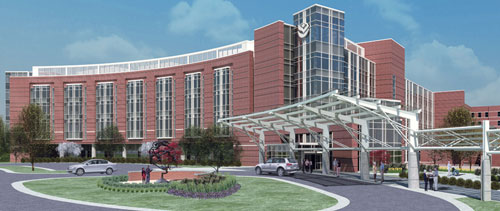 GREENSBORO, N.C. — Representing the largest expansion in Moses Cone Health System history, The Moses H. Cone Memorial Hospital recently broke ground on the $200 million, six-story North Tower. Development of facility is at the center of an even greater commitment to becoming a national leader in quality, service and cost in the delivery of healthcare. The project is expected to be complete in June 2013.

"Development of North Tower allows us to take a giant leap forward toward delivering nationally-recognized, top-performing patient care well into the next decade," says Tim Rice, president and CEO, Moses Cone Health System. "It allows us to plan the delivery of our high quality healthcare 20 to 30 years down the road, not just what we'll need three to five years from now."
The project will add more than 260,000-square-feet and will allow for the replacement of semi-private rooms with 96 large, private patient rooms designed to enhance patient recovery and safety. Studies show private rooms provide more restful sleep, less stress, fewer patient transfers, reduced patient waiting and even reductions in infection rates.
Patient rooms and family/visitor areas will feature more natural light and views, temperature and lighting controls, noise-reducing design and family zones with daybeds and separate lighting.
Other features include:
* 16 modern operating rooms, which will improve efficiency, privacy and care. Operating rooms will be arranged by surgical specialty around sterile cores to provide easy access to supplies and equipment;
* A new main entrance to Moses Cone Hospital off of Church Street;
* A high-efficiency emergency department to meet peak demand periods. Development will increase the number of treatment rooms and add a dedicated pharmacy and expanded laboratory to the emergency department;
* Two nursing stations on each of the three patient floors with conferencing areas for patients and families. Computer charting stations between patient rooms will allow doctors and nurses to spend more time with patients. These stations make it easier to see and monitor patients by bringing patient information and supplies closer to caregivers.
North Tower will be LEED-certified, reflecting socially responsible architecture. The facility will take advantage of natural light and passive energy while using less energy and natural resources in its construction and operation. In addition to energy savings from a new power plant and solar hot water, it will be the first healthcare facility in the state and one of only three hospitals in the United States to heat and cool patient rooms with "chilled beams," a water/convection-based heating and air-conditioning system.
Once complete, 83,000-square-feet of existing space will be renovated. This will be completed in early 2015 and will add new pre-surgical preparation and post surgery recovery areas to support the 16 operating rooms.
North Tower will be the most visible symbol of nearly six decades of commitment to caring for the community as established by the Cone family with the opening of Moses Cone Hospital in 1953. Moses Cone Health System has invested more than $500 million into facilities and equipment since 2000 and has provided more than $800 million in uncompensated care for patients over the last decade.
The facility was designed by the Perkins+Will architectural firm in Charlotte. Perkins+Will has been recognized for work at Johns Hopkins Hospital, UCLA Ronald Reagan Hospital, Mayo Clinic Hospital and the Duke Medicine Pavilion.
Brasfield & Gorrie of Raleigh, a construction services provider with healthcare project experience working with Carolina's Medical Center and Duke Health as well as other medical plazas, will serve as general contractor.
Affiliated Engineers Inc. of Chapel Hill will provide engineering services. The technical consulting firm offers experience in sustainable design with notable projects, including the master plan and central utility plant at North Carolina State University, the University of North Carolina Cancer Hospital, CoGen Steam Tunnel Replacement and Cobb Chiller Plant.
Posted March 30, 2011
More Articles: