Subscribe Now
Keep up with the latest news with our magazine and e-newsletter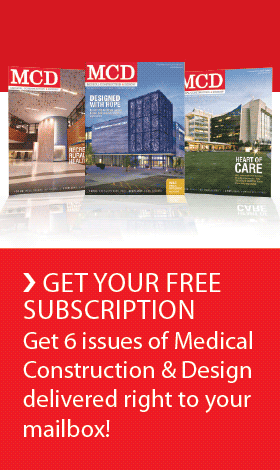 Subscribe to our E‑Newsletter
This 80,000 Square Foot Project is Part of  Five-Year, $100 Million Expansion Focused on Enhancing Patient-Centered Care at Henrico Doctors' Hospital
Richmond, VA — Gresham, Smith and Partners, announced the completion of the emergency department and Heart Center expansion at Henrico Doctors' Hospital, part of the HCA Virginia Health System. Located in Richmond on the hospital's Forest Campus, the expansion is part of a five year, $100 million project which will eventually add 80,000 square-feet to the hospital. The design supports the facility's mission of providing patient-centered care.


"We are proud to have reached this milestone and to offer the Richmond community the benefits of this expanded facility that provides the latest in healthcare technologies," Patrick Farrell, chief executive officer, Henrico Doctors' Hospital. "GS&P has been instrumental in developing a design that effectively supports our staff and increases our operational efficiencies all with an ultimate focus on enhancing the patient experience."
The expanded emergency department encompasses 25,000-square-feet, two and a half times larger than the previous one, and houses 26 private patient rooms. Ten emergency department observation rooms are scheduled to come online this fall. Focused on patient satisfaction and enhancing operational efficiencies the design includes space for an express ER for fast-track patients with minor illnesses, new triage and waiting rooms, bedside registration capabilities, a dedicated room for Emergency Medical Technicians (EMTs) and a new helicopter landing pad.
The positive effect of sunlight, views, gardens and the human touch were guiding principles in the facility design. In an effort to reduce anxiety in what is often a stressful situation, the design dissolves the exterior walls of the building and brings the outside into the hospital. Glass is used extensively in the ED waiting area, as were soft colors from nature and rich wood tones.  The emergency department waiting room is divided into smaller more intimate spaces by translucent, resin panels which are imbedded with twigs which allow a degree of privacy while still allowing light to filter through. The elevator lobbies have accent walls of linear, three dimensional tile which are carried throughout the lobbies up through the building to serve as a "destination point."
"Our goal was not just to design to increase capacity, but to help Henrico expand their facility in a manner that takes into account evolving patient needs and process improvements that can be utilized for years to come," Ken Priest, AIA, NCARB, LEED AP, principal-in-charge, Gresham, Smith and Partners. "Similarly, interior finishes are designed to be timeless so the hospital will be seen as current now and into the future. As this and the next phases of the expansion project come to completion, staff and patients will be offered a facility that reflects the exceptional quality of care provided."
The Heart Center consists of a cardiac medical intensive care unit and cardiac surgical intensive care unit (ICU) which have both increased from 8 patient beds to 12. All rooms are universal which allows for less patient movement from one dept to another. Patient rooms all have large windows which provide access to views of the surrounding areas and the same rich wood tones and nature colors are echoed in the soffits above the nurse stations and throughout the patient care floor. A curved corridor in the cardiac surgical ICU helps to create a less institutional feel and enhances patient safety by enabling all of the patient rooms to be seen from the nurses station. The rooms in this department have breakaway doors to accommodate transporting patients and equipment. The Heart Center is fully wireless complete with iPod docking stations and Blu-ray disc players in each room.
The next phase of the project is set to be completed in the Fall of 2011 and will include a new lobby, a pre-admission testing area, ED observation unit, and an expanded laboratory.
Gresham, Smith and Partners has worked with Henrico Doctors' Hospital since 1983 at the Retreat, Forest and Parham Campuses. In 2004 the firm designed a 50,000 square-foot 18-bed ED and 12-bed ICU addition as well as a surgery renovation and new main entrance at the Parham Campus.
About GS&P
Gresham, Smith and Partners provides design and consulting solutions for the built environment that contribute to the success of national and international clients.  For more than 40 years, GS&P has focused on enhancing quality of life and sustainability within communities.  GS&P consists of industry-leading professionals practicing architecture and engineering design as well as scientists and highly specialized planning and strategic consultants in Aviation, Corporate and Urban Design, Environmental Compliance, Healthcare, Industrial, Land Planning, Transportation and Water Services.  GS&P consistently ranks among the top architecture and engineering firms in the United States.  For more information regarding GS&P, visit www.gspnet.com

About Henrico Doctors' Hospital
Henrico Doctors' Hospital, with campuses at 1602 Skipwith Road (Forest Campus), 7700 E. Parham Road (Parham Campus), and 2621 Grove Avenue (Retreat Hospital), is a 767-bed acute-care hospital offering state-of-the-art medical technology in a community hospital setting. Part of the HCA Virginia Health System, Henrico Doctors' was named one of HealthGrades "America's 50 Best Hospitals" in 2007, 2008 , 2009,  2010 and 2011. The Cancer Center at Henrico Doctors' is accredited by the American College of Surgeons with ten commendations and is a 2008 Commission on Cancer Outstanding Achievement Award recipient. Henrico Doctors' is a national leader in kidney transplants and robotic surgery.  In addition, Parham Doctors' Hospital is home of The Orthopedic Hospital, a state-of-the-art facility consistently named Richmond's Best for Joint Replacement (2007-2011). For more information on Henrico Doctors' Hospital, visit www.henricodoctors.com.
Posted March 18, 2011
More Articles: