Subscribe Now
Keep up with the latest news with our magazine and e-newsletter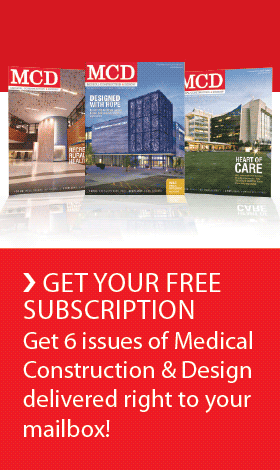 Subscribe to our E‑Newsletter
PHCSF has exceeded its ambitious fundraising goal to build a new hospital.
Princeton HealthCare System (PHCS) is proud to announce that the new University Medical Center of Princeton at Plainsboro will be re-imagined thanks to a robust fundraising campaign that already eclipsed its original goal of $115 million in private donations.  By expanding cutting-edge technologies and partnerships, PHCS hopes to improve the quality of care for residents of central New Jersey and beyond.

Design for Healing, the campaign to support the new hospital, has raised its own bar, seeking an additional $35 million – for a total goal of $150 million – by March 2013, approximately a year after the new hospital is expected to open.
Barry Rabner, President & CEO of PHCS explained, "We are not raising the campaign goal for the hospital we had planned; we are resetting our goal for the project we are now able to re-imagine."
With the revised goal, the hospital will be designed with the advantage of new partnerships, and the latest technology and approaches, all of which will be implemented to benefit the community PHCS serves in ways that were beyond imagination when the campaign started five years ago.
"While a new campaign goal of $150 million is quite ambitious, we are buoyed by the generosity of our donors," said JoAnn Heffernan Heisen, co-chair of Design for Healing. "Over 6,000 individuals, businesses and foundations have already made a gift in support of the campaign. And our message is being heard all over central New Jersey, as the number of donors in surrounding areas near the new hospital's location on Route 1 has nearly tripled since the campaign began."
She went on to say, "I am confident that as more people learn how this project will transform healthcare in our region, we will reach our new goal." Heisen is a member of the Princeton HealthCare System Board of Trustees and recently retired from Johnson & Johnson as Corporate Vice President and Chief Global Diversity Officer.
The new hospital will replace the University Medical Center at Princeton as part of Princeton HealthCare System (PHCS), one of the most comprehensive healthcare systems in New Jersey.
The additional $35 million to be raised will enable PHCS to:
•   Double the number of beds in the Pediatric Unit and expand services provided to newborns in the Special Care Nursery;
•   Expand the Emergency Department to provide specialized treatment areas, such as for elderly patients;
•   Increase the number of inpatient beds designed for and dedicated to caring for the elderly;
•   Enlarge the Cancer Center and modify its design to accommodate a potential academic and research partner;
•   Complete two Hybrid Operating Rooms – one for complex vascular surgery and one for intricate neurosurgery; and
•   Adopt the latest technologies as they continue to emerge.
"We are tremendously grateful to the community which embraced our initial vision and whose generosity enabled us to exceed the original campaign goal," said Design for Healing co-chair Bob Doll. "The new clinical services and technology made possible by increasing the goal will broaden and deepen the impact of our hospital. We sincerely hope this expanded mission will inspire new and continued support from those who value healthcare in our community." Doll is Chief Equity Strategist of BlackRock and was previously President of Merrill Lynch Investment Managers.
The funds raised by Design for Healing will supplement $355 million in financing arranged by PHCS to construct the new hospital at the intersection of Route 1 and Scudders Mill Road in Plainsboro. The new University Medical Center of Princeton at Plainsboro will consist of approximately 630,000 square feet of interior space, with 231 single-patient rooms, state-of-the-art emergency services, operating suites, and a comprehensive array of ambulatory services and laboratories. The hospital will occupy 50 acres and serve as the hub of a 171-acre Plainsboro Health Campus that will include medical offices, fitness and wellness, health education, assisted living, independent living, child daycare, medical adult daycare, skilled nursing and rehabilitation, pediatric services, and passive recreation.
University Medical Center at Princeton has been named a 2010 Top Hospital (one of only 58 acute care hospitals in the country) by Leapfrog Group – the third consecutive year it has earned this honor. UMCP is the only New Jersey hospital to receive this distinction three years in a row. Leapfrog's annual list of Top Hospitals typically includes some of the most recognizable and respected names in healthcare, including Mayo Clinic hospitals in Minnesota, Arizona and Florida; Cleveland Clinic Florida; Brigham and Women's Hospital in Boston, a teaching affiliate of Harvard Medical School; and Stanford Hospital and Clinics in California.
Posted February 7, 2011
More Articles: